'Macbeth' remixed, Oysterfest, 'Wicked,' and Tailsgate at the Linc in this week's 'Things To Do'
Nov. 2 - 5: Anthony Hamilton & Friends at the Met Philadelphia, "Curious Incident of the Dog in Nighttime'' in N.J., and "The Moth" in Del. are among the weekend's highlights.
Listen
5:35
There's (finally) a chill in the air, which means events are heading indoors. The Franklin Institute opens its new permanent, immersive exhibit, "Wondrous Space," this weekend, so you don't have to brave the cold to see the sky. Plus, the Philadelphia Museum of Art hosts the Contemporary Craft Art Show,  bringing almost 200 artists to the region. And the popular "Moth" live storytelling series comes to Wilmington, Delaware. On stage, two adaptations of theater favorites open this week — "Wicked," a riff on "The Wizard of Oz," and "Macbeth in Stride," a contemporary musical remix of what is arguably the Bard's most popular play.
New Jersey | Delaware | Special Events | Arts & Culture | Food & Drink | Music
---
New Jersey
The Curious Incident of the Dog in the Nighttime
Where: South Camden Theater Company, 400 Jasper St. Camden, N.J.
When: Friday, Nov. 3 – Sunday, Nov. 19
The title says it all: "The Curious Incident of the Dog in the Nighttime" is the latest production put on by the South Camden Theater Company. The play tells what happens when an enterprising teen embarks on a journey of self-discovery after being accused of a crime he didn't commit.
---
Delaware
The Grand Presents The Moth: True Stories Told Live
At "The Moth: True Stories Told Live," people selected in advance share their stories onstage without notes or prompts. The popular series was created by George Dawes Green in 1997 and has since traveled the country. The Wilmington edition is hosted by Eric Thomas, with the theme "Holding On and Letting Go." Ubuntu Black Family Wellness Collective founder Michelle Drew and Francesca Vavala, who was born a conjoined twin, are among local storytellers.
---
Special Events
Native American Heritage Month
The National Constitution Center commemorates Native American Heritage Month with programming and activities both at the center and online. You can register in advance for upcoming conversations and view the documents that detail the fraught relationship between Indigenous Americans and the constitution that failed them.
Tailsgate 2023
Where: Wells Fargo Center, 3601 S. Broad St. , Parking Lot G, exact location TBD, attendees will be notified before the event
When: Sunday, Nov. 5, noon – 4 p.m.
How much: $40 
The Dawgs will be out Sunday… and by that we mean the Philadelphia Eagles in their quest for a win against the loathed Cowboys at the Linc. The tailgating should be epic and at least one will help some of our four-legged "dawgs" and other endangered animals. The second annual Tailsgate benefits the Pennsylvania SPCA and is scheduled to end right before the game starts, so you can see that "W" in person — or at the bars nearby.
---
Arts & Culture
Philadelphia Museum of Art Contemporary Craft Art Show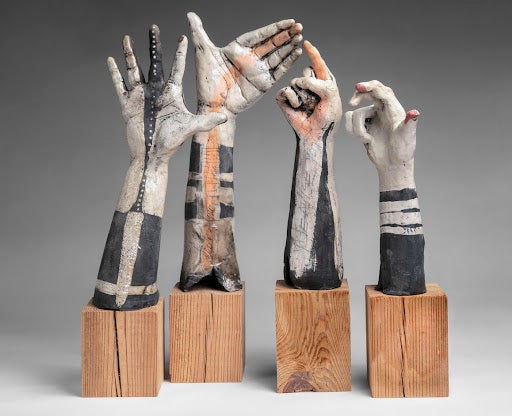 Where: Pennsylvania Convention Center, 1101 Arch St.  
When: Friday, Nov. 3, 11 a.m. – 7 p.m., Saturday, Nov. 4, 10 a.m. – 6 p.m. Sunday, Nov. 5, 10 a.m. – 5 p.m.
How much: $5 – $20
The Philadelphia Art Museum hosts the 46th annual Contemporary Craft Art Show at the Pennsylvania Convention Center this weekend. Almost 200 artists in 13 disciplines, including basketry, fiber wearables, wood, mixed media, glass, and ceramics, will showcase their work. This year includes 44 brand-new artists. Thursday's opening night ticketed gala and preview starts at 4 p.m.
 Olney Youth Arts Festival
Where: Thurgood Marshall Elementary School, 5120 N. 6th St. 
When: Saturday, Nov. 4, noon – 6 p.m.
How much: Free
After a four-year hiatus, the Olney Youth Arts Festival returns. Hosted by the Olney Culture Lab of CultureTrust Greater Philadelphia, the all-day event focuses on dance and movement, encompassing breakdancing, salsa, capoeira, praise, and ballet. Community organizations will be onsite to provide resources, and local restaurants and caterers will provide food.
 Philadelphia Asian American Film Festival
Films from Asia and the Pacific Islands are highlighted at the Philadelphia Asian American Film Festival. It's a hybrid event with screenings of shorts, docs, and feature films along with panels, available both in-person and online. Among the highlights: a screening of three documentaries dating back to the '60s on gentrification in the Asian and Black communities, followed by a discussion.
Jazz Philadelphia Summit
Where: REC Philly, 901 Market St. 
When: Thursday, Nov. 2, Friday, Nov. 3, 10:30 a.m. – 6 p.m.
How much: Free
Jazz artists and enthusiasts come together for a free two-day summit organized by Jazz Philadelphia. Its goal is to help jazz artists better promote and monetize themselves and their music. Vibraphonist Stefon Harris is Thursday's keynote speaker. Other jazz luminaries on the schedule include musician Ernest Stuart, the program director of jazz at Mid-Atlantic Arts, Gerald Veasley, the president of Jazz Philadelphia, artist Michelle Lordi, and Anthony Tidd, the chief creative catalyst at Ars Nova.
Macbeth in Stride
"Macbeth in Stride," a remix of "Macbeth," is written and directed by Whitney White, who takes a musical tour through multiple genres while reimagining the play through the lens of an ambitious, powerful Black woman.
Wondrous Space
Where: Franklin Institute, 222 N. 20th St. 
When: The permanent exhibit opens Saturday, Nov. 4
How much: Free with museum admission
The Franklin Institute opens "Wondrous Space," its new multimillion-dollar permanent exhibit, this weekend. It promises to connect attendees to the mysterious world of the cosmos with an immersive, interactive experience. Space may be the final frontier, but the exhibit promises to make it a more accessible one.
Wicked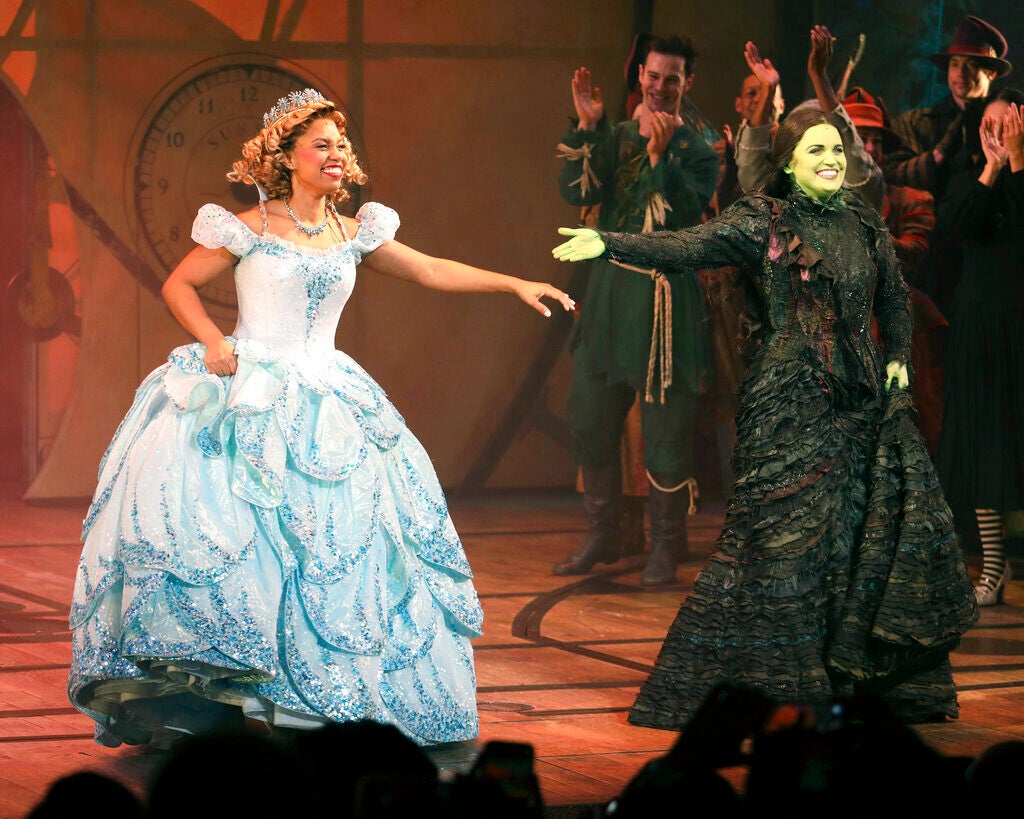 Based on the original characters in "The Wizard of Oz," the famed musical "Wicked" just celebrated its 20th anniversary on Broadway. Its touring show arrives in Philadelphia this week, promising regular shows at the Academy of Music in Philadelphia all November long.
Paint the Dance Floor: Glitz and Glam
Party like a rock star at the dance party "Paint the Dance Floor: Glitz and Glam" at the Institute for Contemporary Art. The free event uses Beyoncé's "Renaissance" as an inspiration, spinning through several decades of dance music history. DJ Delish is your musical guide and while there you can also check out the latest ICA exhibits, Moveables and David Antonio Cruz: When the Children Come Home.
---
Food and Drink
Main Line Today Restaurant Week
Where: Multiple venues
When: Sunday, Nov. 5 – Saturday, Nov. 18
How much: Prix-fixe lunch: $25, $30, $35; dinner: $30, $45, $55
Main Line Today's Restaurant Week kicks off Sunday, with prix-fixe menus at more than 40 participating restaurants. Among them is Amada Radnor, the suburban outpost of celebrity chef Jose Garces's popular Center City restaurant that opened earlier this year. Prix-fixe lunch ranges from $25 – $35 and dinner starts at $30 and goes up to $55.
Philly Vegan Restaurant Week
Where: Multiple locations
When: Through Sunday, Nov. 12
How much: Various prices
Plant-based diets are popular these days both for sustainability and health reasons. Vegan Restaurant Week hopes to spread the word about the versatility of a vegan diet with special menus at both vegan and non-vegan restaurants.
Oysterfest 2023
Where: Reading Terminal Market, 1136 Arch St. 
When: Thursday, Nov. 2, 7 p.m. – 9 p.m.
How much: $150 
If the world is your oyster, then Oysterfest is the way to go. The popular event at Reading Terminal is taking place Thursday with 11 local oyster proprietors. Molly Molloy's provides the craft beer accompaniment, and Pearl's Oyster Bar has the clam chowder.
48th Annual Apple Festival
Where: Peddler's Village, 2400 Street Rd., New Hope, Pa.
When: Saturday, Nov. 4, 11 a.m. – 5 p.m., Sunday, Nov. 5, 11 a.m. – 5 p.m.
How much: Free, pay as you go
Peddler's Village celebrates the 48th annual Apple Festival with several events and activities over two days. Food and crafts vendors will offer everything from apple cider donuts to apple crisps and apple pies, and live bands will perform throughout the two-day festival. Parking is free, but lots fill up early, so organizers recommend ride-sharing if feasible.
---
Music
Brit Floyd: 50 Years of Dark Side
Bandleader Damian Darlington has played over 2,500 Pink Floyd-related concerts in his career, which may be more than the original band. So he's the right frontman for "Brit Floyd," the performance that celebrates the 50th anniversary of "Dark Side of the Moon." The show is in line with the expansive stage production of the original tour that included a laser light show, a circular screen, and, most importantly, a close rendition of the classical music that inspired it.
Grace Weber
R&B artist Grace Weber has written and recorded with Chance the Rapper and Kanye West on the song "All We Got," and appeared on songs by L.A. rapper Boogie — and she's paid it forward, founding The Music Lab, a music education curriculum for high school students in her native Milwaukee. She's coming to Philly for a show at MilkBoy Sunday night.
Anthony Hamilton & Friends
Anthony Hamilton didn't make it to Philly this summer as his originally scheduled Met Philadelphia show on July 29 was canceled. But he's planning on making the trip this Sunday, bringing his gospel-tinged soul music to the Broad Street venue. Expect to be moved and soothed by his energetic stage show, which counts as church attendance — if you didn't make it earlier in the day.
Laura Mann, Dan Navarro: The Living Room 1st Anniversary Show
Where: The Living Room and Cricket Cafe, 104 Cricket Ave. 
When: Saturday, Nov. 4, 8 p.m.
How much: $25 – $35
Ardmore's The Living Room and Cricket Cafe has provided a cozy home for local and national singer/songwriters who thrive in an intimate space. Owner and musician Laura Mann celebrates the venue's first anniversary with a solo and joint performance with longtime collaborator Dan Navarro. He'll also do a set, so it's like three shows in one. A complimentary glass of champagne is included with the ticket.
First Friday with the Mini Qs
It's First Friday, and that means it's a party at the Barnes Foundation. The November edition features the Mini Qs, a trio blending jazz, hip-hop, and soul since 2004. Their latest album "Live," recorded at South, is out now.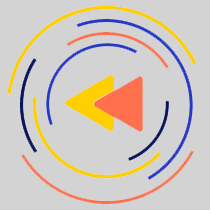 Saturdays just got more interesting.
WHYY is your source for fact-based, in-depth journalism and information. As a nonprofit organization, we rely on financial support from readers like you. Please give today.