'The Rivals' go at it with musical glee at Bristol Riverside Theatre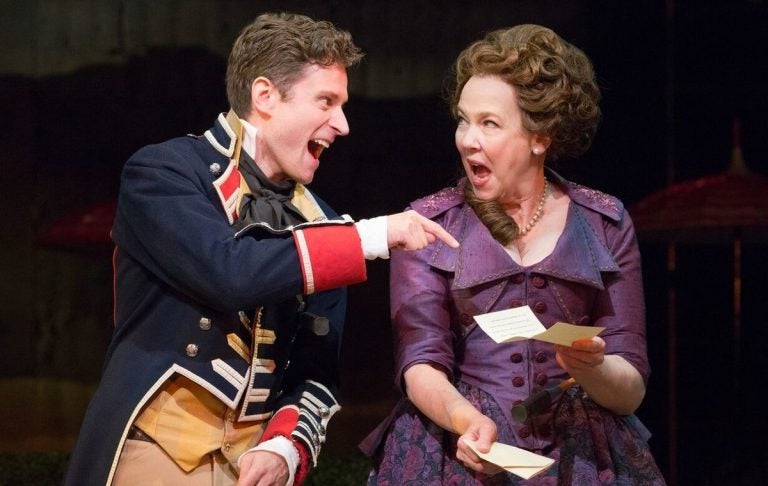 Somewhere under the floor of Westminster Abbey, near the burial sites of Geoffrey Chaucer and Charles Dickens, the playwright Richard Brinsley Sheridan might be laughing what's left of his arse off. If so, I'm laughing with him. "The Rivals," his 243-year-old romp of match-ups, mismatches, misidentifications and Mrs. Malaprop, is born again as a delightful musical that opened last night in its Bristol Riverside Theatre world premiere.
It's not the first time – the encyclopedias tell us that a musical of "The Rivals," apparently long forgotten, opened in London in the mid-'30s. It was said to be a success. I hope this one is, also, in the long run – its two producers who joined with Bristol Riverside to put up the show aspire to take it to Broadway although no concrete plans are announced, despite Bristol Riverside's marketing that calls the show "Broadway-bound."
The stage company's polished production boasts creators and performers who've worked on Broadway (some with Tony Awards), Off-Broadway and on national Broadway tours – among them the entire creative team and many of the actors. They honor the original play with Peter Kellogg's book that captures its essence and Sheridan's wit. Kellogg's bright lyrics and Stephen Weiner's enjoyable music further the plot or cement it, and include "I Love Her, But," the only show song I've heard based entirely on punctuation.
Some of the songs last perhaps a minute. Others, like a bittersweet riff on the vagaries of love called "My Heart Has a Mind of Its Own," performed by four women caught up in the plot at a spa in Bath, England, get a fuller treatment. All are accompanied by eight musicians who perform behind a side wall of the stage, and sung by a cast of 10 actors in fine voice.
The plot of "The Rivals" ties itself into mirthful knots I won't try to untangle here. (Shakespeare, with his many characters mingled in plots and subplots, was reverberating forcefully with Sheridan almost two centuries later.) The dashing young captain Jack Absolute falls in love with the sweet Lydia Languish (played and sung radiantly by Kevin Massey and Erin Mackey), but he has to pretend he's not from the moneyed class because Lydia believes love should be divorced from material wealth. She doesn't care that she'll lose two-thirds of an impressive trust fund if she marries against the will of her guardian aunt, Mrs. Malaprop.
Jack's imperious dad, Sir Anthony Absolute (the swell Ed Dixon) has his own ideas about a proper gal for his son, and he won't give the boy an additional penny without complete acquiescence. Sir Anthony's idea, it turns out, is focused on Lydia, the same person Jack already adores. But neither father nor son knows this because communications are bad – eons before texting, everyone sends messages in letters carried mostly by the busybody servants (Emma Stratton and Joe Veale).
Other suitors are focused on Lydia, too: the effusive Squire Bob (Chris Dwan, moving like a Slinky) and a puffed-up Scotsman (John Treacy Egan, appropriately self-assured). Two others are also ambled in their attempt at love: Lydia's cousin Julia and the overly-sensitive bumbler who once saved her life (Charlotte Maltby and Jim Weitzer, both good fun).
Tied to all these people is the traffic character – pardon me, I mean terrific character – Mrs. Malaprop, whose use of inappropriate English is as loopy as the show's plot. She's played by Harriet Harris, a Tony-winner for her performance in "Thoroughly Modern Millie" and a standout in three other Broadway shows I've seen. Harris is completely at home twisting the meanings of sentences with authority and brio. She's funny in her precise imprecision, demanding that her niece germinate her dalliance instead of terminate it, and the like.
Eric Tucker directs "The Rivals" to reveal the human side of its revelry – in one scene, he has much of the cast wading and swimming in and out of a spa pool to great effect, without nary a drop of real water; Bradlee Ward's sound design provides the splashing unique to each person and Joe Doran's lighting seals the scene with a watery effect.
Lisa Zinni's costumes take us elegantly into the mid 18th-century, and Jason A. Sparks' choreography introduces just enough movement to keep some of the songs going. I wondered at first about the orchestrations of Bruce Coughlin, which seemed scant until I realized that this is the first new musical in some time in which the orchestra (conducted by music director Steve Marzullo) didn't sometimes overwhelm the show's lyrics. That's fitting for a show in which many characters have their own desires and little disappointments, all of them aired with clarity — and with a lively helping of merriment.
—
"The Rivals" runs through Nov. 18 at Bristol Riverside Theatre, 120 Radcliffe St. in Bristol. 215-785-0100 or brtstage.org.