The Philly art community rallies for children of prominent muralist who died in November
Listen
2:10
A few months ago, Philadelphia lost one of its brightest artists. Willis "Nomo" Humphrey died suddenly of a heart attack in November. He was 44.
This weekend, an art auction is planned to raise money for his three kids. About 50 area artists are expected to contribute work.
Humphrey was originally from Mississippi, moving to this area to work with Mural Arts Philadelphia, where he was a staff artist. He worked on several prominent murals, including pubic portraits of historical black figures W.E.B Dubois, Octavius Catto, comedian Kevin Hart, and the band The Roots.
"He was a beloved figure in his community. Very influential. Very respected," said Kier Johnston, who co-founded with Humphrey the artist collective Amber Art and Design, and had a shared studio in North Philadelphia.
Humphrey's art career was on the upswing, a busy stream of public and studio work. In October, he unveiled a mural of Octavius Catto. In November, he worked with Johnston on a mural for the new Wawa at Sixth and Walnut streets. They finished it two days before Humphrey's heart attack.
"His passing sent such a shock wave through the local cultural community," Johnston said.
Johnston put a call out for artwork to be auctioned off as a benefit Humphrey's kids — ages 13, 16, and 18 with the oldest just starting college. He also created a GoFundMe page.
The work has started trickling into the Crane Arts Building in Kensington, where a silent auction will take place this Friday and Saturday.
Johnston expects about 100 pieces of art, some coming from artists who knew Humphrey well, others from artists who had never met him.
Among the work available will be prints by Humphrey.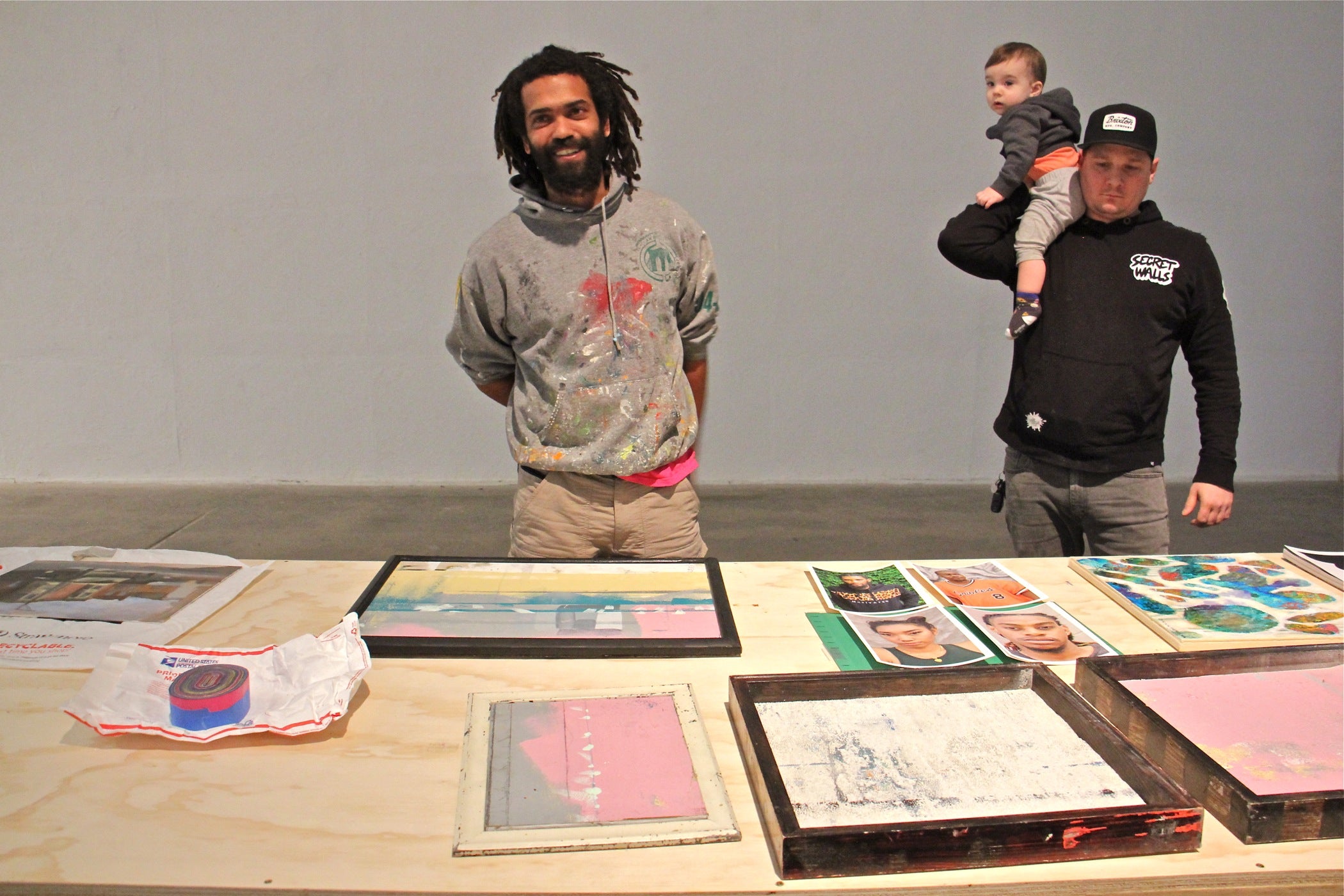 Ben Howard is one of the artists who knew Humphrey. He dropped by the Crane Art's Icehouse exhibition space Tuesday toting his baby son, the stroller loaded with artwork.
"I live in South Philadelphia, and artists are not the richest people in the world," he said. "I had a lot of bicycles stopping by my house to drop stuff off today. It's so cold, I didn't want everyone to ride across the city."
Howard had worked with Humphrey, on and off, for about 12 years.
"Philadelphia and big cities are funny places because it's hard to be vulnerable about people you respect," he said. "You don't want them to know your weaknesses, or think you're stealing what they're good at. In perspective, it's easier to honor and respect how good he was as an artist."
The auction is planned to have a party vibe, with DJs, spoken word performances, and food and drink. It's not a funeral. It's meant to celebrate a life gone too soon.
"I think we're going to be having a good time pouring out our glasses on the ground for the fallen soldier, but some people are going to be holding back tears, too," Johnston said. "It's hard, you know. It's hard."