The many fairs and festivals of Labor Day weekend
Listen
3:40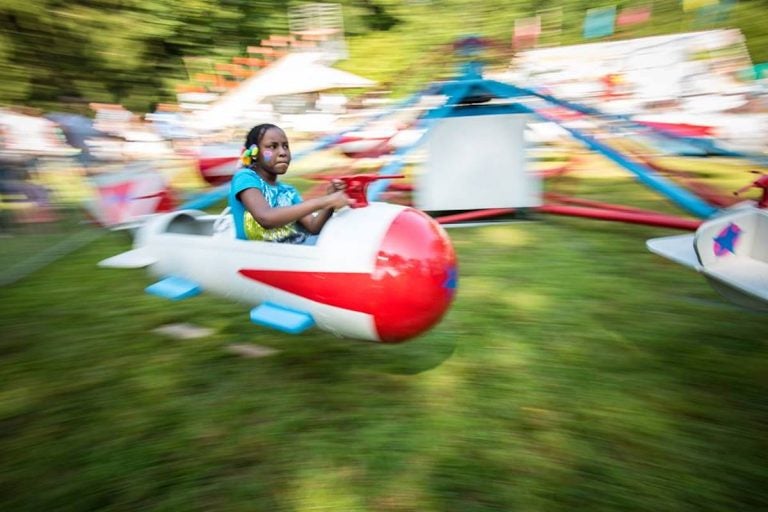 Labor Day weekend means some familiar fun: The Made in America Festival, run by the Jay-Z-founded entertainment company Roc Nation, is back on the Benjamin Franklin Parkway after all, despite conflict with the mayor over the location last month. Kendrick Lamar and Nicki Minaj are headlining.
Then, of course, there's the fireworks show over the Delaware River on Saturday night. You might want to watch from the Blue Cross RiverRink — the riverside skating rink, arcade, mini golf course and Ferris wheel — since it closes for the season Monday. The Battleship New Jersey in Camden is also hosting a fireworks-watching party. Earlier in the day, it's offering free back-to-school buzzcuts in the battleship's barber shop — admission is free if you're getting a cut.
Here are some Labor Day weekend events further off the beaten path.
YallaPunk Festival and Conference
Aug. 31-Sept. 2
Crane Arts and Johnny Brenda's, Philadelphia
Tickets: $10-$50
YallaPunk originated with a show flyer: Someone had plastered Philadelphia with posters for a DJ set that included Arabic writing — but the text was gibberish. Rana Fayez, a DJ and musician who lives in Philadelphia and hails from Saudi Arabia, saw the flyers and confronted their creator.
"You're just doing this to sell tickets, because you're not playing any Arabic music, you're not putting on any Arab musicians," she told him. "That really bothered me."
So last year, she gathered a group of musicians of Middle Eastern and North African descent and started YallaPunk, a music and arts festival that celebrates MENA creators. "Yalla" is a common term in Arabic and other MENA languages, meaning "come on" or "let's go." Punk, says Fayez, conjures "a state of mind, a way of congregating, being loud, and being very honest and being very action-oriented, coming together."
This year, electronic artist Hello Psychaleppo is headlining. That's producer Samer Saem El-Dahr, who left Syria in 2012 with none of his music. "I thought I'd be back within a month, because I thought things were going to get better," he told The New Arab. His music blends electronica with Arabic music such as recordings of Bedouin songs. Other bands include City of Djinn and the Philly-based group Night Raids. There's also an all-female comedy lineup, poetry readings by Natasha Cohen-Carroll (co-founder of the Mustard Seed Film Festival), and workshops, including one on filmmaking by WHYY's own Heidi Saman. This year's expanded vendor fair will feature tattooing and henna, in addition to treats like Arabic coffee banana splits. Yalla!
WXPN Welcome Waterfront Sessions with Hardwork Movement
Aug. 30, 6:30-9:30 p.m.
Spruce Street Harbor Park, Christopher Columbus Boulevard, Phila.
Free
Philly-based hip-hop group Hardwork Movement is known for putting on high-energy live shows with a full brass and woodwind section. The group's music and videos also contain a high dose of Philly love and hype. Perfect for this summer's last WXPN Waterfront Session, a series of free concerts at the Spruce Street Harbor Park — which closes at the end of September.
Summer unWINEd concerts at Shady Brook Farm
Aug. 31, 5:30-9 p.m.
Shady Brook Farm, 931 Stony Hill Road, Yardley, Pennsylvania
Tickets: $5
One more outdoor concert, since their days are numbered: Shady Brook Farm in Yardley is hosting its final Summer unWINEd concert Friday night. Bucks County-based band the Mango Men are playing. Wines from Rose Bank Winery and craft beers are for sale, and there will also be lawn games, races, and go carts for the kids. Arrive early to pick your own apples and peaches, or visit their farmstand, open until 11 p.m.
111th Annual Arden Fair
Sept. 1, 10 a.m.-6 p.m.
Arden Gild Hall, 2126 The Highway, Arden, Delaware
Free
Come for the 50-plus antiques vendors, the 120-plus vendors of handmade crafts and jewelry, and stay for the plant sale, the book sale, the live music, and much more. The 111th Annual Arden Fair promises something for all ages, including a folk dancing demo, a holistic health expo — plus kettle corn and meatball sandwiches, of course.
Mary Bowser: Becoming a Civil War Spy
Sept. 1, 2-3:30 p.m.
The African American Museum in Philadelphia, 701 Arch St., Philadelphia
Tickets: $7
In a story just made for Hollywood, newly freed slave Mary Bowser traveled to Philadelphia in 1851 to get an education. Nine years later, she returned to the South as a spy, positioned as a slave to Jefferson Davis's family in the Confederate White House. Author and educator Lois Leveen will be at the African American Museum in Philadelphia this weekend to talk about Bowser's incredible life by imagining her Philadelphia years. What would it have been like to enter a city with both a vibrant community of free African-American creators and widespread discrimination? What would it have been like to leave that for the Confederacy?
Labor Day Volksfest
Sept. 1-3
Cannstatter Volksfest Verein, 9130 Academy Road, Philadelphia
Tickets: $6 for one day, $9 for two, $11 three; children under 12 free
It may be September, but it's already Oktoberfest in Torresdale. This German festival features rides and games for kids, German-American music and dancing, plenty of bratwurst, and German beers.
Looking for more fairs? There are tons of festivals happening this weekend, all over the region. Check out dozens of bands at the Delaware Valley Bluegrass Festival in Woodstown, New Jersey. The Allentown Fair is a classic agricultural fair with some twists: In addition to the tractor pull, there's a spiritual and holistic expo, a gigantic garage sale, and an antique toy show. On Sunday, the Scandinavian Fest takes place in Hackettstown, New Jersey.