Tensions high between City and Occupy, Sheriff's Office's investigated, CDAG objects to SugarHouse expansion, Buddhist temple's deed stolen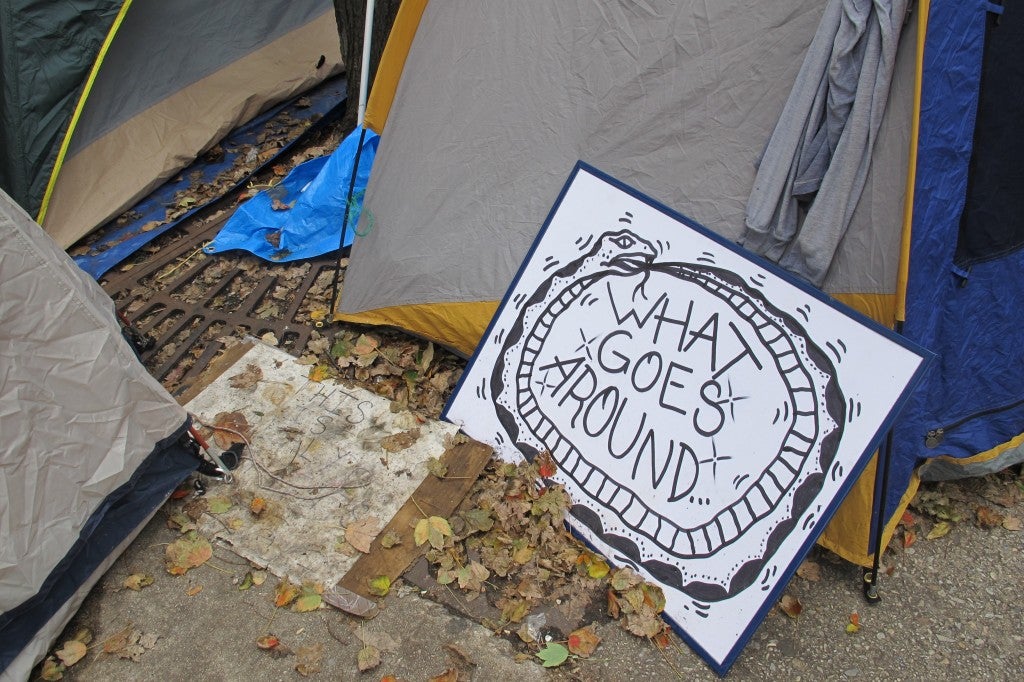 It looks like Occupy Philly is heading for a showdown with the city. On Friday, Occupy Philly voted to remain in Dilworth Plaza, delaying the $50 million overhaul of the plaza, reports The Inquirer. Still, Occupy Philly is not of one mind about the move. Some feel that staying put is empowering to, while others think that strategy prevents working people from earning a living. Mayor Michael Nutter expressed concern and frustration over deteriorating conditions within the tent city and breakdowns in communications with the city, and he stepped up police presence at Dilworth Plaza on Sunday.
Philadelphia's Sheriff Office comes under fire for the way it has sold foreclosed homes, reports The Daily News. A City Controller report due out Wednesday details ethics violations Tyrone Bynum, aide to former Sheriff John Green, who oversaw Sheriff Sales while running a business selling distressed homes.
Central Delaware Advocacy Group takes issue with SugarHouse's expansion plans, which the Planning Commission will consider on Tuesday. The casino expansion largely centers on the construction of a large garage. As PlanPhilly's Kellie Patrick Gates reports, CDAG sees one upside: the waterfront trail would be extended north toward Penn Treaty Park.
The Bo De Buddhist Temple's deed was stolen, and the community is dealing with the fallout, reports the Philadelphia Public Ledger. A former temple member illegally transferred the deed to Bo De's property at 13th and Washington to another Buddhist group. Citypaper's The Naked City blog notes that a December 5th hearing could restore the temple's rightful ownership to its local community.
The Buzz is Eyes on the Street's morning news digest.