Taller Puertorriqueño closer to building new cultural center on North 5th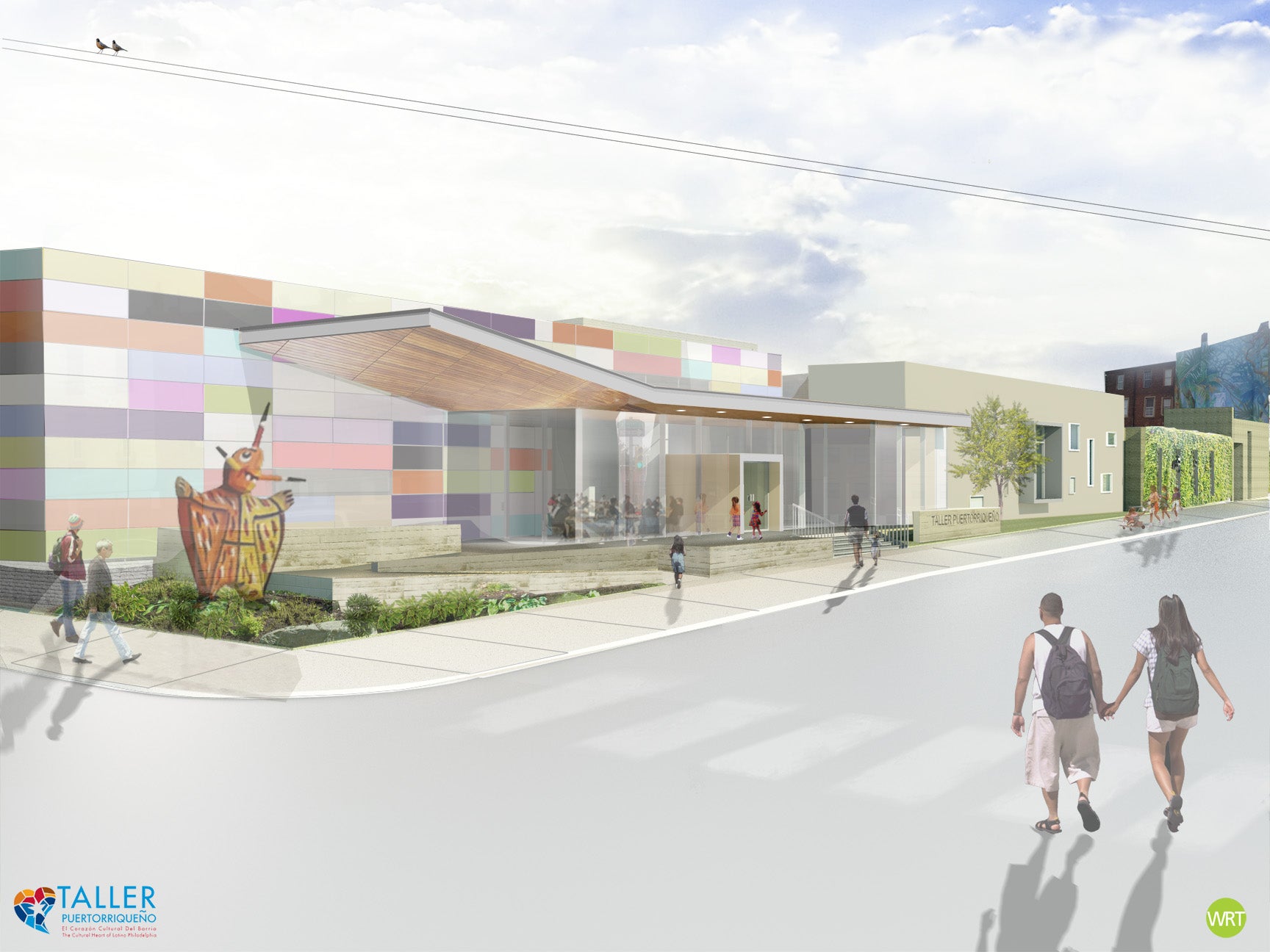 After years of dreaming, fundraising, research and designing, Taller Puertorriqueño is edging ever closer to building on a new cultural center on what is now a 2.3 acre surface parking lot at North 5th and West Huntingdon streets in Fairhill.
Over the last 40 years
Taller Puertorriqueño
, an arts and education group dedicated to preserving and sharing expressions of Latino and Puerto Rican culture, has worked out of two buildings that are about to burst at the seams. Its main building in
El Centro de Oro,
on North 5th Street just north of Lehigh Avenue, has a shop for books and crafts on the first floor, a narrow gallery on the 2nd floor, and the organization's offices above. Down the street, Taller Puertorriqeño's education building is busy with youth art classes and cultural programs. Taller has made do with being split, but it's become a limitation.
Now Taller is pinning high hopes on its new facility, the El Corazón Cultural Center, as a place to enhance their already well-used programs, and provide a new foundation for cultural expressions and experience in the heart of Latino Philly.
"We've outgrown the space, and not only outgrown but the space is just not adequate for the kind of artistic quality work that we want to present," said Taller Puertorriqueño's director Dr. Carmen Febo San Miguel. "I think we've done miracles with the space we have, but it's time to have a vision and a dream for what could be. And that is what this building represents for us. It represents growth, it is icon of pride and gathering and celebration of who we are and our culture."
The design firm Wallace Roberts & Todd (WRT) has developed plans for the new building that includes flexible, multi-use rooms for events and classes, offices, as well as an incubator space for creative start-ups, a café and shop to help support the building. WRT has designed a low-slung, single story that provides accessibility throughout, something Taller's main building lacks. The cultural center's gallery, classrooms, shop and cafe will be around a central interior "plaza," which is designed to foster interaction and connection between different users.
"The real focus here is the activities happening within and how the architecture can support that," says WRT principal Antonio Fiol-Silva, the main project architect. He has been keenly focused on making sure that the building can be a living cultural center for Latinos and Puerto Ricans in the neighborhood and the region at large.
The entrance off North 5th Street features a colorful, textured fronticepiece, a sort of inviting porch that opens directly to the plaza inside, as well as green walls. The green motif will continue throughout the site with lushly planted interior spaces and even a green roof if budget permits.
Fiol-Silva notes that the plan is really a collection of buildings, "almost like a neighborhood," and a collage of colors and materials. Rather than taking literal inspiration from traditional Latino building motifs, the idea is to create a building that can be "appropirated" by the artists that use it.
"We felt that it was important that the building not too overtly try to use an architectural vocabulary," he said. "What will make the building come alive are these incredibly vital and eclectic range of activities."
El Corazón Cultural Center site plan, May 2014 | courtesy of WRT

El Corazón Cultural Center model | courtesy of WRT

El Corazón Cultural Center model | courtesy of WRT
Fairhill doesn't see an extraordinary amount of development, much less development geared at building cultural capital and fostering community. But Carmen Febo San Miguel points to Congreso's new building nearby as an example of how times are changing. In terms of cultural investment, she acknowledges, this is a first.
Last week the Planning Commission recommended approval of a bill introduced by Councilwoman María Quiñones-Sánchez to rezone the property for the project and Febo San Miguel said the city already approved the transfer of the parking lot to Taller Puertorriqueño for a nominal fee. Construction documents are nearly done, and at last the fundraising gap is closing.
"It's so close we can touch it," said Febo San Miguel of the project's progress.
The project will cost about $10.5-$11 million. Taller received an initial $1.5 million in funding from the Commerce Department back during the Street administration. They subsequently secured $5 million in Redevelopment Assistance Capital Program (RACP) funds from the state. Taller is also a finalist for a $300,000 grant from ArtPlace America.
Taller has raised more than $150,000 from private sources for the cultural center. That includes more than $10,000 from an experiment in crowdfunding online, commitments from a corporation and foundation, and the rest came from members of the community. "And I want to stress the rest is community people because we're talking about over $80,000," Febo San Miguel said, noting that far exceeded Taller's fundraising goal for community contributions.
The project is eligible for $3 million in New Market Tax Credits too, said Febo San Miguel. So all told the fundraising gap stands at about $1 million to $1.5 million. Considering that's what they started with from the Cultural Corridors program, Taller just might close that gap soon and Febo San Miguel says they're pursuing every source they can – more online giving, courting possible donors, even a collection box at Taller Puertorriqueño. It says every dollar counts.
"Although this is Taller's project this is something that's going to benefit the community as a whole. And I think that the community needs to understand that it also needs to own it. If you can contribute $1, contribute $1. If you can contribute more, contribute more. But this is a project that is going to have ripple effects throughout the community and benefits to everybody in the community. Unfortunately benefits are not free. They have a cost. So Taller is taking this on but we need everybody to understand that this is a project of everybody," Febo San Miguel explained.
"It's a symbol of aspirations. Well it won't be a symbol anymore, right? It will be the realization of aspirations. I think that we all in our hearts have a need to have this space in our community that allows us to celebrate who we are. Taller has played that role in its 40 year development, but this is taking it to the next level. This is a culmination. We've had this aspiration, we're going to get there."