Sweeney promises further education reforms as he eyes 2017 gubernatorial bid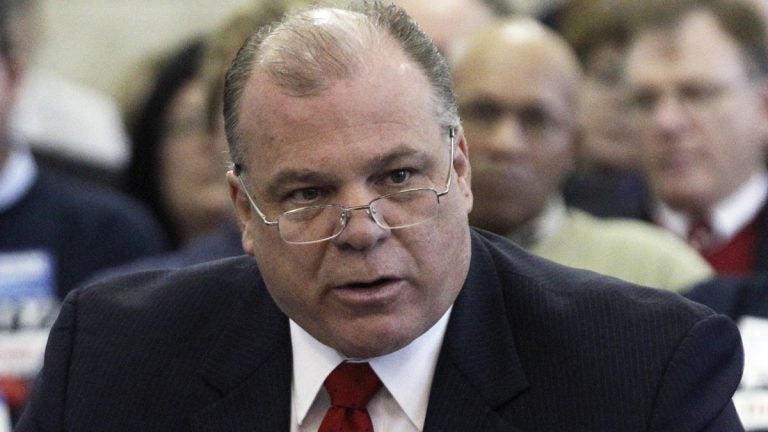 Fort Lee is no longer on gridlock alert, but suddenly New Jersey's efforts towards education reform are stalled. Shall we review? Gov. Chris Christie is in freefall. Education Commissioner Chris Cerf announced Tuesday he is jetting off to rosier climes (specifically, to Amplify Insight, the education arm of Rupert Murdoch-owned News Corp.) and abandoning the morass of the Department of Education.
Time to regroup and take the measure of several percolating education reform issues that will present themselves to the N.J. State Legislature in the coming term. Fortuitously, this week John Mooney at NJ Spotlight interviewed N.J. Senate President Steve Sweeney; to his credit, Sweeney, whom many regard as the frontrunner in the next gubernatorial contest, offered some refreshingly frank answers that provide a roadmap to likely Statehouse educational priorities this year.
First, a larger context, particularly pertinent to issues of public school reform and school funding in general: New Jersey is broke. Three recent reports — from the Common Sense Institute of New Jersey, the Mercatus Center at George Mason University, and the ratings agency Moody's — confirm that "the current funding deficit of the state pension system is somewhere between $45 billion and $56 billion depending on how it's calculated." Among all 50 states, only Illinois is in worse shape. New Jersey is dead last in rankings of budget and long-term solvency. The Common Sense Institute warns that, absent meaningful reforms, "these pension plans will remain unsustainable with the only question being by how much and when insolvency will occur."
This year the State is required to make a pension payment of $2.4 billion. That's almost a quarter of N.J.'s annual state aid to public schools.
New Jersey's fiscal shambles, which date at least as far back as the Florio Administration, appropriately inform Sen. Sweeney's wish list of education reform items. For starters, Sweeney concedes that N.J. cannot fully fund the School Funding Reform Act (SFRA). SFRA is a 2008 law passed during the Corzine Administration that aimed to replace "Abbott funding," or compensatory resources to NJ's poorest cities, with a weighted formula intended to provide an equitable education to all students, regardless of district of residence. The State Supreme Court accepted the formula on the condition that N.J. fully funds it. That's happened exactly once.
Here's Sweeney: "We passed a funding formula that passed muster of the state Supreme Court, and we were on course to fully fund it — and it stopped. It stopped under Jon Corzine, so I can't blame Gov. Christie completely. But the problem is our economy wasn't growing to fund it, and our economy still isn't growing. We have only recovered 45 percent of the jobs since the recession, so there is no funding. The way we fund our educational program is through growth in our economy."
From the Spotlight interview with Sen. Sweeney:
Q: "Can the state fully fund it [SFRA] this year?"
A: "No. And we can't fund a longer school year and a longer school day, either."Sweeney refers to Christie's proposal during his State of the State speech last month to extend the school calendar. Sweeney also acknowledges that public schools may lose state aid this year because of that $2.4 billion in pension obligations. And (as school districts and municipalities gasp in horror) he'd like to lower the current 2 percent cap on tax increases to 0 percent in order to promote consolidation.
Full school funding is off the table, but not charter school law reform. The Legislature has been working on this for years – N.J.'s current law is badly flawed — and several bills are in the hopper. One logjam is the politically-charged issue of whether new charter school approvals should have to pass muster through a local community vote. Groups like Save Our Schools-NJ and Education Law Center assiduously lobby for such a revision, even though no other state in the country subjects aspiring charter school applicants to a community vote with no appeals process because such a requirement would shut down charter school expansion.
Q: "Do you support a local vote being required for any new charter school to open?"
A: "I would not support that. You would never get a new charter approved. The way you prevent new charters is you put out a good product in the district schools."
Gridlock or not, there's hope for N.J.'s public education system as the most powerful Democratic politician in the state reveals his education reform bona fides. We may be broke. Our governor may be sidetracked. Our Commissioner of Education may be history. But education reform efforts in N.J. still have plenty of gas.
___________________________________________________
Laura Waters is president of the Lawrence Township School Board in Mercer County. She also writes about New Jersey's public education on her blog NJ Left Behind. Follow her on Twitter @NJLeftbehind.