Swarthmore fraternities shut down after campus protests
Swarthmore's only fraternities, Phi Psi and Delta Upsilon, say they hope their decision to disband will promote 'healing.'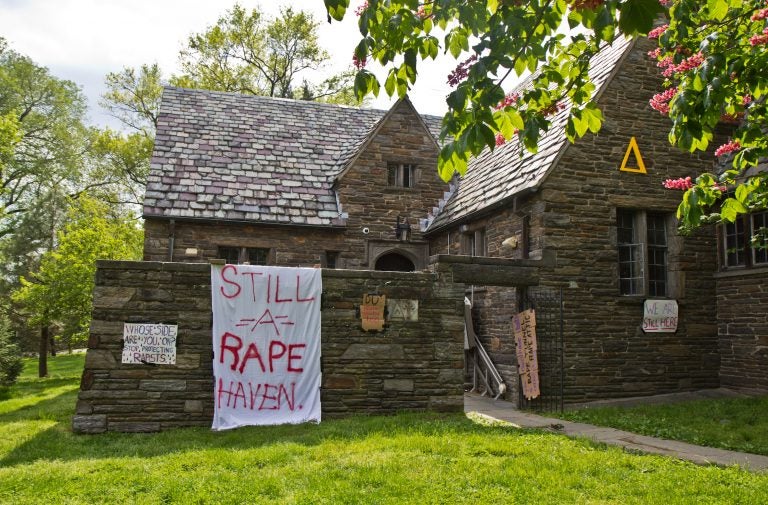 Swarthmore College's two fraternities have voted unanimously to disband, following four days of student protests over leaked documents containing vulgar and demeaning references to women and minorities.
In statements posted to their respective Facebook pages, members of Phi Psi and Delta Upsilon fraternities announced their dissolution, saying it was in the student body's "best interest."
"We hope that our decision will help the campus achieve transformative justice for those who have been harmed and promote institutional healing," wrote the brothers of Phi Psi.
Their decision follows four days of sit-ins inside the frat houses and weeks of student activism. On April 3, students created a social media page "Why Swarthmore's Fraternities Must Go," containing anonymized accounts of sexual assault and describing a range of demoralizing behavior in the fraternity houses.
Two weeks later, student publications The Phoenix and Voice published 117 pages of redacted Phi Psi internal documents, which described a room in one frat house as a "rape attic" and containing misogynistic and dehumanizing language that also belittled people of color and LGBTQ people.
On Saturday, demonstrators with the campus groups Organizing for Survivors and the Coalition to End Fraternity Violence moved in to Phi Psi's building. Over the next four days, numbers fluctuated from a few dozen to around 100 students, according to organizers. The stone house, leased from the college, was home to one student, who was relocated.
On Tuesday afternoon, about two dozen students studied inside or on the lawn in front. A Russian literature class met on the grass nearby.
Online, a petition circulated by Swarthmore '18 graduate Priya Dieterich called on alumni not to donate to the school until the protesters' demands were met.
With the fraternity's announcement, demonstrators celebrated.
"The fraternities were at Swarthmore for over 100 years, and there have been efforts to get them gone for almost that long, so this is truly amazing," said freshman Amal Haddad, a member of the Coalition to End Fraternity Violence. She said the organization is still frustrated by the administration's response and called on school leaders to include demonstrators in the process of determining how to repurpose the two houses.
In a letter, Swarthmore College president Valerie Smith said she respects the fraternities' decision but cautioned against "unsubstantiated attacks directed at individual students."
"We have heard heartbreaking stories from students who feel unwelcome to the point of wanting to transfer out of our community. Those stories have come from across the spectrum of our student body — from student protesters to fraternity members," she wrote.
Swarthmore has only had two fraternities for decades; some of them came close to closing before.  In the past, alumni from the frat helped rescue them. In 2012, the sorority Kappa Alpha Theta formed at Swarthmore, but it doesn't have its own house for parties.
WHYY is your source for fact-based, in-depth journalism and information. As a nonprofit organization, we rely on financial support from readers like you. Please give today.