Storytelling Block Party: "Stories For Our Younger Selves" at The Village of Arts & Humanities, 19133
DJ Dilemma provides the soundtrack at the Storytelling Block Party. (Miguel Martinez/Every ZIP Philadelphia)

Host & Philadelphia Poet Laureate Yolanda Wisher. (Miguel Martinez/Every ZIP Philadelphia)

Every ZIP Philadelphia Poster by Nile Rodgers. (Miguel Martinez/Every ZIP Philadelphia)

BBQ served by Brenda Wilson-Toler and her team. (Miguel Martinez/Every ZIP Philadelphia)

Materials from the People's Paper Co-Op. (Miguel Martinez/Every ZIP Philadelphia)

Artwork by the People's Paper Co-Op. (Miguel Martinez/Every ZIP Philadelphia)

Block Party Activities. (Miguel Martinez/Every ZIP Philadelphia)

Young audience members at the Storytelling Block Party. (Miguel Martinez/Every ZIP Philadelphia)

Every ZIP Philadelphia Lead Producer Alex Lewis gives thanks. (Miguel Martinez/Every ZIP Philadelphia)

Storytellers Faith Bartley and Michelle Scales embrace during the performance. (Miguel Martinez/Every ZIP Philadelphia)

Storytelling Block Party Audience. (Miguel Martinez/Every ZIP Philadelphia)

The scene at the Block Party. (Miguel Martinez/Every ZIP Philadelphia)
Our second public storytelling event was held on June 18th, 2016 in scenic Ile Ife Park at The Village of Arts & Humanities in North Philadelphia.
For nearly two months, we collaborated with The Village to put together this event that would highlight their organization's people and initiatives through live storytelling, music, food, and an array of community-based activities. The event was hosted by Philadelphia Poet Laureate Yolanda Wisher, the music was provided by DJ Dilemma, and many people from The Village, WHYY, and from across the city contributed as well. Thanks to everyone who performed and to the warm audience who made the event a resounding success.
This page is designed to document and celebrate the Storytelling Block Party. Below you'll find full versions of each live story alongside photos and other media from the event. The theme of the day was: "stories we would tell our younger selves".
---
Introduction: Yolanda Wisher
Philadelphia Poet Laureate Yolanda Wisher emceed the storytelling program. She started the event by reading this poem by a young woman who had recently passed away. Yolanda had mentored her in a poetry workshop the previous summer. She follows that poem with a poem of her own.
---
Jasmine Combs
Poet Jasmine Combs was the afternoon's first storyteller. She's a recent Temple University graduate and a rising force in the local poetry scene. She shared her story about becoming a poet. It's a montage of growing up and finding your voice as an artist.
---
Tony Jones
Tony Jones helps lead the Men's Group at Serenity House in North Philly. He gave his story the title "The Young Boy and The Bus". It's a short, harrowing coming-of-age story about learning from our mistakes. As Tony says, "What I know now… is that our actions, everything we do, affects others."
---
Vashti Dubois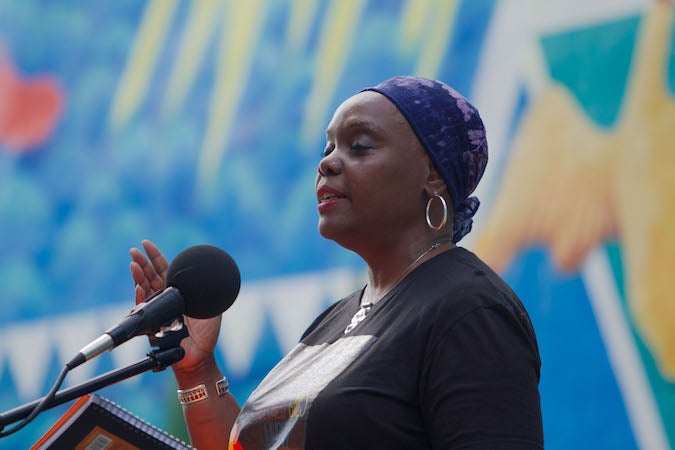 Vashti Dubois is a multidisciplinary artist and non-profit leader. She founded the Colored Girls Museum, which she runs out of her home in Germantown. Here, she talks about what inspired her to start the Colored Girls Museum and shares a list of advice for her younger self.
---
Michelle Scales
Michelle Scales is a member of the People's Paper Co-Op at The Village of Arts & Humanities. She told a story entitled "Around The Corner" about getting lost and finding herself again.
---
Jacob Winterstein
Jacob Winterstein is a poet, teaching artist, and event producer. His story featured three teachers from his childhood. It's equal parts a tribute to the important mentors in our lives and a reminder to always think outside the box.
---
Faith Bartley
Faith Bartley was the final storyteller of the Block Party. Like Michelle Scales, she's also a longstanding member of the People's Paper Co-Op. Faith shared a story about her mother and the lessons we must learn about ourselves again and again.
---
Closing Statement: Yolanda Wisher
To conclude the storytelling program, Yolanda Wisher shared this short poem by the late poet Lucille Clifton entitled, "won't you celebrate with me".
Below, event attendees share their advice to their younger selves. Photos taken by photography students at The Village of Arts & Humanities.
WHYY is your source for fact-based, in-depth journalism and information. As a nonprofit organization, we rely on financial support from readers like you. Please give today.