Stop talking about Kensington Avenue like it's a wasteland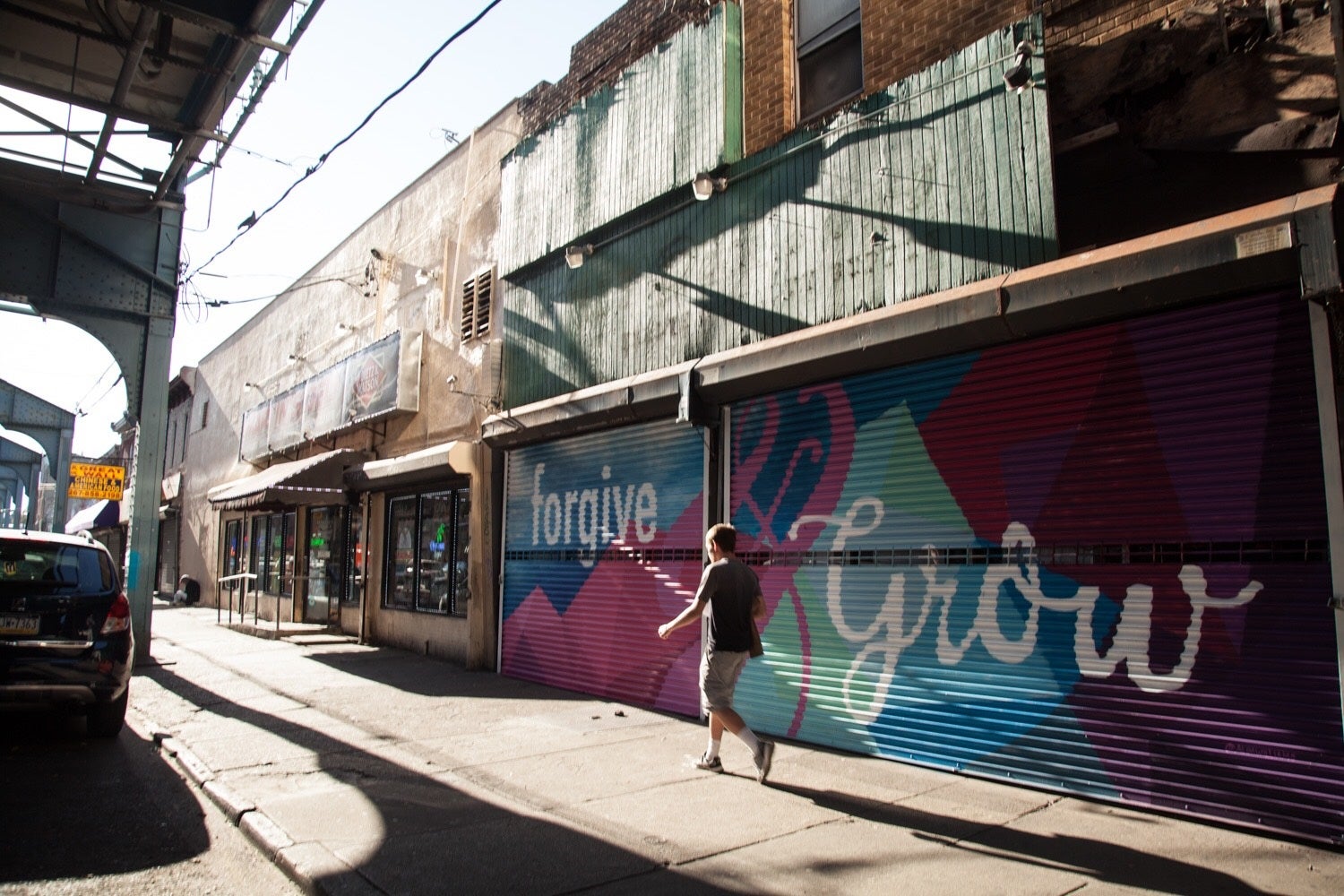 By Sam Woods Thomas
During my three years managing commercial corridors for the The New Kensington Community Development Corporation (NKCDC), on Kensington Avenue and several other business thoroughfares, I got to know the small business owners, civic associations, and other stakeholders working every day to revitalize the local economy. I also undertook strategies to address chronic issues of blight and vacancy. Through it all, I consistently found myself impressed in awe of the merchants on Kensington Avenue and hopeful for their entrepreneurial futures.
Knowing Kensington Avenue like I do, I am distressed by its predominantly negative and fetishized depiction in the media. A Google search for "Kensington Avenue Philadelphia" yields horrendous images of sad-eyed people slumped over in varying poses of despair. Words such "hopeless" and "dystopian" punctuate an endless scrawl of depressing articles. Even Dr. Oz took the time to show us a Kensington Avenue as a "hellscape." These articles tell an intentional narrative, one which has no room for hope.
Worse, still, are the articles characterizing this commercial corridor as an adventurous destination for the open-minded shopper. They paint a picture of a poverty zoo. A recent piece chronicles the author's adventures "day drinking" in "forgotten" Philadelphia. Forgotten by whom? Not by the thousands who call it home and certainly not by the merchants who, every day, open their businesses. The problem is that Kensington Avenue is largely unseen by Philadelphians. Those who do not frequent it rely on the media's interpretation and are primarily getting this message: Kensington Avenue is a barren wasteland where no happiness can find purchase. Even more concerning are the fetishizations of the corridor, which go something like this: Yes it's bad, but it can be fun to visit because it's bad.
Those of us who work and have worked in this community are routinely disappointed by these narratives, and the merchants on Kensington Avenue have their livelihood betrayed by them. There are real, endemic issues at play on the Avenue. No one denies this. The problem is, no one seems to want to write about the good. It is craft fully omitted, in lieu of the salacious and the tragic. This lack of message parity is harmful to the corridor.
Despite what you may read, Kensington Avenue is open for business, and there are plenty of reasons to visit the Avenue. Some merchants, like Widdy Darts, a 108-year-old dartboard manufacturer, have been that way for a long time. Some, such as the second location for the Baltimore Avenue-based Vientiane Cafe, are just getting started. Mainstays such as Martins Deli, Four Son's Pizza, and Bentley's Place operate as they have for decades, plugging along, believing in the strength of their community.
Like many corridors, there are destination spots for Philly foodies. One such is the cluster of businesses just off the Huntingdon Market Frankford Line stop, where two of Philly's best Vietnamese restaurants, Thang Long Noodle Restaurant and Café Pho Gha Than Than reside. They draw a diverse crowd: tight-pantsed hipsters and long-time residents alike enjoy the delicious food in equal measure.
This energy is not relegated to existing businesses. As momentum grows, more and more entrepreneurs are looking at Kensington Avenue as a viable corridor for their businesses. Corridor vacancy, lower costs of real estate, and dedicated community groups and entrepreneurs make for an attractive location.
In 2017 developers Shift Capital, in partnership with NKCDC, IMPACT Services Corporation, and the Philadelphia Department of Commerce launched the innovative Kensington Avenue Storefront Challenge. With the promise of rent subsidies and financial technical assistance from Shift and partners, nine new businesses will be opening shop on Kensington Avenue by this summer. These are bakeries, daycares, artist spaces, and coffee roasters; businesses selected to draw foot traffic and fill much-needed service gaps. Driven by a resident engagement process, this is a best practices model for how to equitably manage what could be a tidal wave of gentrification as Philadelphians continue to discover the under-the-radar appeal of the area.
The storefront challenge is a proactive answer to the inequity created by corridor vacancy. For too long, Kensington residents have resorted to other neighborhoods to shop. Soon, thanks to this effort and efforts like it, they won't have to. The right to shop locally in your community is enjoyed by most Philadelphia residents, and Kensingtonians are taking their corridor back.
It is this sort of activism, buoyed by engaged (and zoning savvy!) civic associations and business alliances, which instills hope that development will be inclusive. Commercial revitalization in the form of businesses a community has use for is a powerful weapon. It is my sincere hope and belief that Kensington is arming itself against the forces of apathetic, tone-deaf gentrification.
Kensington Avenue also benefits from the non-profit organizations operating there. Impact Services and NKCDC collaborate with the shared goal to better the avenue that cuts through multiple neighborhoods. Representatives from these organizations' economic development teams work hand in hand with business owners, residents, developers, and other stakeholders to strengthen the business community. Drawing from community informed strategic plans, they build relationships and provide support business by business.
Speaking as someone coming from this field, it can be unforgiving and thirsty work, defined by small victories and glorious defeats. Progress, even the slightest measures, can have enormous impact. A loan from a Community Development Financing Institution (CDFI) or a Storefront Improvement (SIP) or In-Store grant from the Department of Commerce carries the capacity to transform a block and breathe life into a business. Last year alone, Kensington Avenue was approved for over ten SIP grants to renovate commercial facades, which, when complete, will literally change the face of the corridor.
NKCDC is working on the redevelopment of the Orinoka Civic House. Now home to fifty-one residents, this former source of blight is transformed to a beacon of hope. Soon, it too will house a commercial tenant and NKCDC's new offices. Just a few blocks away, the Kensington Storefront, a collaboration between Impact Services, NKCDC, Mural Arts, Prevention Point Philadelphia and The Department of Behavioral Health and Intellectual Disability Services (DBHIDS), transformed an abandoned Cricket Wireless Store into a hub for arts-based community events, trainings, and meetings.
At stake in all this, is the soul of a place where Philadelphians have made a living, shopped and socialized for generations. The dualities are stark; Kensington is still an avenue of pain and trauma, ground zero for the opioid crisis, prostitution, and poverty. This should not be ignored, and is, in fact, impossible to avoid. This street wears its heart on its sleeve, triumphs, and failures on full display. However, sensationalizing poverty, fetishizing small businesses, and minimizing the collective efforts of a community on the rise are the cheap tactics of bad journalists. Stop writing about Kensington Avenue like it's Mordor. Give your readers the whole story. Anything else is tantamount to poverty porn and disrespectful to the people who dedicate their lives to making Kensington Avenue a better place. These merchants do not need your pity, they want your business, and they deserve to be taken seriously.
WHYY is your source for fact-based, in-depth journalism and information. As a nonprofit organization, we rely on financial support from readers like you. Please give today.