Staycation: Rosenbach Museum & Library Hands-On Tour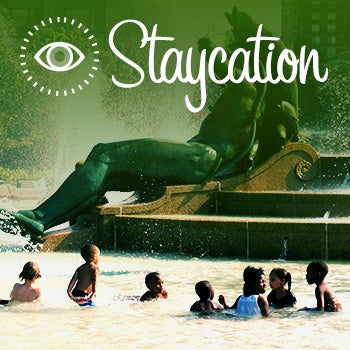 If you're not the outdoorsy, sun-worshiping type, chances are you're spending the dog days of summer searching for shade, hiding in air-conditioning, and burying your nose in summer reading. This Staycation's for you, pale friend.
You might know the Rosenbach Museum & Library on Delancey Place for it's annual Bloomsday celebration and as the home of James Joyce's handwritten manuscript for Ulysses. The Rosenbach collection includes some 30,000 books and it's a working research library. But if you're not an academic researcher or someone especially interested in touring the antique-filled rooms of A.S.W. and Philip Rosenbach's rowhome, there are ways to explore the library's rare books and papers.
The Rosenbach offers intimate "Hands-On Tours" that guide more casual visitors through selections from the collection just for fun. That's what brought me to the Rosenbach. These tours are opportunities to hold rare first editions of classic texts, lay your eyes on original manuscrips, read from author correspondence, and see unusual ephemera.
Upstairs in the Rosenbach brothers' townhouse is their library lined with beautiful dark wood bookcases and a display case set on a partner's desk.
Here Farrar Fitzgerald, the Rosenbach's Assistant Director of Education, led me on a personal Hands-On Tour, showcasing pieces of the collection with a Philly connection that are featured on a variety of tours offered. Typical tours are organized around a different theme.
Hands-On Tours, Fitzgerald explained, are designed to "give people the experience of handling and really looking closely at the collection in a curated way."
A pit stop to wash hands first is a must, but you really do get the chance to touch some delicate, rare objects. It feels a bit forbidden and it's a total treat to come into such close contact with the collection.
The Rosenbachs passed away in the 1950s and established a foundation in their will. They may have been contemporaries of Albert Barnes, but had a decidedly different approach to their collection. The foundation is allowed to interpret, acquire or deaccession pieces of the collection. So some of the books here were actually purchased by the Rosenbachs while others were added after their death to augment or because they relate to other pieces of the collection.
Inside the Rosenbach library.

Cases in the Rosenbach Library
Fitzgerald began by showing me a bit from the Irish Authors tour: a postcard written by Oscar Wilde from Philadelphia. He wrote: "I go to see Walt Whitman at his invitation tomorrow. Tonight I lecture to 1500 people." Imagine that conversation. The library also has rare editions of Wilde's books.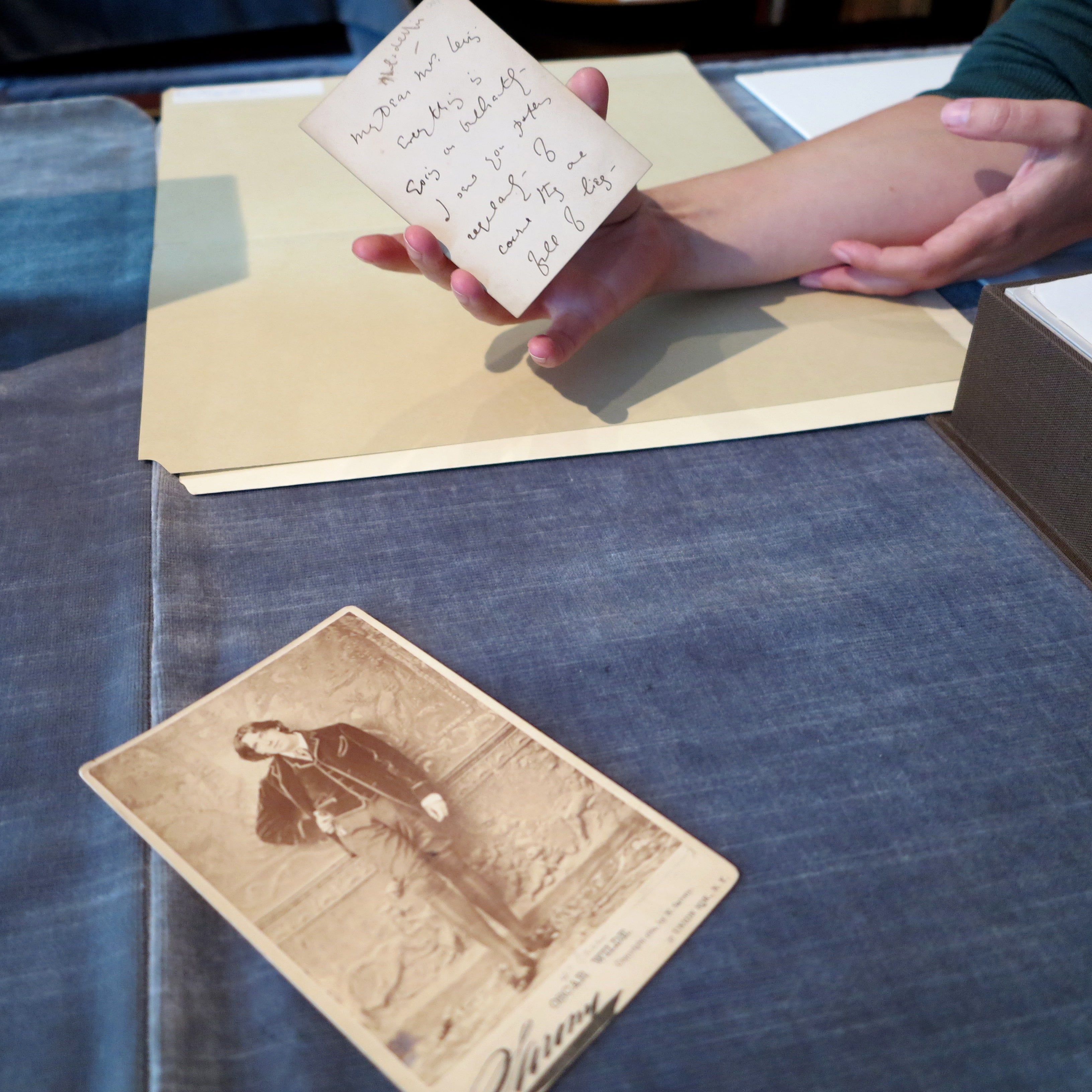 That led us to Bram Stoker – another Irishman and contemporary (and sometimes rival) of Oscar Wilde. Stoker's manuscript for Dracula – lengthy sketches and notes really – is at the Rosenbach and reveals Stoker's painstaking process for crafting that mystery.
Stoker's manuscript isn't strictly the text. It includes copious notes (one of which is written on Stratford Hotel stationery), a datebook charting the sequence of events in the story, sketches and diagrams, clippings correspondence, and a list of local slang he wanted to use. It was utterly fascinating. Fans can handle Stoker's work is on the Dracula tour as well as Irish Authors tour.
The real treat for me, an unapologetic American history nerd, was putting a first edition of the first printing (1732) of Ben Franklin's Poor Richard's Almanack in my hands. It's a petite pamphlet with dates marked up by the almanac's user, notes about agriculture (Killed a good calf.) or the weather (Rain). And of course Franklin's witty quips (Men and melons are hard to know.) gracing the pages to fill otherwise blank spaces.
Almanacs like those in the Rosenbach collection are very rare; Fitzgerald said noting the brief life spans of most date books. But this one is especially rare: It's the only surviving copy of the first printing of Poor Richard's Almanack. It can be seen on the Founding Father's Tour.
We finished with a pick from Fitzgerald's "The Sea" Hands-On Tour: The Whale. That's what Herman Melville's Moby Dick was called when it was first published in England.
I got to hold this first edition, published in three volumes, beautifully bound in cobalt blue with a gold right whale on the spine. It is a gorgeous object to behold, in addition to its historic value.
WHAT TO KNOW IF YOU GO:
WHERE: Rosenbach Museum & Library, 2008-2010 Delancey Pl.

WHEN: Hands-On Tours are given year round most Fridays and Sundays at 3pm.

RSVP: Check the events calendar and always RSVP 48 hours in advance. If you're running on shorter notice call in advance to make sure the tour is being offered. Tours are capped at 10, and will run as long as one person signs up in advance. Sign up by calling (215) 732-1600, ext.123 or via rsvp@rosenbach.org.

COST: $5 in addition to regular admission.

NOTE: Tours are not recommended for children under 8 years old.
Hands-On Tours are a full sensory experience: the warm musty smell of old books, reading aloud, the texture of old paper or special details, the experience of seeing an important author's handwriting.
As you go through the library it's also fun just to browse the shelves. There is a selection of books printed in Gutenberg's time, 1450-1500, and the first book printed in what is now the United States, the famed Bay Psalm Book from 1640, printed in Cambridge, MA.
"It's a very humble book. Printing was not a high art, it was more of a necessity," Fitzgerald explained. It was recently displayed in a one-day show alongside a copy of the book being sold at Sotheby's.
Among the Rosenbach's robust Americana collection, there are a few of the earliest books printed in Philadelphia (Germantown actually, and in German appropriately).
Beyond connecting with the extraordinary collection first hand, Fitzgerald said "the other cool thing is the conversation we have while on tour. People end up asking all sorts of questions or they talk about their experience reading things in undergrad or other stories come out and its fun."
So go and bring a friend. It's a grand adventure.
WHYY is your source for fact-based, in-depth journalism and information. As a nonprofit organization, we rely on financial support from readers like you. Please give today.