Speak Up: Help decide where Philly Bike Share stations should be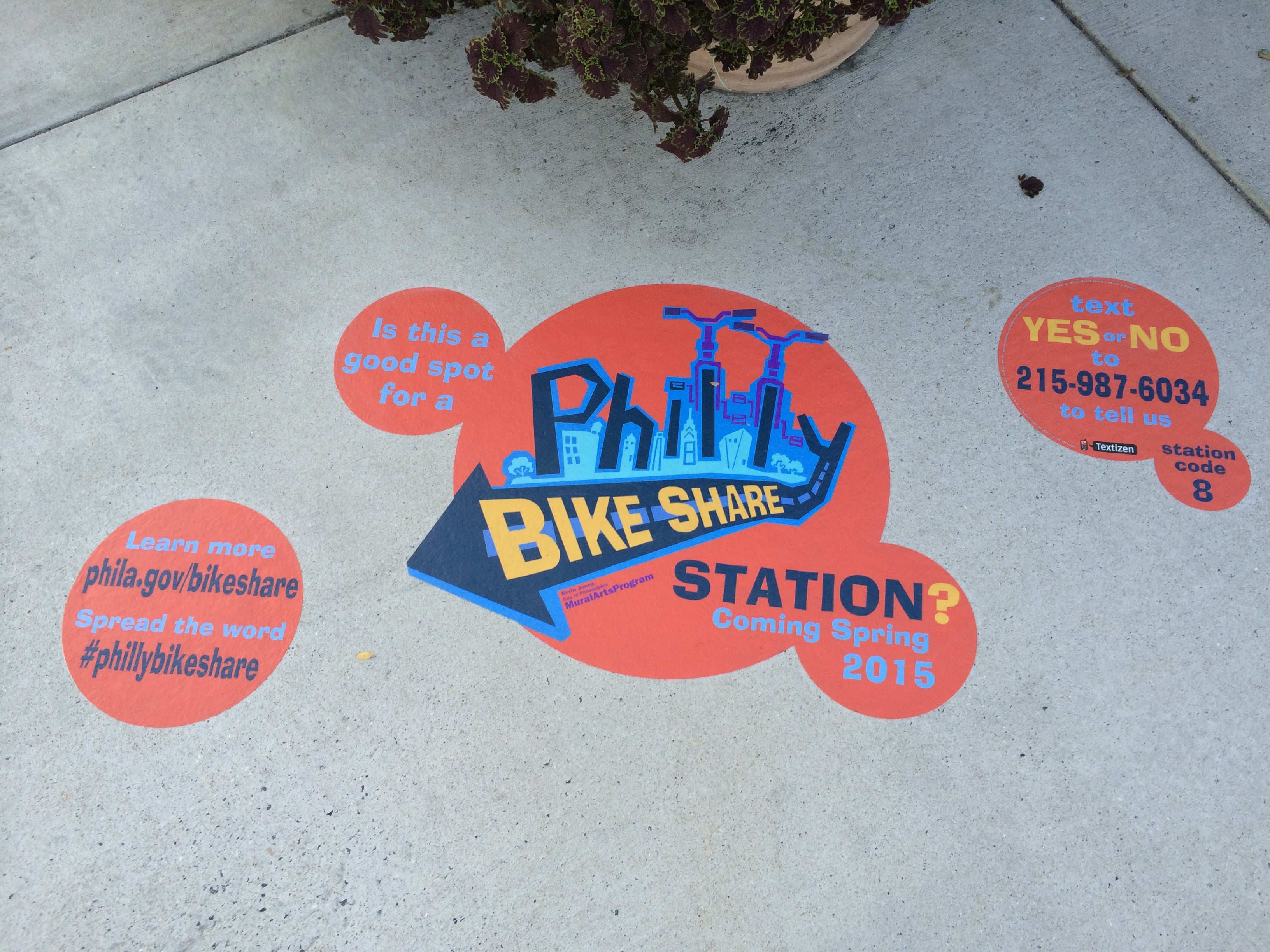 Wondering where the first round of Philly's bike share stations might be? Look around and red dots mark the spots.
The city has identified 100 possible bike share stations, and as of this week about 70 of those spots are marked with red dot decals, asking "Is this a good spot for a Philly Bike Share Station?" It's just one way that the city's bike share team is conducting public outreach to fine tune the program's first phase.
When Philly Bike Share launches in spring, it will begin with about 60 bike share stations installed across greater Center City, University City and some outlying neighborhoods. Already 100 possible spots have been identified, but which ones will work the best?
The Mayor's Office of Transportation and Utilities (MOTU) wants our help deciding which stations are most desirable for individual users and functional from the perspective of building a cohesive initial network of stations.
There will be public meetings about bike share this fall, but those meetings tend to reach a particularly passionate segment of the population. So to inform station location recommendations, the city is tapping online and community networks first.
"We wanted to develop a platform that could reach people more on their own terms," explained Cara Ferrentino, a bike share planner at MOTU.
At 70 possible bike share spots, marked with red dot decals, people are invited to take a Textizen (text message based) survey about whether or not a particular spot will work well for a station. We're asked to text "yes" or "no" to 215-987-6034 with the station's code number and answer a few short questions. The survey will run until October 20th.
In addition to the "spot dots" there is a preliminary online map of the roughly 100 potential bike share stations. There you can click around to view possible stations and share feedback about a particular spots. In the first 24 hours that the map was posted this week there were already 1000 comments, Ferrentino said.
"The upvotes will tell us, we hope, which stations are likely to be used," Ferrentino said. "Popularity will certainly be a factor."
The online outreach this fall will do more than inform the first batch of bike share stations. It will also help fine tune how the city and its bike share operator seeks public input for the second batch of 60 bike share stations that will hit the streets in Spring 2016, Ferrentino said.
The 100 potential spots identified for Phase One, Ferrentino stressed, "are not definite plans, they represent a first pass of analysis." That analysis is based on physical space, population density, employment or cultural centers, proximity to existing bike infrastructure, connectivity to existing transit, and conversations with property owners.
But local intelligence will help inform which stations will be well used and which will present problems because of other uses city planners might not be aware of.
There could be, Ferrentino said, some "unreconcilable conflict with existing uses." And the time to speak up is now.
Of course, Philadelphia has a serious digital divide so online methods alone aren't going to reach all potential users of the future bike sharing system. That's an especially important concern given the push to ensure that Philly Bike Share is accessible to low-income users.
In addition to using mobile devices, the city has done boots-on-the-ground outreach too.
Four members of bike share's summer outreach team went knocking on doors of properties adjacent to proposed bike share locations. They're distributing posters and letters describing the program's goals and ways to share feedback. They're also working with community groups across the city, particularly in West Philly, North Philly and parts of South Philly, to get the word out through those neighborhood networks. They are also sending out Spanish language posters and have made sure that the website is totally accessible in Spanish too. (Mandarin is next.)
The point now is to cast as wide a net for public input as possible.
"We really want to hear all feedback, good and bad," Ferrentino said. "This is going to be a really important means for us to identify the stations that make the most sense."
Bike Share poster

30th Street Station is a big, likely bike share station. | Photo via MOTU

Bike share at the Porch? | Photo via MOTU

Is this a good spot for a Philly Bike Share Station? | photo via MOTU
WHYY is your source for fact-based, in-depth journalism and information. As a nonprofit organization, we rely on financial support from readers like you. Please give today.