Speak Easy: My evolution as an urban bicyclist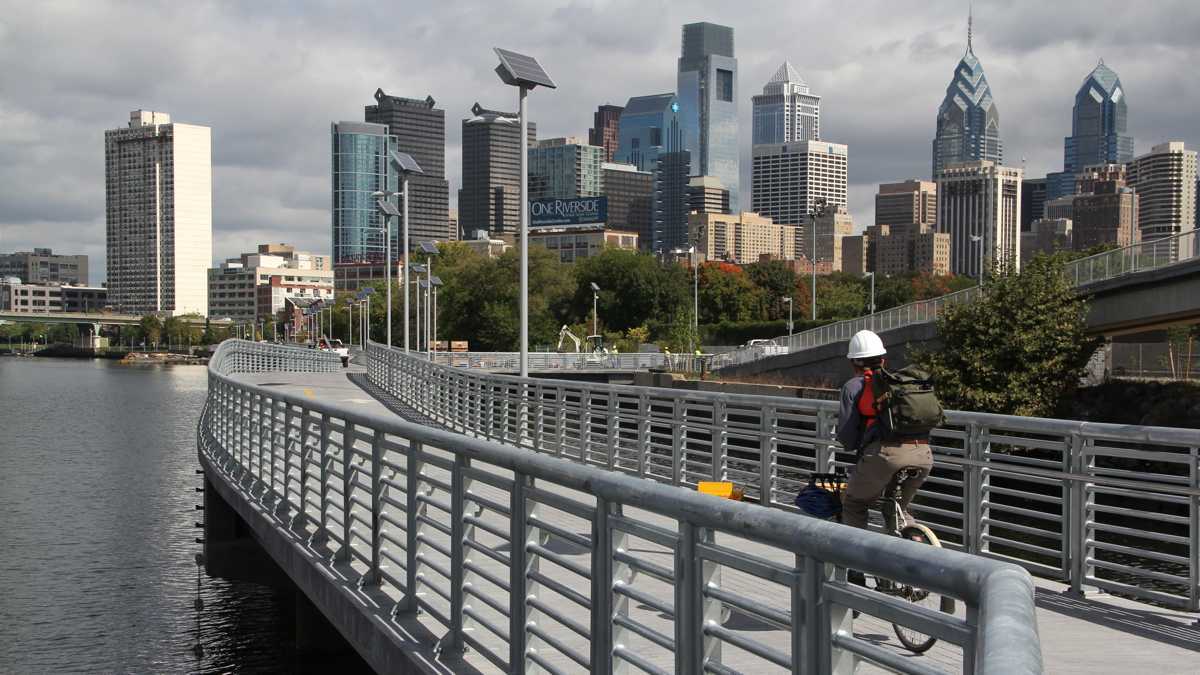 Speak Easy is examining issues of street use in Philadelphia. What should our priorities be to ensure safe streets for pedestrians, bicyclists, motorists and transit users? Seeking diverse perspectives on these issues, NewsWorks is hosting a public forum, "Philadelphia Streets Under Pressure," on June 30 at WHYY studios. Registration is free at whyy.org/speakeasy.
—
I was desperate. I needed to get to a doctor's appointment at 9th and Walnut in Center City Philadelphia from my home at 21st and Cherry. In a hurry as usual, I had not given myself enough time to take the bus. Using my car, given traffic and parking, wasn't an option. So, I decided to pull my bike out of the basement and pump up the tires. I rode down to Market Street and then around City Hall to Juniper and Chestnut.
The number of cars and buses was overwhelming, the sound of engines deafening, and my heart leapt in fear when motorists passed me within inches. I realized, though, when I got home in one piece, that I had survived. However scary the ride was, it was super convenient and fast. I made it to the doctor on time and was home in a jiffy. In spite of the fear, the ride felt great.
I wanted to try it again.
Picking up good and bad habits
That was in the late '90s. Gradually, as I used my bike repeatedly on the same trips (to my children's school or to my office), I grew more accustomed to riding with traffic. I used bike lanes when I could and took the full lane when there weren't any. I learned to communicate with drivers with my eyes and arms and try not to surprise them with sudden movements. With time, I grew more confident and comfortable. The fear receded, and riding with traffic felt normal.
But I also developed some bad habits that I picked up from watching others. I rode against traffic when the one-way streets weren't convenient. I rode on sidewalks when I wanted to get around a long queue of cars. Occasionally, I ran a red light thinking that I wasn't doing any harm as long as the cross-traffic had passed.
But by 2008, 10 years after my first on-road ride, bicycling had started to explode in Philadelphia because of $4 gallons of gas and a transit strike. The behavior of bicyclists became front-page news in 2009 with the Inquirer editorializing them as "two-wheeled hazards." This was in the midst of Philly's first full-blown "bike lash," and City Council was eyeing measures such as bike registration requirements and increased fines as a response.
Part of the solution or part of the problem?
These developments made it clear that I needed to change how I rode. My bad habits were work-arounds and, to be honest, lazy. My own behavior was contributing to a bad perception about bicyclists, and I needed to set a good example to help change the dynamic on the street. I knew that, even though I was only one among more than 10,000 who were biking around Philadelphia, every bicyclist's behavior was being scrutinized and was contributing to the street's temperament and environment. And for every bicyclist who was a jerk, there needed to be one who wasn't.
So, I went cold turkey and entered into the three-step program.
I stopped at every red light.

I kept off the sidewalk.

I rode with traffic, no matter if it was not a direct route to my destination.
I was pleasantly surprised that I didn't lose much time, and the payoff was worth it. I felt better that I wasn't contributing to ill-will among the motorists or pedestrians who I encountered on my ride. Pretty soon, obeying traffic rules felt like buckling my seatbelt when driving.
Today, I can't imagine not following them.
Read full story here