1000 signatures call for better bike infrastructure, safe streets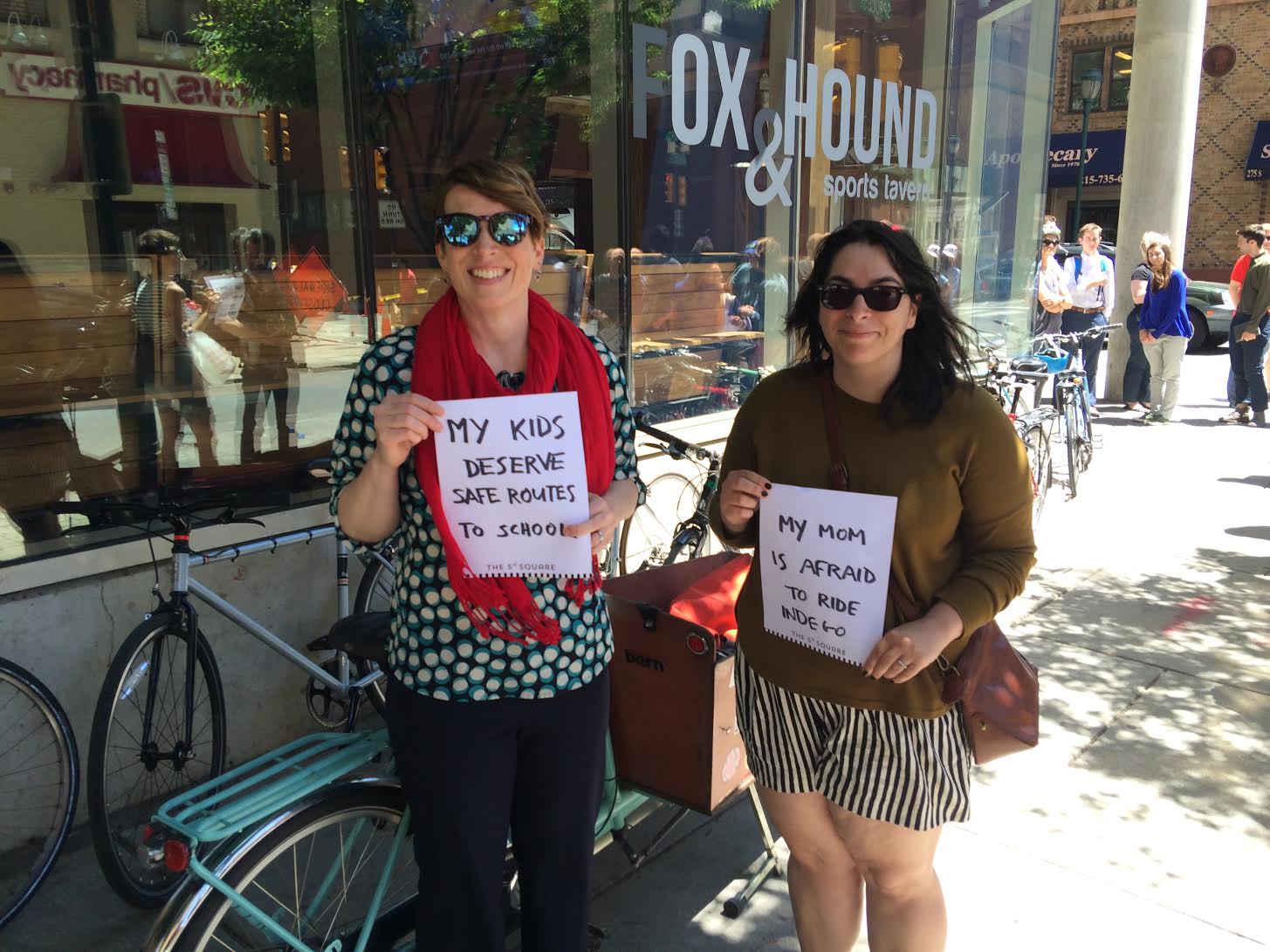 Cycling and pedestrian safety advocates gathered Tuesday and delivered city representatives a petition in support of improving the city's bike infrastructure.
The statistics in support of safer streets are as grim as the day was bright: 1,548 Philadelphians hit by drivers in 2014. Over thirty pedestrians killed by cars a year.
"Every four days, someone is killed by a vehicle, whether walking or in a bike or in another vehicle," said Clarena Tolson, deputy managing director of the Office of Transportation and Infrastructure Systems (OTIS), who accepted the petition on behalf of Mayor Jim Kenney.
In the last 24 hours alone a pedestrian was killed in a hit-and-run on Roosevelt Boulevard, and a car jumped a South Street sidewalk injuring four people.
The online petition, drafted by urbanist political action committee 5th Square and circulated by the Bicycle Coalition of Greater Philadelphia, offered support for the administration's plans to expand the city's bike lane network garnered 1,057 signatures. The concern: Kenney's campaign promises to build more bike lanes would wither and disappear in the face of local opposition, after PlanPhilly reported the proposed locations of 15 new or improved lanes in April when ten of those lanes received federal funds.
Under the federal grant terms, Philadelphia has until 2018 to begin construction, but cycling advocates hoped the petition's 1,000-plus signatures would inspire the city to move faster than that.
"We hope the administration is encouraged and inspired by today's rally and press conference to accelerate the momentum of installing bike lanes throughout the city," said Sarah Clark Stuart, executive director of the Bicycle Coalition.
Stuart explained what she meant by "accelerate the momentum": "So we're not waiting for [construction] to begin in the summer of 2018, but for it to end by the summer of 2018."
The rally comes weeks before the city expects to break ground on Philadelphia's first parking-protected bike lane along Ryan Avenue between Lexington and Rowland Streets. "Parking-protected" bike lanes place parked cars between the bike lane and the vehicular travel lane, creating a much more substantial barrier than the plastic delineator posts used on "protected" bike lanes.
Bike lanes can make streets safer for all users. After buffered bike lanes were installed on Spruce and Pine streets the number of reportable crashes between 2010-2012 dropped by 26 percent, compared to the number of crashes between 2006-2008.
Disclosures: Sarah Clark Stuart sits on PlanPhilly's advisory committee. PlanPhilly's Jon Geeting was involved with the founding of 5th Square, though he is no longer active in the organization.