A South Jersey congressman is behind GOP's healthcare overhaul 2.0
A New Jersey congressman, Republican Tom MacArthur (NJ-3rd), has emerged as a leader in the national battle to replace the Affordable Care Act, but opponents of the quest insist his plan would increase the cost of commercial insurance, reduce benefits and leave older, sicker patients without coverage.
Draft language of what is being called the "MacArthur amendment" to the American Health Care Act, the Republican proposal that faltered last month in Congress, has been accepted by conservative leaders in Washington, D.C. President Donald Trump has stated that there could be a vote on the revised measure soon and he included a repeal of the corporate gains tax that helped fund the ACA in tax reform concepts the White House released Wednesday.
But it's not at all clear the plan will attract support from GOP moderates — including MacArthur's Garden State colleagues — whose votes are needed to get it passed. Four out of five Republican congressmen from New Jersey pledged to vote against the bill when it was scheduled for consideration in late March; MacArthur, from Burlington County, was the lone state voice of support.
As details of the new amendment emerged, healthcare policy experts immediately raised questions about provisions that would give states the option of allowing insurance carriers to charge more or reduce the scope of coverage, reforms they said would have a significant impact on individuals with pre-existing conditions.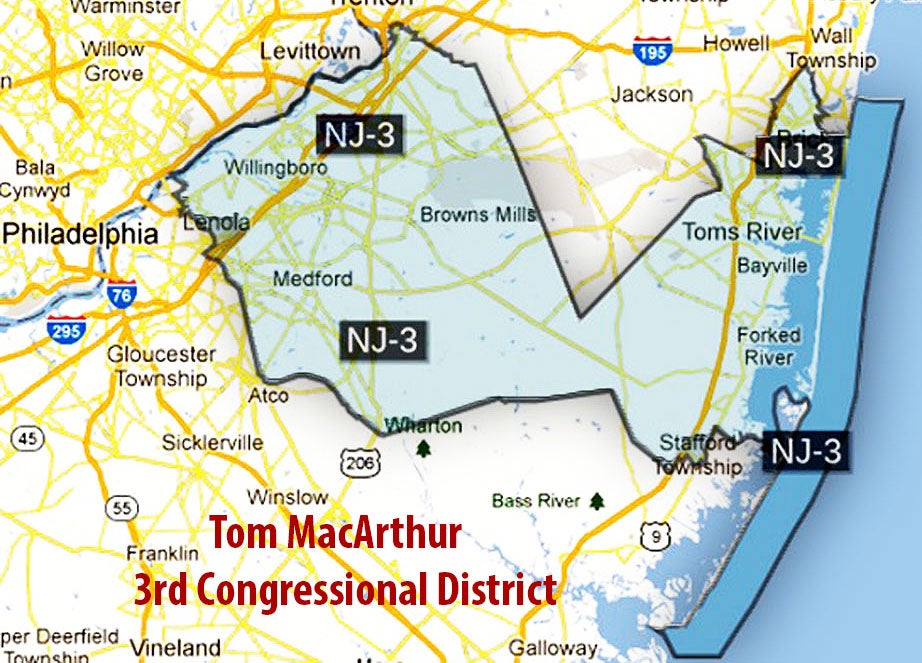 Implications for millions of New Jerseyans
Estimates range greatly depending on the diseases considered, but federal officials said earlier this year that at least 61 million people too young to qualify for Medicare — including 1.2 million in New Jersey — reported chronic health conditions in 2015 that could have made it difficult to obtain care if the ACA wasn't in place. Another analysis suggests it is closer to 3.8 million New Jersey residents.
MacArthur defended the amendment in an email to reporters that pushed back on what he termed "myths" about it, insisting the measure maintains protections for patients with existing health challenges and helps states do more to protect the most vulnerable residents. "The amendment specifically clarifies that its provisions cannot be construed as allowing insurers to limit coverage for those with pre-existing conditions," he wrote.
MacArthur said the vast majority of those with pre-existing conditions would not be impacted by the amendment at all, since it would just apply to policies sold on the individual or small-business insurance market, about 300,000 people in New Jersey.
"I've always said that this has to be about people, not politics," the congressman said in March, after the failed attempt at a vote. "My wife and I had a special needs child in our early twenties and we had over one million dollars of medical bills when she died at the age of eleven. Without insurance, our life would have had a terrible blow before we even got started. I am committed to helping every American get the health insurance they need."
Promises versus reality of marketplace
But a new report from New Jersey Policy Perspective, a progressive think tank that has closely tracked the push to repeal and replace the ACA, said those promises are unlikely to stand up to the reality of market conditions. While the draft amendment still requires insurance companies to guarantee coverage, it does not regulate what they can charge for these policies.
"They can increase their premiums to such a level that it would be impossible (for patients) to afford," explained Ray Castro, NJPP's director of health policy. "We're going to see huge numbers of people that would be ineligible." The amendment "lowers cost for the federal government, but it increases cost on the consumer and the state," he warned.
Castro said the amendment leaves in place most of the original GOP plan, which NJPP reported would eliminate insurance coverage for some 500,000 individuals in New Jersey and reduce federal funding for Medicaid, among other impacts.
"The MacArthur amendment only makes the American Health Care Act worse," added Maura Collinsgru, healthcare director with New Jersey Citizen Action, which has worked with advocates across the state to make their concerns known to New Jersey's five Republican members of Congress. That campaign was scheduled to continue yesterday at their local offices.
States to run high-risk pools?
In an effort to offset premium increases for individuals with pre-existing conditions, the amendment would require states to set up government-run insurance pools for high-risk patients who were unable to afford other coverage. MacArthur said it would also provide a total of $130 billion nationwide over ten years to help states protect these vulnerable patients — with $15 billion devoted to maternity care, mental health and substance abuse needs, the latter which is a particularly critical issue given New Jersey's battle with opiate addiction.
Castro and other healthcare advocates warned that high-risk pools have failed to be effective in the past; they often lack sufficient funding to address the enormous expenses involved with major medical care and limit the number of patients they can accept, leading to long waiting lists.
"We did a lot of work on high-risk pools and, not to make a blanket statement, but they just don't work," said the National Patient Advocate Foundation's Caitlin Donovan, who joined NJPP to discuss the amendment.
The NJPP report also raised concerns about the inclusion of state waivers in the amendment, options state officials could use to help reduce premium costs, expand coverage, or stabilize the commercial market. One waiver would allow insurance companies to charge higher rates to those with health issues, as long as a high-risk pool was in place.
"This means insurers could once again discriminate against people based on their medical history. Insurers could increase premiums without limits for anyone with a history of cancer, hypertension, asthma, depression or other conditions," the NJPP report states, a scenario that could leave many priced out of coverage.
Eliminating ACA's 'essential benefits'
Another state waiver would eliminate the ACA's "essential benefit" protection, a requirement that these plans cover certain basic services like inpatient care, maternity services, prescription drugs, and behavioral healthcare. NJPP warned that this change would enable insurance companies to limit coverage for some of the most expensive care — like maternity, or cancer treatment — or reinstate limits on care over time in an effort to reduce premium costs.
"Repealing Essential Health Benefit requirements could mean going back to a time when millions of people with health coverage were one major illness away from medical bankruptcy," Castro noted in the report. "Plans could impose annual and lifetime limits on coverage — including for people who get health coverage through their jobs."
NJPP and its partners also flagged a provision that they said makes it easy for states to obtain these waivers. The amendment allows for "conditional approval" enabling the state to move forward with plans for a waiver after informing federal officials, unless they challenge the request within a few months. And, given the push to reduce insurance costs, Castro predicted states would find themselves in a dilemma, trading existing protections for the chance for lower premiums.
But MacArthur stressed that the waivers would actually have a limited impact on services. States would be required to spell out what benefits they maintained and would be required to provide backstop protection through a high-risk pool. No waivers would be granted for changes that block access for those with pre-existing conditions, discriminate based on gender, or end the provision allowing minors to be covered on their parents plan until age 27.
While New Jersey adopted a number of patient protections that predate the ACA — laws that still stand if the federal plan is repealed — Castro said these are not as generous as the mandates that came with Obamacare. For example, the state law already requires insurance companies to cover those with pre-existing conditions, but some treatments may not be reimbursable for up to 12 months.
____________________________________________________________________________
NJ Spotlight, an independent online news service on issues critical to New Jersey, makes its in-depth reporting available to NewsWorks.
WHYY is your source for fact-based, in-depth journalism and information. As a nonprofit organization, we rely on financial support from readers like you. Please give today.