'Something Rotten!' Not so, in its national tour at the Academy of Music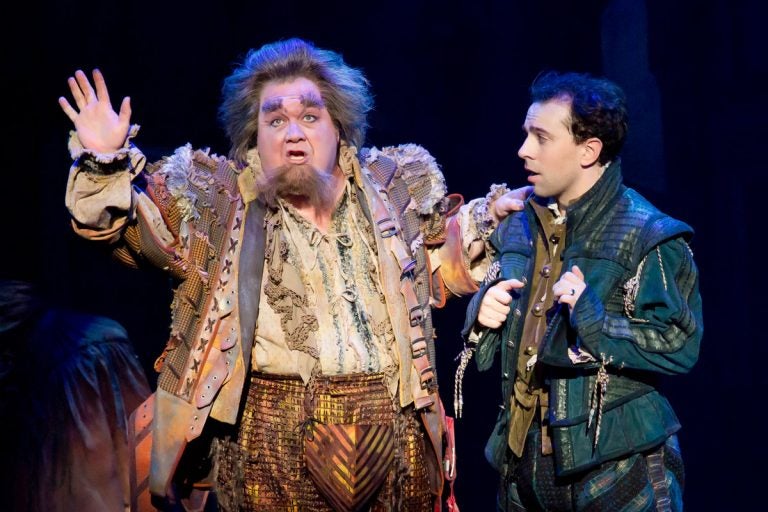 Everything you need to know about the great big goof of a musical called "Something Rotten!" was revealed three years ago on the marquee of the St. James Theatre on Broadway just before the show opened. "NOW IN PREVIEWS," the sign declared. "SEE IT BEFORE IT'S READY!"
And that's "Something Rotten!" — a little self-effacing while it winks steadily at you, stuffed with ham and seasoned with lines that range from dirt cheap to pricelessly clever.  It's unabashedly silly. And everyone in the theater — the actors, the audience — has a good time.
I did when I saw the original on Broadway, and again the other night at the national tour that runs through Sunday night with a top-notch cast at the Academy of Music. This show about the creation of the world's first musical — an outrageous fabrication — is a send-up of musicals that alludes to probably 50 of them in its dialogue and songs. You don't have to be keen on the musical theater to enjoy it, but it helps.
"Welcome to the Renaissance," the cast sings in the opening number, clad in extreme versions of Elizabethan finery by designer Gregg Barnes. Except that the Renaissance isn't so great if you're writing and producing plays, like the two brothers Nick and Nigel Bottom. They just can't get a hit. All the hits and all the audiences are the sole domain of this guy William Shakespeare.
Yet all is not lost. Nick Bottom meets up with the bizarre Thomas Nostradamus, a man who sees into the future — in this case, the future of theater. Why not have the actors break into song, right in the middle of the plot? Maybe they can even dance. Yes! Shakespeare can't do that!
This doesn't sit well with The Bard, who hears rumors, disguises himself, and joins the Bottoms' troupe to find out what's going on. What he discovers is a rehearsal for a musical about eggs and breakfast, modeled after a play about something Danish that Nostradamus says will be Shakespeare's greatest. Well, Nostradamus' vision into the future is not quite 20/20.
It's a hoot, with a book by John O'Farrell and the screenwriter Karey Kirkpatrick, and a catchy score by Kirkpatrick and his song-writing brother Wayne. Much of the fun comes from the mind of director-choreographer Casey Nicholaw, a creative force behind "The Book of Mormon" and other off-beat musicals. Nicholaw sets demanding and frantic dances onto the cast, especially Shakespeare — wonderfully portrayed as a rock star by Adam Pascal — and the four guys who are his entourage, clad in black leather right down to their exaggerated codpieces.
Real-life husband and wife actors Rob McClure and Maggie Lakis, Philadelphians who live within a whiff of the Italian Market's cheesesteaks, play husband and wife in the national tour. He's Nick Bottom, she's his wife Bea. McClure, who played Charlie Chaplin to raves on Broadway, is a dynamo on stage, moving like a bewitched wind-up toy and turning high jinx into high art. Lakis, in a more restrained role, has a clear and commanding singing voice.
The most impressive voice in the show is Josh Grisetti's, who sings in a wide range and has some of the show's more pensive songs — if indeed, that word can be applied here. Grisetti plays Nigel Bottom, who falls for a Puritan gal, sung with passion by Autumn Hurlbert. Nostradamus, responsible for much of the mess the Bottoms get into as they forge their new theatrical style, is played by a wonderfully kooky Blake Hammond.
"Something Rotten!," with its conceit that turns theater history on its head, is one of those shows you thoroughly enjoy in the moment, like a surprisingly yummy confection. A few weeks after I first saw it, I'd be able to tell you the premise but not the general plot let alone the details. But I'd say then — and vouch for it now — that a bunch of Elizabethans in tap shoes can really tear up a stage.
—
The national tour of "Something Rotten!" plays through March 4 at the Academy of Music, Broad Street between Locust and Spruce streets. 215-893-1999 or kimmelcenter.org.