Short-term PTSD treatment provides relief for half in Penn study at Texas army base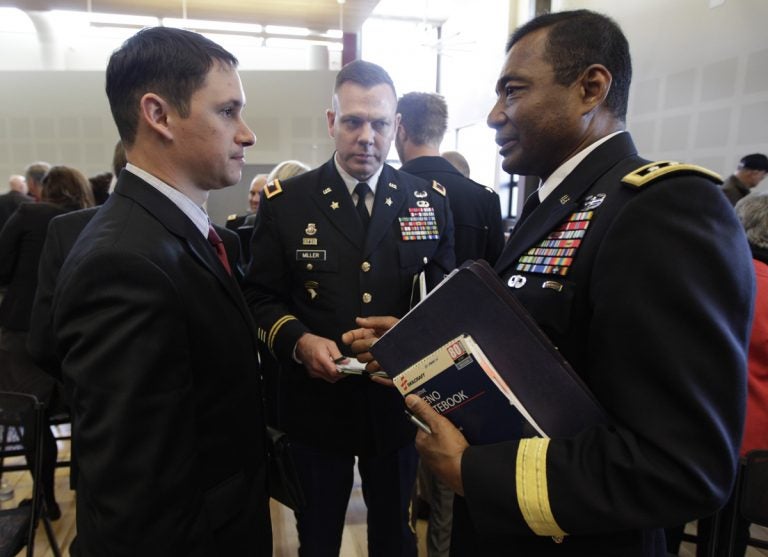 About eight percent of Americans will contend with post-traumatic stress disorder at some point in their lives; for military veterans, the incidence is much higher. Although PTSD is highly treatable, it can take months for patients to find relief.
In a recent study of active military personnel at Fort Hood in Texas, however, University of Pennsylvania scientists found that a short, two-week course of prolonged exposure therapy helped half of all participants achieve remission.
Army veteran Frank Wood wasn't a participant in the study, but he went through the same, expedited treatment. After serving in Iraq in 2004, when Mosul was overcome with mortars and insurgents, he returned to his home in Central Texas on high alert.
One of the worst experiences, he said, was landing in Dallas and meeting crowds of people who wanted to pat him on the back and thank him for his service.
"I would push them away physically — like you know, 'You're in my space, you're really bugging me right now,' " said Wood. "Because I was so used to, when we'd be out in a big crowd of people, something would blow up."
Wood was irritable, anxious, and self-medicating with alcohol. His kids started walking on eggshells around him, and his wife was getting frustrated.
So Wood tried prolonged exposure therapy, the PTSD treatment developed by Penn professor Edna Foa. The  method relies on patients recounting their traumatic memories, time and time again, until those memories lose their power. It's a process called habituation.
"If you go to see a horror movie, you know the first time you see the horror movie, what do you feel? You feel horrified," she said. "Well, if you saw the same movie 15 times, would you be horrified? No."
Many of those with PTSD numb their emotions and avoid triggers, such as going out at night or being part of a crowd. Part of the treatment is making patients confront those situations directly. If the PTSD is extremely severe, sometimes their doctor will accompany them.
Wood's doctor made him go to a crowded mall, sit on a bench and read a book. That was his homework, and he said it became easier over time.
The entire course of treatment, which also involves 90-minute therapy sessions, was exhausting, he said, but he saw real progress.
Wood said he's "almost back to the guy" his wife married, and he's no longer afraid of crowds.
"When it's football season, I'm out there with my boys at College Station [in Brazos, Texas], and I'll get up in them stands with 117,000 fans," he said. "Before, I don't know if I could have done that."
That's the opposite of what Foa used to hear from Veterans Affairs officers, who told her PTSD is forever. The feeling was, "that if you have post-traumatic stress disorder you're doomed," she said.
Foa said the Army is already using prolonged exposure more often, and she would like to see more therapists and mental health workers learn and adopt the method for treating PTSD.
WHYY is your source for fact-based, in-depth journalism and information. As a nonprofit organization, we rely on financial support from readers like you. Please give today.