Sheriff says up to 10 killed in Texas high school shooting
At least one gunman opened fire at a Houston-area high school Friday, killing eight to 10 people, most of them students, authorities said.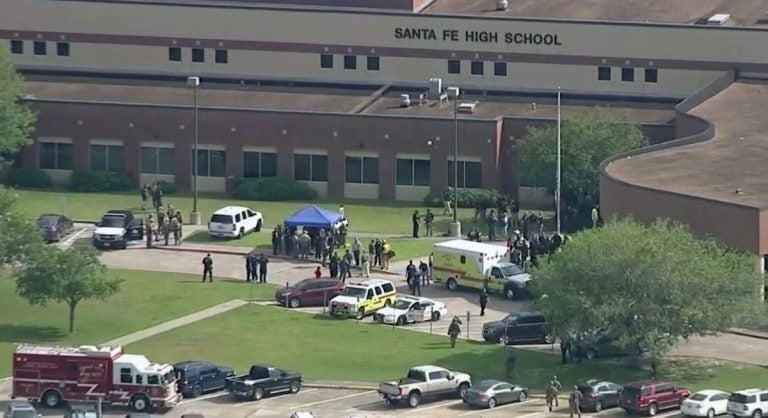 Updated: 12:54 p.m.
At least one gunman opened fire at a Houston-area high school Friday, killing eight to 10 people, most of them students, authorities said.
Harris County Sheriff Ed Gonzalez said he could not be precise about the number of deaths at Santa Fe High School, which went on lockdown around 8 a.m. One person was in custody, and a second person had been detained, he said.
An unknown number of possible explosive devices were found at the school and off campus. Authorities were in the process of rendering them safe and asked the public to call 911 if they see anything suspicious.
It was the nation's deadliest school shooting since the February attack in Parkland, Florida, that killed 17 people and re-energized the gun-control movement after surviving teens launched a campaign for reform.
The district confirmed an unspecified number of injuries but said it would not immediately release further details. A school police officer was shot, officials said, but there was no immediate word on his condition.
"We hope the worst is over, and I really can't say any more about that because it would be pure speculation," Assistant Principal Cris Richardson told reporters at the scene.
Aerial footage showed students standing in a grassy field and three medical helicopters landing at the school in Santa Fe, a city of about 13,000 people roughly 30 miles (48 kilometers) southeast of Houston.
School officials said law enforcement officers were working to secure the building and move students to another location. Students were being transported to another location to reunite with their parents.
One student told Houston television station KTRK in a telephone interview that a gunman came into her first-period art class and started shooting. The student said she saw one girl with blood on her leg as the class evacuated the room.
"We thought it was a fire drill at first but really, the teacher said, 'Start running,'" the student told the television station.
The student said she did not get a good look at the shooter because she was running away. She said students escaped through a door at the back of the classroom.
Authorities did not immediately confirm that report.
The shooting was all but certain to re-ignite the national debate over gun regulations. In the aftermath of the Feb. 14 attack on Marjory Stoneman Douglas High School, survivors pulled all-nighters, petitioned city councils and state lawmakers, and organized protests in a grass-roots movement.
Within weeks, state lawmakers adopted changes, including new weapons restrictions. The move cemented the gun-friendly state's break with the National Rifle Association. The NRA fought back with a lawsuit.
In late March, the teens spearheaded one of the largest student protest marches since Vietnam in Washington and inspired hundreds of other marches from California to Japan.
—
Associated Press writers David Warren, Jamie Stengle, Nomaan Merchant and Diana Heidgerd in Dallas, and Will Weissert and Paul Weber in Austin, Texas, contributed to this report.
WHYY is your source for fact-based, in-depth journalism and information. As a nonprofit organization, we rely on financial support from readers like you. Please give today.