To serve ... and endanger? Philly police blunder puts woman on rapist's radar
Listen
0:00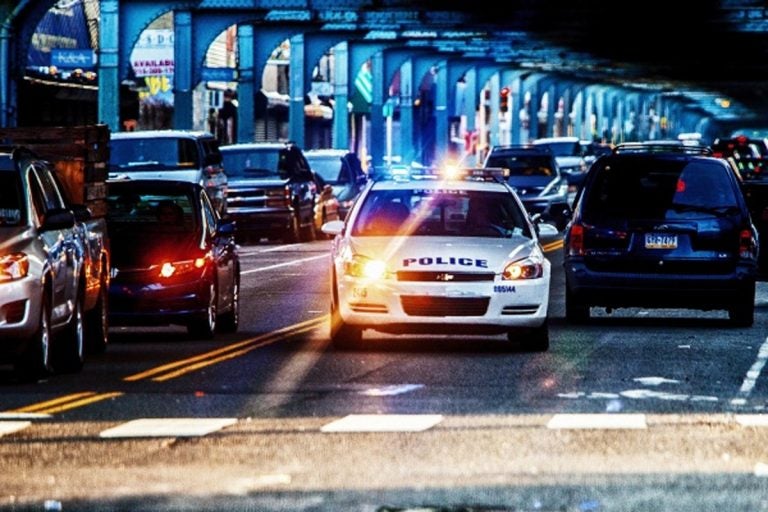 It had been a good night. A bit too good, actually.
She'd had too much to drink, after going out with friends to celebrate a co-worker's birthday. So she left her car and took a cab home.
On her way to the front door, she dropped her purse, and — just that fast — two teenagers on bicycles sailed past, swooping up the purse with her keys, cash, and cell phone inside.
She shouted at them, demanding her purse back. But the thieves had joined a group of about 20 people gathered outside across the street. Some shouted back. Before long, they were on her. Their punches and kicks kept coming until the police arrived.
That's where it should have ended.
But her night was about to get much worse.
By morning, she would be sitting, half-naked and bloodied, on a stranger's stoop in an unfamiliar neighborhood. She would shrink from the Good Samaritan who stopped to ask if she needed help. And later, she would bathe until the water got cold, desperate to scrub away horrors that no amount of soap could ever erase.
One of the most basic duties of government is to protect its citizens. Yet, sometimes, the government fails so spectacularly in that charge that it instead endangers citizens, with devastating — and even deadly — consequences.
The two police officers who interrupted the assault on Cris that night failed to the tune of $1.25 million. That's how much the city paid last year to settle her "state-created danger" lawsuit, the costliest civil-rights claim all year.
WHYY is withholding Cris' last name because she's a sexual assault victim.
Such claims aren't common. The city paid more than $8.4 million in 2016 to settle 117 civil-rights complaints, and just a handful involved state-created danger or failure-to-protect allegations.
But such cases highlight what can happen — to citizens and a city's bank account — when employees flout rules created to ensure public safety.
The officers who encountered Cris that steamy August 2011 night outside her Juniata Park home decided to arrest her, instead of her attackers. After citing her for public intoxication, they released her, barefoot, still drunk and with no money or phone, into a high-crime neighborhood more than a mile away from her home. There, a stranger kidnapped her and raped her repeatedly, eventually leaving her battered and topless under the El on Kensington Avenue, where another officer found her and took her to the hospital.
Even though the officers conceded under oath that they ignored department policy on how to handle drunk defendants, they were never disciplined.
And the rapes remain unsolved.
Six years have done little to dull the terror of that night, which can be triggered by things seemingly as random as the rumble of a train, so reminiscent of the El, which provided a soundtrack to her ordeal.
"I still remember each incident (rape) as if I was there," Cris, now 34, said in a recent interview. "I go through phases where I have really good weeks or months, but there are other times like now, where it cripples me."
Capt. Sekou Kinebrew, a police spokesman, called the case and its fallout "concerning."
"We cannot discuss the specifics of the case. However, we do acknowledge that no internal review accompanied the litigation, and, as a result, the officers involved were not subject to formal discipline," Kinebrew said.
After WHYY raised questions about the case, Kinebrew said, "We are taking measures to identify and correct any policy or procedural deficiencies to help ensure that these events are not repeated."
City officials declined to comment on the case or the issue of state-created danger.
"We cannot talk about the specifics of current or past litigation, and it is impossible to make generalizations about these types of cases; every such case that the city has litigated is factually distinct," city spokesman Mike Dunn said.
Violation of policy
There are days, no doubt, when police work is thankless work.
The day officers Joseph Guinan and Nicole Enggasser rolled up on Cris' block, scattering her attackers, was undoubtedly one of those days.
Cris was drunk, hurt, and mad. The officers told her to point out the neighbors who beat her, but even in her inebriated fog, she recognized the folly in that. Wouldn't her neighbors just retaliate later, when the cops had left, if she identified them now?
She pleaded with the cops to help get her purse back. When they didn't, she cussed them out, threw her shoes at their cruiser, and spat on the ground in their direction, according to court paperwork.
"I was wasted, for lack of a better term," she said. "When I was upset, in the beginning when they wouldn't just listen that I wanted to get my stuff back to go in my house, I was being belligerent. I'm sure I wasn't saying kind things to them, and I was behaving badly and using poor choices in the things that I was saying. I think honestly they were just trying to teach me a lesson, like: 'OK, you're going to treat us like this and talk to us this way? Watch what can happen.' "
Guinan and Enggasser handcuffed her and put her in their patrol car.
What happened next depends on who's talking. The officers testified that they took Cris to the 24th police district on Whitaker Avenue near Erie, cited her for public intoxication, and then released her after pointing her to nearby pay phones. Cris says the cops booted her out of their car on Kensington Avenue.
Either scenario violated several police directives. Cops can release a drunk person from custody only when a sober relative or friend arrives to escort them home. Absent that, officers must take any adult female charged with intoxication to the department's Police Detention Unit at its Center City headquarters, and ensure that any inmates there with injuries receive medical treatment.
Cris blacked out several times that night, leaving agonizing memory gaps — like how she first encountered her rapist — that torture her even now.
She does remember, though, screaming when she woke up in an unfamiliar home, bent over a couch, with a stranger sexually assaulting her. And she remembers waking again on a deserted gravel road, where the same man raped her again as she pleaded with him to stop.
When he finished, he got back in his car and drove away. Cris pulled her pants up, put her bra on inside out, and followed the sound of traffic until she reached Kensington Avenue, where she sat and sobbed. A passer-by alerted police, and an officer took her to the hospital.
At the hospital, doctors discovered she had a fractured elbow and cleaned and bandaged her cuts. A nurse collected DNA evidence for rape investigators. Cris called her ex-boyfriend to take her home, where he had to break in since her keys were still missing. Her mother came and immediately changed the locks and began packing up her belongings to move, while Cris sought solace in sleep.
The next morning, her mother and a friend, who then worked as a detective in a different police department, went hunting for the remote road where Cris had gotten raped the second time. There, they found Cris' shirt and her rapist's discarded condom wrapper, which the detective bagged as evidence and delivered to special victims unit investigators.
Still, closure remained elusive, as police would again compound Cris' pain.
Mishandled evidence or cover-up?
By the end of that month, Cris had moved out of her neighborhood, unable to endure seeing the neighbors whose actions had kick-started the worst night of her life.
She longed to leave the city that had brought her so much pain. But she had a full-time job, supervising an office, and she wanted to finish getting her business degree at Penn State University's Abington campus.
As the shock of her ordeal evolved into anger, Cris called SVU, whenever her busy days allowed, to check on the progress of the rape investigation. Their answer was always the same.
"The only response I ever got was that everything was delayed or backlogged," she said. "So I stopped reaching out to get answers."
After she filed her lawsuit, she got some answers, though not the kind she wanted to hear.
The SVU officer investigating her rape testified in a deposition that she didn't know the results of the DNA evidence collected at the hospital, nor what happened to Cris' shirt and the rapist's condom wrapper, which she'd failed to document on a property receipt, as police policy requires.
The mishandled evidence fueled Cris' mounting suspicions of a cover-up. And knowing that her rapist still roamed the neighborhood, unidentified and unpunished, tormented her: Would he find another vulnerable woman to attack?
But her mind kept returning to the two officers whose actions landed her on a rapist's radar.
"What kind of consequences did they have to face in all of this?" Cris asked. "Are they still working? If they are, I think that's pathetic, and I think that's something that the city of Philadelphia should not be proud of. It should have been hard for them to even find a job working security somewhere, because they did the opposite of everything they're supposed to stand for. Yeah, I was some drunk a******, but did I deserve that? How do they sleep, knowing what happened? I feel sorry for anybody that comes into contact with them, if they still behave in the same fashion that they did the night they encountered me."
Officers Guinan and Enggasser, who have since married, still work in the 24th District, although Kinebrew said he didn't know if they're still partners. Neither was disciplined in Cris' case. Guinan told WHYY he couldn't comment without the department's approval, and Enggasser couldn't be reached.
Even though their supervisor, during a deposition, called the case "shocking" and speculated it would result in a formal review, Kinebrew confirmed no review ever occurred.
And her public intoxication citation was never prosecuted or enforced, Cris said.
Andy Stern and Elizabeth Crawford, the attorneys who represented Cris in her lawsuit, said her case should raise concerns among police reformers.
"They knew she was intoxicated and watched her walk away into the early hours of the night, in a high-crime area," Stern said. "Now that is an incredibly dangerous thing to do to somebody."
Crawford added: "You could sort of attribute the first action to two bad eggs, just two exceptions in the police department. But what happened afterward and the failure to investigate this rape was more of a systemic problem."
Other troubling cases
What Guinan and Enggasser did to Cris has happened in Philly before, with deadly consequences.
In January 1993, a Philly cop stopped Samantha Kneipp and her husband as they stumbled home drunk from a bar for "causing a disturbance on the highway." Officer Wesley Tedder let the husband go home to relieve their babysitter and then sent Kneipp home alone, even though she was so drunk she smelled of urine and couldn't stay upright. Nearly two hours later, a passer-by found Kneipp unconscious at the bottom of an embankment across the street from her apartment. She suffered severe hypothermia, which resulted in brain damage, blindness, incontinence, and an inability to feed herself, walk or sit upright.
But although the Kneipp case became the local precedent and a favorite citation of judges deciding state-created danger claims, it didn't stop some Philly cops from ignoring rules protecting drunk citizens, with catastrophic effect.
In December 2002, a Philadelphia officer picked up Nizah Morris in Center City.  She was so drunk she couldn't stand on her own. Officers dropped her off again a few blocks away, miles away from her home. Within minutes, passers-by found Morris lying unconscious in the street with a bleeding head wound. She died two days later without regaining consciousness.
The still-unsolved murder sparked protests in Philly's "Gayborhood," where Morris, a transgender woman, often performed in drag shows. The Police Advisory Commission, a citizen-led watchdog group, raised questions about the credibility of Officer Elizabeth Skala-DiDonato, who had given Morris her fateful last ride, and the fact that police "lost" Morris' homicide files for eight years. Police and prosecutors hid or mishandled so much of the investigation that some wondered if officers killed Morris. A Philadelphia Gay News reporter still is fighting for records in the case, 15 years after the murder. Morris' mother sued and won a $250,000 settlement from the city in 2004.
To prove a state-created danger claim, attorneys must show that the harm caused was foreseeable and direct; that the cop acted in a way that shocks the conscience; and that the cop used his or her authority in a way that created danger or made someone more vulnerable to danger than if the cop had done nothing at all.
U.S. District Judge Wendy Beetlestone ruled in 2015 that Guinan's and Enggasser's actions met all of those measures.
"By any view, the officers acted in complete contradiction to their training and police department policy," Beetlestone wrote.
Many state-created danger claims arise from the actions of government employees breaking established rules, as Guinan and Enggasser did.
That's why the city's response to disobedient personnel becomes critically important, watchdogs say.
Cities should discipline offending employees, review policies for weaknesses worth fixing, and remind and retrain employees on rules — or risk further eroding the public's often-shaky trust in police, reformers said.
"Part of legitimacy is acknowledging mistakes, both historical and immediate," said Hans Menos, executive director of the Police Advisory Commission. "I don't think the public — or anybody — expects perfection from anyone. But whether it's the police force, your best friend, your neighbor, or the mayor, if they err, they need to acknowledge it and say, 'yeah, we really messed up here. What we did here wasn't alright.' But obviously, not stop there. Put into place tangible things that you're going to do to fix it."
That's especially crucial considering police routinely encounter drunk or otherwise vulnerable people, civil rights attorney David Rudovsky said.
"A case like this, particularly when it's in litigation and you've got a significant settlement, I think that's a red flag that would require the department to do a separate investigation," Rudovsky said. "It just doesn't make sense to me that the police department would be ignoring that issue. They're only asking, in my view, for increased liability."
Philadelphia's toothless system of holding officers accountable for misconduct makes a departmental review even more imperative, civil rights attorney Alan L. Yatvin said.
"Let's face it, the police department has been emasculated by the whole collective bargaining arbitration system. They can't effectively discipline a police officer. Even in the most blatant got-the-cop-on-video, DNA-in-the-police-car, whatever situation, they still can't seem to make discipline stick. So they can't rely on that kind of discipline to make a difference. The real way to have an impact is to have training and to continue to improve their policies and put it in the officers' face. Make it clear that this won't be tolerated. This is our rule, and say it over and over."
If they don't, Yatvin added, "they're going to keep writing checks, bad things are going to keep happening to citizens, and people are not going to have confidence that the police force is learning lessons from its mistakes."
New life, painful memories
Cris found little consolation in the city's seven-figure payout to settle her claim.
"To me it wasn't significant. My personal well-being will never be satisfied by whatever the amount was," she said. "You can have all the money in the world, and if you're not happy, what does it really matter?"
Still, she has chased happiness with a fierce desperation, hoping life's milestones will bury the bad feelings that have plagued her. She got married and started a family. She got her college degree last spring and left Philly for good in July.
"I jumped forward with everything, just to get my mind over it and have the most normal life possible," she said.
She's now a stay-at-home mom who dreams of someday using her new degree to work in sports or entertainment marketing.
But she can't help but shudder when she sees police officers pass by.
"I grew up around police officers, so it was just always ingrained in me that they protect people and you can go to them if something's wrong," she said. "Now, I can't stand them. I think they're all shady.
"I honestly feel like I'm going to be that person who gets pulled over for speeding or something and I won't stop, because I'm so afraid," she added. "I don't think I'll ever trust them. It's something I struggle with now, trying to think about how I'm going to teach my daughter to trust them and not fear them when I don't feel the same way."