Serena Williams headlines Pennsylvania Conference for Women in Philly
Tennis great calls attention to the risk of pregnancy-related deaths for black women.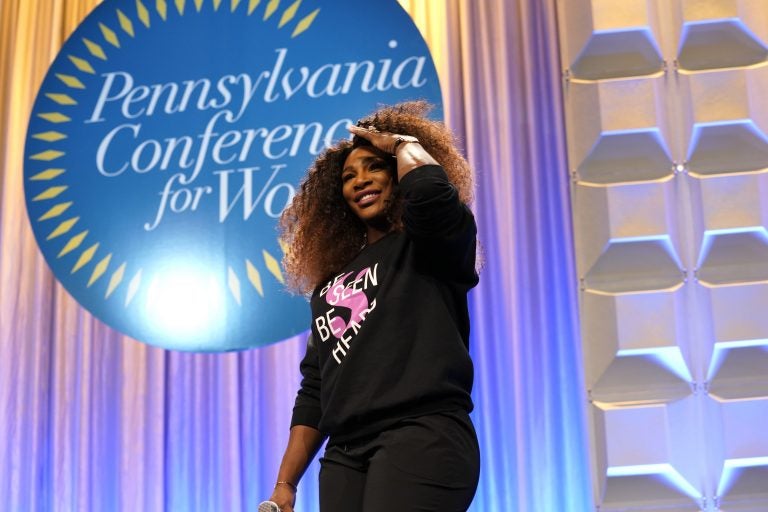 Advocating better health care for black women, Serena Williams headlined this year's Pennsylvania Conference for Women at the Convention Center in Center City Philadelphia.
In addition to breaking barriers as one of the world's greatest female athletes, the tennis legend has been vocal about women's issues relating to sexism in sports and maternal care. Williams, 37, almost lost her life after giving birth to her daughter last year.
"Our black mothers are not being taken care of … in this country that supposed to be technologically advanced," she said. "Why are we treating our mothers like this?"
The risk of pregnancy-related deaths for black women is three to four times higher than that for white women, according to the Centers for Disease Control and Prevention.
Williams' story brought the race-disparity statistics a lot of attention — including from Gov. Tom Wolf, who also spoke at the event, saying he wants to address that issue along with the pay equity gap and support for domestic violence victims.
Many people argue being a black woman contributed to the way Williams was treated during the U.S. Open women's final match in September when she disagreed with an umpire's calls and was ordered to pay a $17,000 fine. Williams' supporters say it was unfair because male athletes are not punished for doing the same thing, or worse.
Marilyn Harper, a Bensalem resident, said she supports Williams.
"Serena made her point, and she knew that the calls were wrong, but she did it was such dignity and grace afterwards, and it was OK for her to get angry," Harper said. "It shows how differently women are treated than men, especially women of color."
Williams also mentioned during the event that although all women share some struggles, some are unique to women of color.
Harper, who is black, also feels that disparity while working in corporate America.
"White women tend to have an opportunity that we don't have because, maybe generationally, their family members have been in places of power," said Harper. "From a generational standpoint, that has not been the case necessarily for a lot of women of color. For a lot of us, we're first-generation college graduates, whereas white women, they're expected to go to college."
Amy Rubincam, who traveled from Wilmington and was a first-timer at the conference, said she also thinks Williams was treated unfairly. She hopes that stories like hers, the #MeToo movement, and events like the women's conference will encourage people to be more politically active.
"I think it's important to get people together, to motivate people to take action, whether that's as simple as registering to vote [or] donating to a nonprofit organization," Rubincam said. 
Williams' philanthropy includes a partnership with AllState Foundation Purple Purse that aims to end financial abuse of women and a community center, The Yetunde Price Resource Center, she co-owns with her sister Venus in Compton, California. The center focuses on residents affected by violence.
"My main thing is that I want to leave my imprint in a positive way," Williams said.
Other issues discussed included the equal pay gap, combating domestic violence, and the surge of the #MeToo movement in light of the Kavanaugh hearings.
Other speakers at the event included human rights attorney Amal Clooney and actress and activist Maysoon Zayid.
WHYY is your source for fact-based, in-depth journalism and information. As a nonprofit organization, we rely on financial support from readers like you. Please give today.