SEPTA's proposed increases would hit some riders harder
March 31, 2010
By Anthony Campisi
For PlanPhilly
Though SEPTA riders are expecting a 6 percent fare hike this summer, large numbers of them would be paying significantly more than that, according to an analysis of SEPTA's fare proposal.
While the proposed elimination of mid-day, off-peak fares and a steep hike in the transfer price have transit advocates up in arms, other, less-publicized changes also have the potential to take a bite out of riders' wallets. (Click here to see a detailed breakdown of the proposed fare changes.)
Most significant is the proposed price increase for monthly TrailPasses, which are used by nearly 63 percent of regional rail riders, according to ridership data provided by SEPTA.
Those riders would be seeing an average hike of 9.5 percent, according to an analysis of ridership data provided by SEPTA. Zone 2 riders would see the highest price increase, at 10.3 percent, while Zone 5 and 6 riders would see the lowest, at 5.5 percent.
(SEPTA officials have said that the 6 percent fare hike would cover the cost of inflation since the last fare hike in 2007. Policy changes embedded in the fare proposal, like merging zones four and five for single-ticket sales on peak trains, are being pushed to simplify the system, they said.)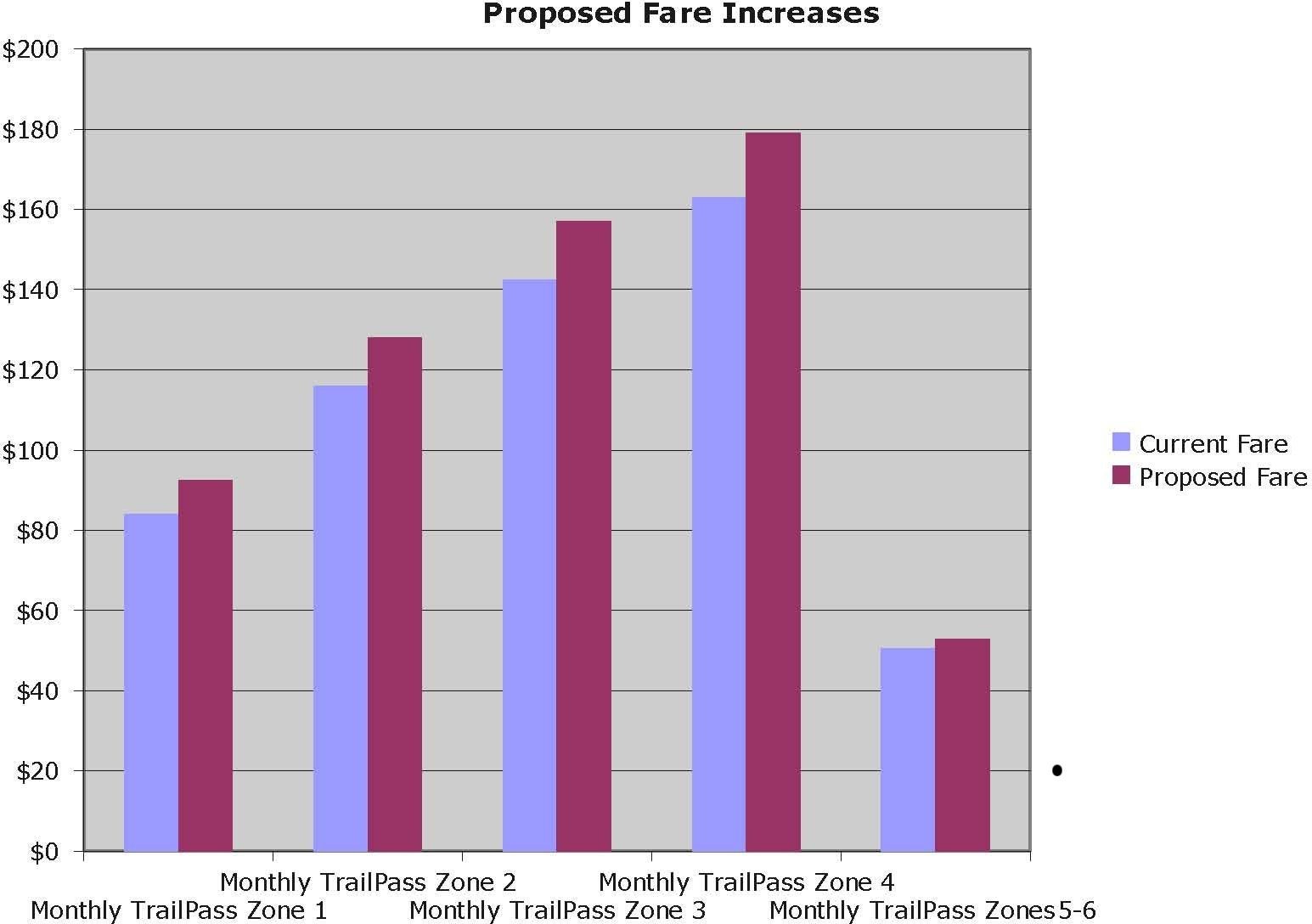 Click on the chart to enlarge it.
Disabled riders using typical SEPTA services would also see an increase. The disabled off-peak fare would go up 33.3 percent for buses, trolleys and subways, to $1, and the disabled off-peak transfer would go up 66.7 percent to 50 cents. Disabled riders who use Paratransit – the service that provides transportation by reservation – would not be affected by the hike.
The joint fare with PATCO, used by commuters who travel to and from South Jersey using both systems, would be going up 8.3 percent, to $2.60, and the return trip over the bridge would increase 10.5 percent, to $1.05.
SEPTA has been heavily marketing the new Independence Pass, which provides unlimited rides throughout much of the system.
Those prices are slated to go up 10 percent, to $11, for an individual pass and 12 percent, to $28, for a family pass.
And because the regional rail family zone fares would be abolished under this plan, a family of four would have to pay significantly more by purchasing a family Independence Pass. Families traveling from Zones 1 and 2 would be facing a 60 percent fare hike, while Zone 3 riders would see a 31.8 percent increase, Zones 4 and 5 riders would see 17.9 percent hikes and Zone 6 riders would face a 7.5 percent increase.
SEPTA CFO and Treasurer Rich Burnfield acknowledged that while SEPTA wants to generate 6 percent more revenue from the fare proposal, some riders could see higher fare increases than that — especially on the regional rail side.
At the same time, he noted that some fare instruments, like the base cash fare for buses, subways and trolleys, aren't being increased at all.
And, Burnfield said, there are cases where a significant percentage increase translates into a small increase in actual, out-of-pocket cost.
For example, he said, although the off-peak disabled fare is going up by 33.3 percent, that only translates to a 25 cent hike to a fare that hasn't been increased since 1990.
Burnfield said that price increases should also take into account convenient amounts for riders and SEPTA workers to handle — being forced to pay with pennies or nickels is a hassle for riders and adds to the time and expense of processing fares. "You round [some fares] up," he said.
Along that vein, he said that eliminating rarely used instruments like the Family Pass streamlines the system without affecting many riders —less than 44,000 buy it a year, he said.
But the large increases proposed for certain fare instruments form the basis of the Delaware Valley Association of Rail Passengers' opposition to the plan, group member Matt Mitchell said.
The transit advocacy group voted to oppose the fare package on the grounds that it increases some fares more than others, he wrote in an e-mail.
The fare proposal will be the subject of several public hearings and is scheduled to be voted on by the SEPTA Board at its May 27 meeting.
Contact the reporter at campisi.anthony@gmail.com