How we are coping with the SEPTA strike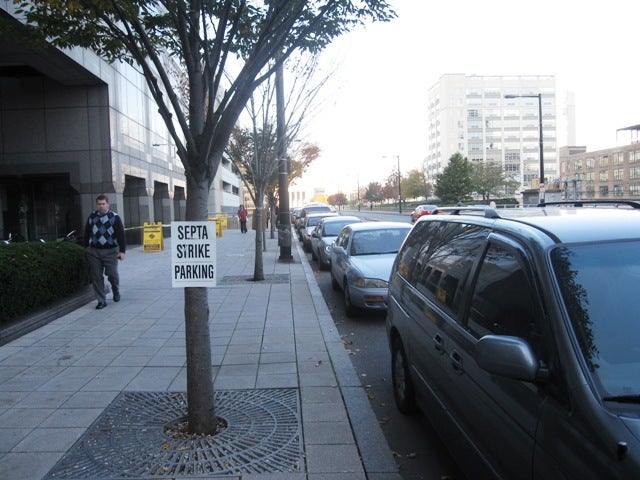 Nov. 5
By Anthony Campisi
For PlanPhilly
As the SEPTA strike ground into its third day, citizens throughout the city had to drastically change their commuting patterns. And for the unlucky Regional Rail riders who use Suburban Station, their commuting pattern took on a life of its own (check out video).
This was especially apparent at the regional rail stop at 49th Street and Woodland Avenues in West Philadelphia.
City Emergency plan
City Parking plan
West and Southwest Philadelphians normally enjoy convenient access to Center City — the Market-Frankford El, the five subway-surface trolleys and a multitude of bus routes make commuting easy and convenient.
But with those services suspended for the duration of the strike, residents crowded the 49th Street station. At about 7:30 a.m., the line to board waiting trains snaked up the steps to street level as SEPTA customer service agents stood at the top of the stairs, punching riders' TransPasses as they got in line.
Most waiting passengers who normally took the subway-surface trolleys or the El to work were forced to walk or catch rides to the station.
Edison Freire, who occasionally takes the train in to work, said that he usually only sees "three or four people" waiting on the platform in the morning.
"It's a lot more crowded," he said, adding that boarding the train reminds him of a scene out of a country like India, where commuters hang out of crowded trains.
Though Freire was philosophical about the effects of the strike — "I've had great conversations with people," he said — others were less sanguine.
Karen Smith, who usually catches the Route 36 trolley from 62nd and Elmwood, called the strike "sick."
She had to walk about 20 blocks to the train station, adding at least an extra 45 minutes onto her 30 minute morning commute.
Though Smith got a ride into Center City yesterday, driving back to West Philadelphia after work took 2.5 hours.
Others had to travel farther.
April Moore usually catches the El at 52nd Street. Though she got a ride to the station, she will have to walk back to her home at 51st and Hazel this evening.
And though Lisa Reed has a longer walk than normal to the train station — she usually takes the Route 34 trolley along Baltimore Avenue — she has a much harder time getting to Olney, where she works for Albert Einstein Medical Center.
Instead of hopping the Broad Street Line, Reed has been taking the R3 in through Center City to Fern Rock, where she takes a hospital-run shuttle bus to work. That bus only runs once an hour, adding a considerable amount of time to her commute.
Because of the influx of regional rail riders, not everyone waiting at the platform was able to board when the train pulled up at about 7:45. Riders packed into already-full train cars, the overflow filling the vestibules. Conductors had to raise the stairs to train cars from outside the train and then hop on board themselves.
And inside an 8 a.m. train into Center City, riders were standing shoulder-to-shoulder, grabbing the ceiling and each other for support.
The evening commute was marked by queues for each Regional Rail Line, with hundreds of riders in each, snaking all around Suburban Station. The video below shows the huge line of folks waiting for the R3 Media, Elwyn train.
The Transport Workers Union has yet to agree on a time to sit down with SEPTA managers to continue negotiations, so there's no telling how long the strike will continue.
But one thing is clear: West Philadelphians will be doing a lot more walking before it's over.
Contact the reporter at campisi.anthony@gmail.com