SEPTA restores South Philly bus stops taken away in experiment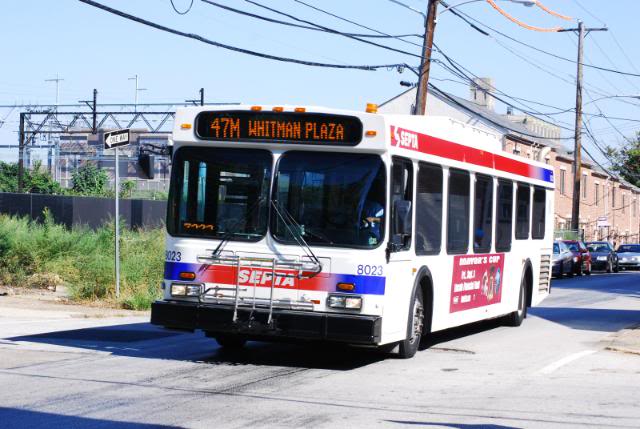 Six months after starting an unprecedented bus stop consolidation experiment, the stops are coming back to South Philadelphia.
The city and SEPTA have agreed to restore a series of South Philadelphia bus stops taken away from the Route 47 — which stretches from Olney to Whitman Plaza — as part of an effort to speed service on the route, which is SEPTA's third-busiest but also one of its slowest.
Officials argued in March, when the pilot program was first announced, that fewer stops would translate into faster service along the narrow blocks of South Philadelphia. The consolidation was meant to test that theory for use on other SEPTA routes.
It didn't work out that way.
An analysis of the route found that time savings were only "marginal," according to Andrew Stober, chief of staff at the Mayor's Office of Transportation and Utilities. And only 52 percent of respondents in a recent survey said the consolidation improved their ride.
They "wanted to make sure we did this in a way that produced real results," he said.
"It would certainly be a done deal if [the time saving] was 7 minutes or over," Stober added, noting that at that level SEPTA could afford to make an additional bus run every hour.
About half the stops on the route south of Market Street were removed in the effort, dubbed Transit First, which was meant to speed travel times without spending money on costly improvements like transit signal priority, which give buses extended green lights at intersections.
Additional parts of the pilot program included introducing several far-side stops, rear-loading at certain locations and coordinating trash pickup with the Streets Department to avoid peak travel hours. SEPTA also adopted a headway-based schedule for the route, hoping it would encourage drivers to speed up rather than hew to the existing paper schedule.
While the rear-loading and trash pickup changes will be retained, SEPTA is moving back to a schedule-based system.
Stober and SEPTA spokesman Andrew Busch said the city and SEPTA were still analyzing why stop consolidation proved unsuccessful, but that this didn't spell the end of future efforts.
"I don't think it represents a failure," Stober said, adding that the city and SEPTA were looking at other candidates for stop consolidation.
Consolidation may have been less successful on Route 47 because most intersection along the South Philadelphia portion of the route have stop signs, not stop lights, Stober said. In other words, buses have to stop at every intersection regardless of whether there are any riders ready to board.
And going forward, the city and SEPTA will be looking at minimizing the number of detours on the route, which they suspect negatively impacts travel time.
The city and SEPTA are also moving forward with installing more-expensive transit signal priority systems on four different bus routes: The 6, 52, 60 and 66.
That project is being paid for with a $3.2 million Federal Highway Administration grant geared toward safety improvements, with a 20 percent local match provided by the Pennsylvania Department of Transportation.
Unlike previous transit signal efforts, Stober said these systems would be properly maintained.
Contact the reporter at acampisi@planphilly.com