SEPTA blasts alarm over GOP House budget proposal's cuts to state transportation funds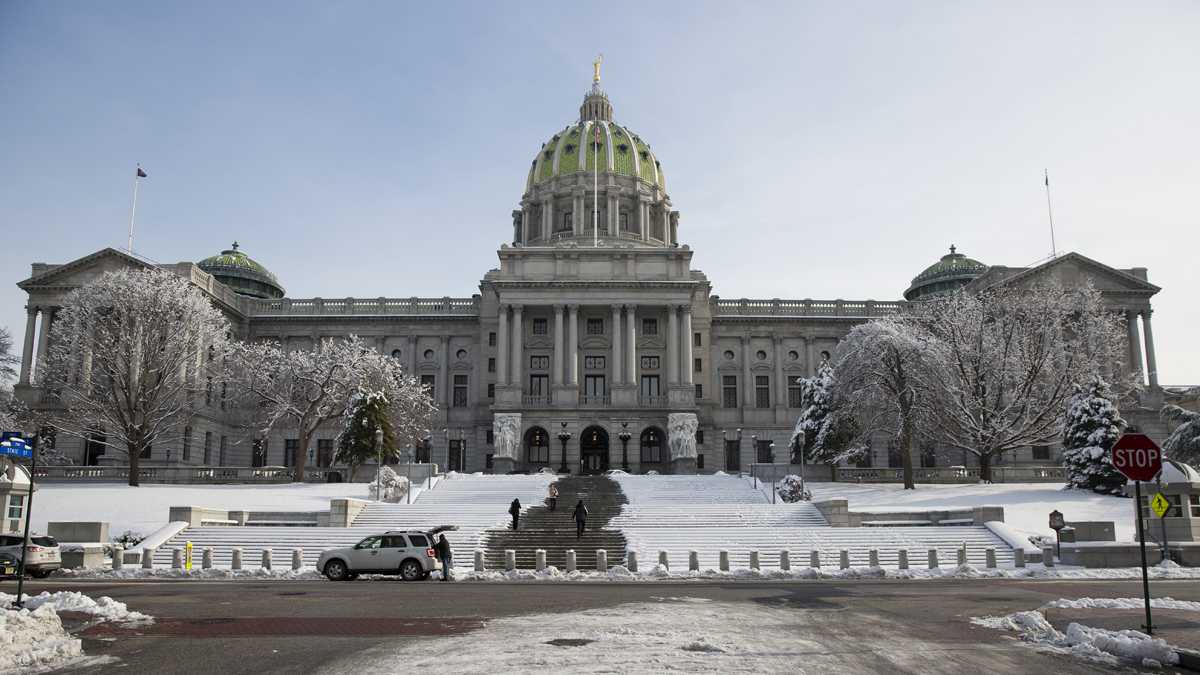 SEPTA officials are all train whistles and bus horns this week, warning that Pennsylvania's ongoing budget woes now threaten their budget and, therefore, your commute.
This week, the Republicans in the state House unveiled a budget proposal recommending large cuts to a transportation fund that SEPTA says it relies on.
The Harrisburg fight is over the budget for the current fiscal year, which began July 1st. The commonwealth has been operating in a holding pattern based on last year's spending, but the Treasury warns that the coffers are running low without new funds coming in the last few months.
In late July, the GOP-controlled Senate passed a $32 billion plan that approved a mix of borrowing, increased fees, and new taxes to cover the gap between this year's expected expenses and already authorized revenues, which Democratic Gov. Tom Wolf said he would sign. But the House, controlled by Republicans more conservative than their Senate colleagues, refused to consider that proposal.
On Tuesday, they offered a counter-proposal, which would make a one-time transfer from 42 "Special/Restricted Funds with Surplus" totalling $1.257 billion to help cover the budget shortfall. The two largest are both transportation funds: the Public Transportation Trust Fund ($357 million) and the Multimodal Transportation Fund ($120 million).
Reductions to the Multimodal Transportation Fund (MTF) would have little immediate impact on transportation services. The fund, administered by the Department of Community and Economic Development, issues grants mainly to municipalities for a wide range of transportation infrastructure maintenance and upgrades.
But SEPTA Deputy General Manager Rich Burnfield says money transfers from the Public Transportation Trust Fund (PTTF) would require incisive agency budget cuts and fare increases. Burnfield warned that fares could go up an average of 20 percent and around 500 employees (out of 9,200) would be cut. The fare increase would come just months after SEPTA increased prices around 7 percent.
Stephen Miskin, a spokesman for House Majority Leader Rep. David Reed, told the Inquirer that the money was excess cash that wasn't going to be transferred to transit agency operating budgets.
If that's the case, the Commonwealth is going about a rather complicated way of generating and transferring this excess cash to the PTTF. The trust fund was established by Act 44 of 2007, a transportation funding law that sought to rely on interstate tolls to cover expenses. Act 44 was itself amended by Act 89 of 2013, a transportation funding law aimed at fixing the shortfalls of Act 44, which generated lower-than-expected revenues after the federal government rejected the Commonwealth's request to toll I-80.
Under Acts 44 and 89, the Pennsylvania Turnpike Commission is required to dump $420 million a year in the PTTF, which is administered by PennDOT, and another $30 million into the MTF, which is administered by the Department of Community and Economic Development.
But the Turnpike Commission has been drowning in debt for decades — currently, around $600 million of the $900 million it collects in annual revenues goes to paying bondholders — which eats up so many E-ZPass dollars that the commission doesn't have enough money to cover its $450 million obligation to the PTTF and the MTF. As a result, since 2014, the Turnpike Commission has repeatedly had to issue even more bonds just to cover the transportation fund transfers. This year, $400 million of the $450 million required by Act 44 and Act 89 came from issuing new bonds.
In other words, one state agency is borrowing money to pay another two agency's funds, which the House proposal now says has a combined $477 million in unnecessary cash.
SEPTA's Burnfield also disagreed with Miskin's assertion that the proposed cuts were merely surplus funds sitting around.
According to Burnfield, the "excess funds" in the PTTF merely appear to be surplus, but they are accounted for, and committed to, ongoing contracts at SEPTA and other transit agencies across the Commonwealth.
PennDOT Secretary Leslie Richards echoed that in a press release issued Friday afternoon. "Most of these funds are not available, they are actually contractually obligated for current and pending projects," Richards wrote. "This could have been conveyed to House Republicans had the department been contacted prior to the release of this plan."
Burnfield likened the situation to a bank setting aside a portion of mortgage payments to cover real estate taxes. If one took a snapshot of a bank account in June, it might appear that there was an excess in there. But come August, when the real estate tax is due, that money would be spent. Essentially, the bank is the PTTF, and SEPTA and other transit agencies are planning on getting those funds.
Assuming the cut passed immediately, it would take SEPTA about three months to go through it's legally mandated budget hearings and assessment process, meaning the $229 million in cuts would need to be squeezed more acutely into a just a half year. SEPTA formed its budget on the expectation of receiving $725 million from the commonwealth this year.
Burnfield also noted that the state funding reduction would reduce the local match obligation from the five counties served by SEPTA by $34 million — Philadelphia and the surrounding counties are required to match 15 percent of SEPTA's operating funds from the state. With the reduction in state funds, the counties would be free to make proportionate cuts in their contributions.
SEPTA also holds about $100 million in a service stabilization fund as of the end of the last fiscal year in June. Burnfield said that SEPTA relies on that rainy day fund to handle exogenous shocks — sudden downturns in the economy, natural disasters, and the like — and said it would be fiscally imprudent to spend it all down to cover Harrisburg cuts.
Bob Dick, a senior policy analyst at the fiscally conservative Commonwealth Foundation, disagreed with Burnfield. He argued that if the funds were really committed, then SEPTA would not see any cuts to its budget this year.
"The House Republican proposal does not cut the current projected disbursements for the 2017-18 fiscal year. According to the governor's executive budget, the $1.35 billion sent out from the Public Transportation Trust Fund and the 144 million from the Multimodal Transportation Fund will not be touched. So, that means every single dollar that SEPTA and other mass transit agencies are expecting for this fiscal year will be provided for them for this fiscal year."
According to Dick, the House GOP bill's authors looked at the reserve fund balances over the last three years, noting some carried positive accruals. "We see reserves increase year in and year out," said Dick. "My question would be: If SEPTA needs these funds, why do these funds go up every year?"
SEPTA's response: Act 89 of 2013. Act 89 increased fuel taxes and fees for transportation funding, sending some revenues into the PTTF. So, starting in 2014, the fund saw an increase in revenues. But with the exception of larger agencies such as SEPTA and the Pittsburgh's Port Authority of Allegheny County, most smaller transit agencies were slow to begin spending those new funds, lacking the long-term planning capacity to justify making contingency plans to spend what was then hypothetical money.
According to Burnfield, that's begun to change. Service improvements that were mere ideas in 2014 are finally ready to go after years of planning, hearings, hiring and capital improvements. Now, Burnfield said, they are jeopardized by the proposed cuts.
There are likely more than enough moderate Republicans in the House who would join with Democrats to pass the Senate's budget proposal. But the House's leadership is controlled by more conservative members who control the voting agenda and therefore can block a floor vote on the Senate's bill.
Dick defended the House Republican approach, calling it fiscal common sense to shift money from perhaps underused funds to cover the budget shortfall rather than raise taxes.
"I think it's important that when we're talking about balancing the 2017-18 budget, we focus on maximizing the use of every single dollar that state government has already collected," said Dick. "That's what we believe the House Republicans are doing by looking at thee excess fund reserves as well as spending freezes and other reforms, and that should be the alternative to what unfortunately the Senate and governor have been proposing, which is higher utility bills on Pennsylvanians who already labor under one of the highest tax burdens in the country."
Separate studies by the Tax Foundation, the Tax Policy Center, and WalletHub, respectively ranked Pennsylvania's per capita tax burden as 33rd, 18th, or 24th highest among the states. Another WalletHub study showed that Pennsylvania's energy costs are the 20th most expensive in the U.S. Pennsylvania's tax burden on businesses similarly runs in the middle of the pack, ranked 24th and 25th, respectively, by the Tax Foundation and Anderson Economic Group.
WHYY is your source for fact-based, in-depth journalism and information. As a nonprofit organization, we rely on financial support from readers like you. Please give today.