Scamming SEPTA is getting harder: Agency hits 10-year low for claims payouts
A decade after SEPTA put its first surveillance cameras up, the transit authority has closed the book on its leanest year for payouts yet.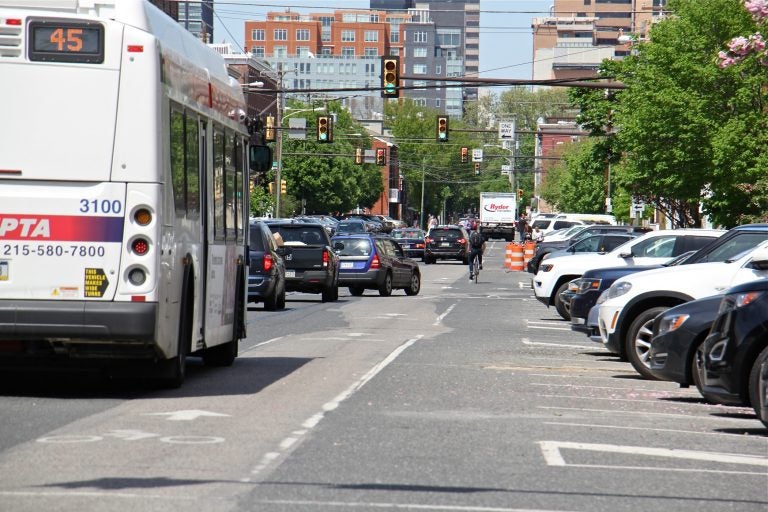 Suing SEPTA was a lucrative hustle before the aughts.
Any opportunist who had the good fortune to stumble upon a SEPTA bus accident could hop on, pretend to be an injured passenger, then, file a claim against the authority for a hefty payday.
The hustle got harder in 2009 when SEPTA received a grant from the federal government to install surveillance cameras. Once the authority could turn to video to disprove a case, the amount the agency owed in claims and payouts plummeted by tens of millions annually.
Now, a decade after the first cameras went up, the transit authority has closed the book on its leanest year for payouts yet.
In the fiscal year that just ended, SEPTA paid out $19.3 million — less than half of the $43 million spent on payouts in fiscal year 2012.  The authority spent about $4 million less on claims than it budgeted for, said SEPTA's general counsel, Gino Benedetti.
"That's $4 million that we can use to … fix things, put aside to purchase equipment later on," he said.
Benedetti estimated that the number of claims filed against the agency has fallen by 60% annually — from 5,000 a year to roughly 2,000. The number of lawsuits has dropped by two-thirds.
"I think folks have gotten the message if we're responsible, we'll pay a fair amount," he said. "If we're not responsible, we'll defend it."
Personal injury attorney Jeffrey Penneys has represented clients in hundreds of claims against SEPTA over 20 years. The cameras are a win for everyone, he said, adding they allow him to avoid fraudulent cases.
"If the video showed that an accident happened, and my client just sat there, hardly being moved at all, I would drop the case," he said.
Penneys said he withdraws from 20% of the claims against SEPTA brought to him.
Pennsylvania's Fair Share Act has also helped the decline by reducing SEPTA's financial obligation.
The law was passed in 2011, when SEPTA paid out $50 million. The law reduced the amount SEPTA had to pay on a claim, making it legal for the agency to pay out based on its liability. Prior to that, it could be forced to pay 100% of damages, even if it were 10% at fault.
But the hustle isn't completely dead, Benedetti said. People still try to "stage" accidents or "exaggerate something."
SEPTA doesn't take those scams lightly. A fraudulent claim can be forwarded to the district attorney for possible charges of insurance fraud.
Benedetti recounted two instances where people tried to pull a fast one and the camera belied their stunt. Both resulted in charges of insurance fraud.
How to file a claim
The majority of claims come from bus incidents such as a hard stop or crash that could result in injury to riders. Passengers can file a claim via SEPTA's website. They can also call or have a lawyer contact the authority.
Once a passenger or lawyer gets in touch about an incident, SEPTA's claims department collects any relevant information such as police reports, medical reports, and video footage for analysis to decide if the agency is responsible.
If SEPTA finds no fault on its end, that's the message the agency will give to the passenger or lawyer. If SEPTA finds that it is at fault, it will make an offer.
"By the time it gets to the lawyers, assuming it went through the claims process, we pretty much know where we are with that claim," said Benedetti. "We know that we have a solid defense, and we know what a fair value is, and we don't deviate from that."
And if claimants don't think it's fair, they can always take SEPTA to court.
WHYY is your source for fact-based, in-depth journalism and information. As a nonprofit organization, we rely on financial support from readers like you. Please give today.