Rina Cutler departing Nutter administration for senior job at Amtrak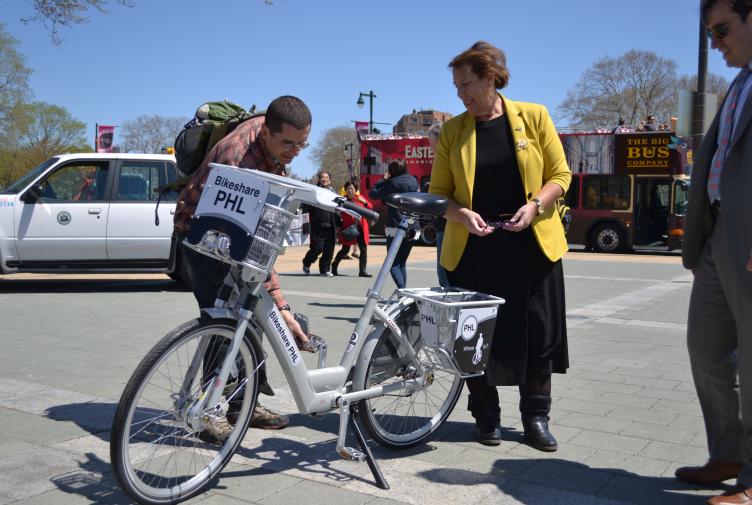 Mayor Michael Nutter announced Friday afternoon that his Deputy Mayor for Transportation and Utilities, Rina Cutler, will be leaving to take a senior position at Amtrak.
Cutler will become the Senior Director of Major Station Planning and Development, focusing on the Northeast Corridor, Chicago and New Orleans.
"She brings a lifetime of talent, energy and passion to infrastructure development on the national stage at a time when we as Americans must plan for and invest in greener, more sustainable forms of transportation," Nutter said, "And I can certainly tell you that American taxpayers will benefit from her passionate management style just as Philadelphians and Pennsylvanians have since the early 1990's."
Prior to her current role, Cutler had served as the head of the Philadelphia Parking Authority under Mayor Ed Rendell, and then as PennDOT Deputy Secretary when Rendell became Governor.
As Deputy Mayor for Transportation and Utilities, Cutler was charged with managing the Streets Department, the Water Department, and working with Phila International Airport, SEPTA, Philadelphia Gas Works, the Philadelphia Parking Authority, and Amtrak, as well as the Philadelphia Port Authority, the Delaware Regional Port Authority, and PennDOT.
Nutter credited Cutler for taking the city to a new level of collaboration with SEPTA. "This is probably the closest working relationship SEPTA's ever had with city government," he said.
He then ticked off Cutler's long list of accomplishments, including, but not limited to the revamped South Street bridge, the airport expansion, and the nationally-acclaimed "Green City, Clean Waters" stormwater management plan.
Unable to afford a multi-billion dollar gray infrastructure solution to Philadelphia's aging water infrastructure, Nutter said, "Rina and her team at the Water Department negotiated a green alternative with the US EPA, the first of its kind in the nation, and our city will benefit from a lower cost solution that will also green and beautify our city at the same time."
Nutter also touted Cutler's leadership on multi-modal transportation projects like bike share, bike lanes, and trails, and credited her with starting the sea change in street safety politics.
"She implemented a simple, yet revolutionary concept, that our city streets must be available to all–cars, trucks, bicycles, pedestrians, everyone," he said, "and we need to plan accordingly. We focused on pedestrian safety as never before, and we worked to synchornize city stop lights."
Cutler's exit from the administration was not the result of any bad blood, despite several jokes from Nutter and Cutler about Cutler's well-known direct and sometimes querulous style ("I'm probably not the easiest Deputy Mayor he has, actually I know that's true.")
Rather, it came as a result of an exciting opportunity Cutler was offered to work on major city rail stations, a subject she is passionate about.
"Major rail stations are front doors to cities all along the Northeast Corridor," she said, "So the ability to do a lot of strategic planning and customer amenities and bring in private development to help fund the railroad along the NEC, and provide both higher and high-speed rail one day was a challenge I was not able to resist."
Cutler thanked her staff, other members of the Nutter team, and the Mayor for giving her the support she needed for MOTU to achieve so much during her tenure, and predicted that transportation and planning reforms would be an important part of what Nutter is remembered for.
"[H]e's been incredibly supportive and has allowed a journey to take place in this city that I think will be th lasting legacy of both the mayor and this administration."
John Elfrey, MOTU's director of operations, will serve as acting Deputy Mayor.
Watch the full announcement above. Here is Ashley Hahn's interview with Cutler from back in October, in which she talks about her time at MOTU, the politics of multimodal street changes, and some observations on making change in Philadelphia. And here is an old Anthony Campisi article with lots of colorful stories about Rina keeping it real.