Revolutionary War museum sets April opening in Philadelphia [photos]
Listen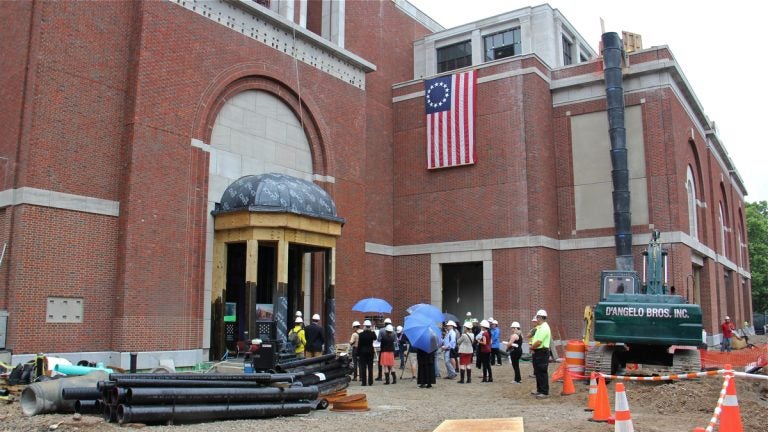 After two years of construction, the Museum of the American Revolution at Third and Chestnut streets will open April 19, 2017, the 242nd anniversary of the Battles of Concord and Lexington and the proverbial "shot heard 'round the world."
Right now, the building is about 80 percent complete, and fundraising is at about the same level. The organization is trying to raise $150 million for construction and to establish an endowment. It is currently at $130 million, with philanthropist H.F. "Gerry" Lenfest closing the gap with a $10 million matching gift.
With past gifts, Lenfest's total commitment to the project is now at $50 million.
"There's no museum in the U.S. dedicated to the American Revolutionary War," said Lenfest. "It's long overdue, and it's overdue in Philadelphia, the founding city of this country."
The project to build a museum for the Revolutionary War has hit its share of roadblocks. It's taken longer than the war itself. What started as a plan for a museum in Valley Forge, near Gen. George Washington's strategic but demoralizing winter encampment, has moved downtown to the heart of Philadelphia's historic tourism district.
While the building is not yet finished, it has taken shape. Inside, you can see the unfinished walls of 16,000 square feet of exhibition space and the skeleton of a grand, curving staircase.
"The whole building organizes itself around this central court that actually goes to a laylight in the roof of the third floor," said Scott Stephenson, vice president of collections, exhibitions, and programming, standing inside the roughed-in lobby. "So there will be natural light streaming down in to the center of the building. It will have a really elegant feel."
The centerpiece of the second floor will be the original field tent Washington used during his command of the American troops. It will have its own auditorium, erected inside a giant, hermetically sealed glass box on which videos will be screened.
"All the 400-year-old theatrical techniques of lighting and scrims, we'll be able to feel like we're seeing George Washington or William Lee, his enslaved African valet who lived in that tent with him," said Stephenson.
The museum sells itself as the only place that tells the whole story of the American Revolution, from early Colonial grumblings to all-out war to drafting bedrock documents. However, any museum has to be selective about what stories it can tell.
The exhibits will include stories of African-Americans, Native Americans, and women whose interests in the war sometimes did not align with those of the Founding Fathers.
"We tried to find interesting people, a mix of people you have heard of — the Benjamin Franklins, the George Washingtons, the Abigail Adamses — and people you haven't heard of — the Isaac Trasks, the James Fortens — and weave their stories together," said Stephenson.
Construction on the museum will continue for another 11 weeks. Museum staff expects to take occupancy of the building Sept. 1.