Review: 'The Wizard of Oz' stands before you. Really.
Listen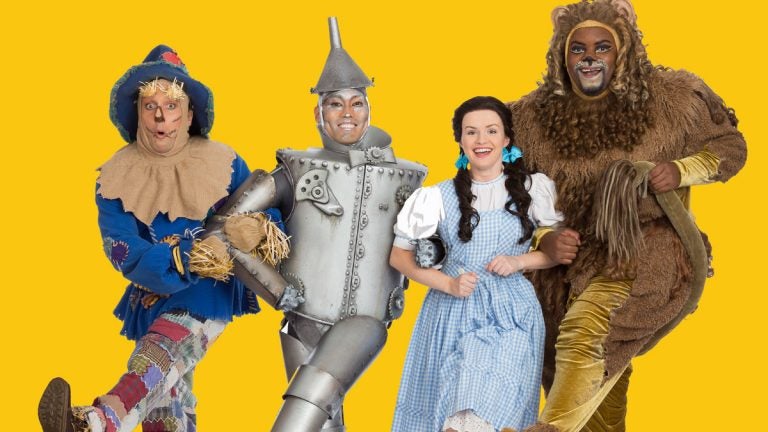 The tin man still needs a heart, the scarecrow lacks a brain and the lion cannot find courage – no matter how many times you see "The Wizard of Oz," none of that changes. But what happens when the way you see "The Wizard of Oz" changes?
Something enchanted, at least at the Walnut Street Theatre, where the "The Wizard of Oz" – one of the most heralded movies ever – plays in its stage adaptation. It's no big deal to turn a movie into a piece of theater. Just look at Broadway, and you can make that case for seven current shows. But it's one thing to adapt, say, "School of Rock" or "Waitress" to the stage. Neither comes close to the risks taken for "The Wizard of Oz," not just a movie but a Movie. It introduced several new twists, and not only in its Yellow Brick Road but in filmmaking. Plus, its cinematic sweep gives us memorable moments. Can they be transferred to the stage?
Well, never underestimate the power of theater to create magic – up close and live, in what we now call real time. The Royal Shakespeare Company first took on "The Wizard of Oz" for the stage almost 30 years ago. Over the years it's appeared on many stages and from time to time I've heard good things about it – both the show, which was adapted by John Kane from the movie, and the productions.
I never saw it until the other night on the main stage of the Walnut, where the production is the theater company's holiday show this year. I admit being skeptical when I walked in – I've seen the movie seven or eight times over the years and how could they begin to match it? I should have known better.
You won't find a long and winding Yellow Brick Road on the Walnut's stage but Rodney Glen Roberts' choreography set on a cast of 39 actors (including what seems like a little army of kids playing Munchkins) makes you believe the road is there. You may not see a totally black-and-white rendering of Kansas in a tornado that morphs into a vividly colored land of Oz, but Mary Folino's costumes and Stephen Gifford's sets do the trick, both monochrome and not.
And so it goes throughout the show. I don't know who's responsible for the engaging video design that helps create a tornado on the big stage, but I can tell you that the sound (Ed Chapman), lighting (David Neville), music direction (John Daniels) and 11-piece orchestra give you a tornado that rivals the spinning camerawork of the film. Everything else works, too: The Wizard (Bill Van Horn) booms through the theater like a wizard should and his visage in a large stage projection is incendiary, like the filmed fires that interrupt it as he speaks. The very Wicked Witch (Ellie Mooney) melts marvelously. The good witch Glinda (Lyn Philistine) flies in and out of the on-stage action and so do those horrible winged monkeys. And those ruby slippers – let's just say they're too elegant to be appropriate for bedroom wear.
There's no place like home, and home here isn't just Kansas. It's the home created by images that have the effect of comfort food, like Dorothy (Adrienne Eller), a tinman (Christopher Shin), a scarecrow (Christopher Sutton) and a lion (Nichalas L. Parker) off to see the Wizard and singing about it as they romp through the forest. The stage version of L. Frank Baum's story sticks closely to the film script, with the same songs by Harold Arlen and Yip Harburg and much of the film's script intact.
Somehow – I'm not quite sure how they pull this off – all the main characters, under the astute direction of Glenn Casale, manage to sound and even look like the ones in the movie, yet they clearly put their own stamps on their deliveries. That's a big reason this "Wizard" is intriguing: You're always aware that you're witnessing a live version of the movie, and it's amply clear that you're seeing a singular live production of theater.
One last thing – and she's a Cairn terrier named Dusty, much like the Cairn terrier that played opposite Judy Garland in the movie. (There's been some question over the precise sort of terrier that was, as valid as the discussion of whether Shakespeare was Shakespeare.) Dusty has quite a career playing Toto in different stage productions of "Wizard." From everything I know she's never set paw in a theater classroom. But she's wonderfully appealing on stage here most of the time, and I declare without question that her portrayal of a dog is the real thing.
—"The Wizard of Oz" runs through Jan. 8 at Walnut Street Theatre, on Walnut Street between Eighth and Ninth Streets. 215-574-3550 or walnutstreettheatre.org.
WHYY is your source for fact-based, in-depth journalism and information. As a nonprofit organization, we rely on financial support from readers like you. Please give today.