Review: The venerable 'This Is the Week That Is'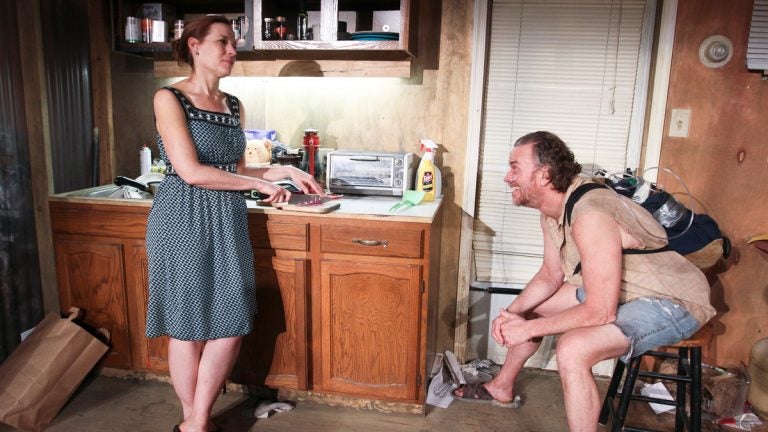 You can slip into 1812 Productions' annual satire called "This Is the Week That Is" as if it were a comfy, old – and slightly bizarre – shoe.
Now in its eighth edition, the spoof of news and American life has all the elements that have made it a success over the years: 1812's leader Jennifer Childs, sometimes in a fat suit (this time, as one of three Chris Christies) and always appearing as South Philly's classic stoop-lady who knows all; lanky and funny Alex Bechtel at the piano and in several roles; Dave Jadico heading to the theater lobby to interview an audience member in a bit that plays on a large screen onstage; a hefty faux-news segment that covers lots of ground and is slightly different nightly; Scott Greer and Aimé Donna Kelly in a number of roles.
They're all busy actors and, in some cases, more – Bechtel, for instance is a composer and music director who this season directed his first full play. To watch them cavorting on stage in this loopy comic form is a pleasure, like spotting them on the other side of a playground fence at recess.
Their stage vehicle is named for a television show that was visionary on Britain's BBC in the early '60s, then rejiggered by NBC in the mid-'60s. No one was doing cutting-edge, up-to-the-minute satire as sketch comedy, certainly not on TV, and the template for the show eventually became an accepted form of live entertainment in clubs and on the media over the decades.
The cast of 1812 Productions, much the same year to year, has it down. You might expect that, given 1812's sole mission as a producer of comedy. Even so, sitting there in the audience the other night, I was again impressed by the fullness of the thing: This is a major production, with an integral sound and video design (Jorge Cousineau), a technical director (Britt Plunkett of Campbell Studios, lots of costume changes (designer Lauren Perigard), a hefty script that Dave Nix develops during rehearsals from his own writing and the cast's, and overall direction by Jennifer Childs herself.
There's also, this year, a tragically missing piece of the puzzle: A week after the last version of "This Is the Week That Is" last season, the talented up-and-coming actor Reuben Mitchell – he did a great Obama among his roles in the show – died in a motorcycle accident in West Philadelphia. He was 31. I suspect – frankly, I hope – it's a tribute to Mitchell's memory that no segment of this year's show involves a bit with the Obamas as characters. In her notes in the program, Childs writes of the production: "This is for Reuben."
As usual, I won't spoil the show's little surprises, all funnier if you don't know what's coming. You can easily guess the grist for this comedy mill, though: everyone from Vladimir Putin to Hillary Clinton to Mayor Nutter, everything from Obamacare to climate change. Some of it is merely amusing, some is cute (in the way your grandmother might have used that word positively), some is just plain silly, and occasionally it's laugh-out-loud. And as a whole, once more, a night of good fun.
"This Is the Week That Is" is produced by 1812 Productions through June 1 at Plays & Players Theatre, on Delancey Street between 17th and 18th Streets. 215-592-9560 or www.1812productions.org