Review: The reappearance of 'The Haunted Host'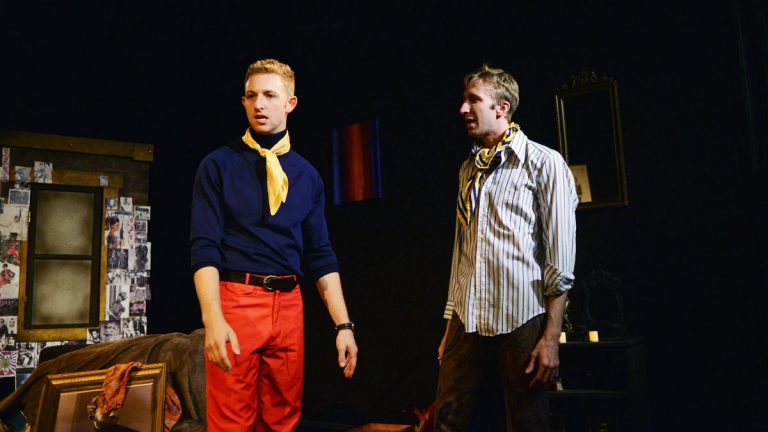 It's obvious that "The Haunted Host" – now 50 years old, and among the first openly gay-themed plays staged in what would become a busy Off-Off Broadway scene – would have made a big splash back in its day. The two-character piece by Robert Patrick, currently in performance in Center City as part of Quince Productions' GayFest!, was a groundbreaker.
Today, Patrick's story about the exchange of attitudes between a flouncy gay man and a serious and younger straight man, set in a Greenwich Village apartment, may seem pat and even quaint. But back then, to see such a tale unfold on the stage was surely exhilarating, particularly for gay audience members. It would still be long before such subject matter was familiarly on stage, and even some time before that meaning of "gay" was in common use.
So the best way to look at "The Haunted Host" is as a museum piece. Taken on current terms it seems like a stereotyped play with an untrustworthy main character who speaks mostly in a drug-induced frenzy, and an untrustworthy second character who has a sudden shift in tone at the end that turns the play into a fantasy.
The impeccable Quince production, directed with snap-snap timing by Sarah J. Gafgen, honors both Patrick and his play – his first full-length work to be staged, followed by many more that include "Kennedy's Children," which had a short run on Broadway. Chris Melohn gives an impressive, giddy performance as a washed-out but fairly young and poet, haunted by the recent death of his boyfriend. Alex Kryger provides perfect counterpoint as the uptight younger college kid, a writer who comes to him for advice on a play in progress.
There's a lot of hoo-hah about being a truthful writer, the greatest writer, the important writer and all that, and much repartee that is amusing and only sometimes worthy of the laughs it aims for. (Typical, from the poet: "What you have is a persecution complex. What I have is a complex persecution.") But "The Haunted Host," a one-act, becomes more serious as it moves forward and the relationship between these two men becomes more curious and harder to parse. In demonstrating this, the production really shines – it has a tension that makes you want to resolve the play yourself, in whatever way would please you.
When it did resolve, I didn't buy it. But the point here is more the production than the play. Quince gives "The Haunted Host" a splendid go, on Joseph Napolitano's junky apartment set where the poet lives. Melohn and Kryger become these men, moving away from the stereotypes they've been given. Those stereotypes are always very close behind, but they lead to a canon of plays that give gay men nuanced, real personalities and complex problems to grapple with.
"The Haunted Host" runs through August 22 in the upstairs performance space at Plays & Players Theatre, on Delancey Street between 17th and 18th Streets. It's part of Quince Productions' "GayFest!" For all productions and events in the festival schedule, visit quinceproductions.com.
WHYY is your source for fact-based, in-depth journalism and information. As a nonprofit organization, we rely on financial support from readers like you. Please give today.