Review: 'The Book of Mormon' and the money-reaping quality of questionable taste
Listen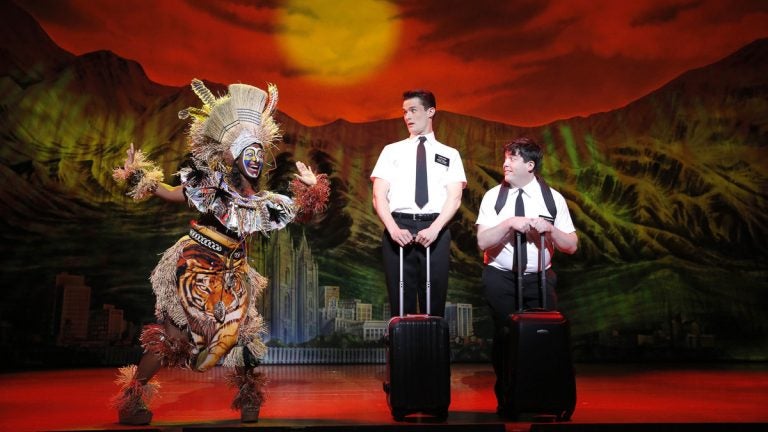 The shocking thing about the Broadway blockbuster "The Book of Mormon," whose excellently performed national tour has settled into a seven-week run at the Forrest Theatre, is not that it's built for outrageous shocks. What do you expect from bad boys Trey Parker and Matt Stone, the creators of TV's "South Park"?
The really shocking thing is this: After all its big production-number mockery of Mormonism, African culture, terror, AIDS, organized religion and most Western creation myths, "The Book of Mormon" ends up celebrating the notion of faith. And not only does it have a happy ending, it has a rousing one. The audience wildly cheers for young Mormon proselytizers who've been duping a village of Ugandans, a moment that comes after two-plus hours of clever stuff mixed with an onslaught of low-brow ideas.
The feel-good ending – for me, it's cynically built for Broadway — brings down the house. And the show continues to bring in the money – on Broadway, a gross of $14 million since Memorial Day alone. That's no sin, of course. Indeed, it's an admirable achievement for Parker, Stone, the composer Robert Lopez, director-choreographer Casey Nicholaw and the producers.
But what are we paying to see? I wondered that at its Broadway opening in 2011, when I considered it a hoot but also a guilty pleasure that made me wince at my own laughter. (At the Forrest the other night, it was not such a hoot the second time around and the shock value was no longer applicable.) Maybe the big draw of "The Book of Mormon" comes because it makes us laugh at stuff we'd often rather not think about, smiles at us with a stream of what's generally called blasphemy and gleefully bashes accepted values.
You can't help but chuckle at its two mismatched Mormon guys (the highly likable KJ Hippensteel and Christopher John O'Neill) battered by the culture at a Ugandan village (where the terrific Alexandra Ncube, Stanley Wayne Mathis and Corey Jones play the main parts). And the show has sparkling elements – spirited music sung with great feeling and energy by this cast, plus a fast-moving narrative that employs Mormonism as the last acceptable target for religious mockery. (The administration of the Church of Latter Day Saints has responded in a high-toned way with three Playbill ads suggesting that we read the real Book of Mormon.)
In the end, "The Book of Mormon" feels much like we're conspiring in a prank pulled by sophisticated high school boys, probably sophomores. ("South Park" strikes me the same way.) A lot of people obviously like that feeling, or don't perceive the musical that way, but it leaves me wanting something classier. This is not to denigrate anyone's fun – if you see "The Book of Mormon" and love it, I feel your laughter. I just think that for as much as about $500 a seat on some high-traffic nights on Broadway, or even for much less at the theater in general, you can do better.
"The Book of Mormon" runs through Sept. 14 at the Forrest Theatre, on Walnut Street between 11th and 12th Streets. 800-447-7400 or www.telecharge.com.
WHYY is your source for fact-based, in-depth journalism and information. As a nonprofit organization, we rely on financial support from readers like you. Please give today.