Review: Peering into a crystalline 'Glass Menagerie'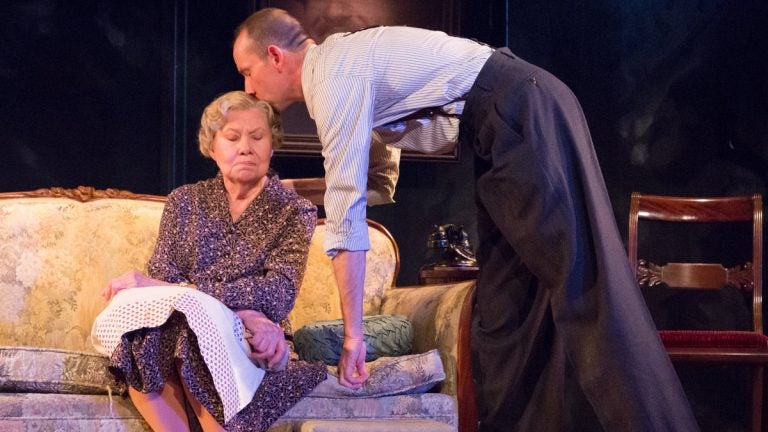 The stunning production of "The Glass Menagerie" at Act II Playhouse in Ambler is all the more stunning because it never tries to be, not for a minute.
There is no scenery-chewing, tormenting Amanda Wingfield, lashing out with fire and bigger than life. In her place is a portrayal by the sublime Carla Belver as a flustered mother who wants the best for her adult children and who wishes time stood still when she'd been about 16. There's no wispy, ostrich-headed Laura, the daughter stymied by a limp. Now, in Amanda Schoonover's performance, Laura is not broken, but breakable — a real person. And Tom, the brother whose dreams and thirst for adventure mirror those of the father who left them, is fully a storyteller as a much as character, following Tennessee Williams' sometimes disrespected intention.
Never did I think I'd write that a production of "The Glass Menagerie" could be a paragon of ensemble acting, but there you are – one of the best things about live theater is its ability to change your perception of a play just by the production it's given. Even an American classic from 1944, performed so often you might wonder whether it could hold new revelations.
Well it does, and the proof is in James J. Christy's production, so genuine in its subtlety. There's one other actor who completes the cast, and here he's essential also for his realism: Sean Bradley, as a much-anticipated gentleman caller whose visit comes in the final part of the play. Bradley sits in candlelight – Tom, his co-worker at a shoe factory, has failed to pay the family's electric bill, resulting in a blackout – and his eyes twinkle as he listens, really listens, to Laura tell him of her glass menagerie, her only real interest in life.
Schoonover's large eyes show us much about Laura, even when she has nothing to say. Belver, who a few weeks ago received the Barrymore Award for lifetime achievement, is the most down-to-earth Amanda you could imagine, and her performance opens the way for the other characters to make their impacts, too. As for DelMarcelle, he is always in the moment as Tom – as the play's narrator, he loses some of Williams' poetry in his chatty delivery, but he makes sure you always understand that your're watching this story as a play, an artificial device.
Christy's made sure of this, too, in his direction. Originally, Williams used screen titles – some were sentiments about the forthcoming action — on a wallboard during the scenes, a device he abandoned when the play hit Broadway. Christy has Tom deliver some of these to one side of the stage just before the different scenes begin. Tom also sometimes comments, especially about the snows of yesteryear, which I could not find in any script available to me; those snows seemed out of place in steamy St. Louis, where the play is set, but the other sentiments keep us aware that this is a memory play, and memory (as Williams writes) is fraught with sentiment.
There's one misstep in the production – the lights on Daniel Boylen's aptly shabby apartment setting come up mysteriously during the blackout to illuminate the play's iconic last moments, a lapse in Christy's judgment and James Leitner's lighting design. It's not a deal-killer, but more a dent of logic in what had been precise storytelling.
I don't want to leave you with the impression that this "Glass Menagerie," kills the conflict. That's not so – sparks do fly, as they must. Sure, we all love a really good tour-de-force, and some great Amandas have provided them. But how refreshing to see "The Glass Menagerie" itself be the real tour-de-force.
"The Glass Menagerie" runs through Nov. 23 at Act II Playhouse, 56 E. Butler Ave., Ambler. 215-654-0200 or www.act2.org.