Review: Off 'To the Moon,' and riding on the ghost of Jackie Gleason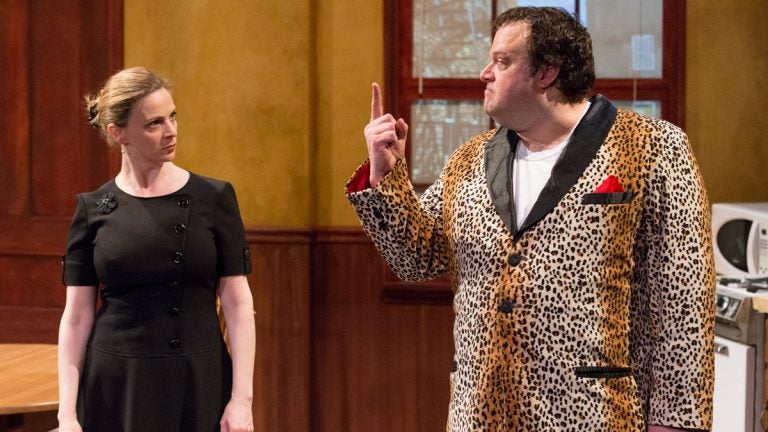 You can't get closer to the late entertainer Jackie Gleason than on a stage in Old City, where locally-based actor Scott Greer is embodying the man known in television's early days as The Great One. In 1812 Productions' world-premiere comedy "To the Moon," the essence of Gleason lives, right down to a plot that centers on a preposterous fast-money scheme.
In that scheme a character named Scottie, played by Greer, gets hold of a never-filmed Jackie Gleason script – not quite a finished product. He plans to write the ending, then to sell the script deceptively as an intact artifact for, well, millions. He sets out to do this with his buddy, an Art Carney-like character played with great pizzazz by another local actor visible on many stages, Anthony Lawton. The two of them are, of course, fumblebums – in the great style of the Gleason show and of its spinoff, "The Honeymooners," both TV fixtures of the black-and-white '50s.
Greer has had challenging roles this season – as a major buffoon at the Arden in the fall, as whale of a man who can barely move at Theatre Exile. In "To the Moon," his channeling of Jackie Gleason, right down to the way Greer looks on stage, is so uncanny that it's uncanny-plus. In "To the Moon" – the show's name comes from one of Gleason's stock-phrases – Greer plays a character who's not Gleason, but idolizes the comedian. He's a down-on-his-luck actor, desperate to get a role in a TV commercial that uses Honeymooners-like characters. His wife (the aptly put-upon Tracie Higgins) regards him, and his idol-worship of Gleason, with an educated suspicion. His pal, played by Lawton, does too, but is always around to jump into a scheme.
There you have it, a mirror image of three of Gleason's "Honeymooners" characters. (The friend and the wife were played on TV by Carney and Audrey Meadows and in "To the Moon" actor Sean Roach plays a number of minor characters.) "To the Moon" is fun to watch. If you're of the age when you watched Gleason on an old and miraculous TV, it's probably a lot more fun, but it would be amusing even out of its pop-culture context. A few moments of the show, skillfully directed by Matt Pfeiffer, are laff-riot funny – particularly a second-half gem in which Greer and Lawton, at their very best form, attempt to mix a cocktail invented by Gleason.
"To the Moon" is written with Gleaonesque aplomb by 1812 Production's artistic director (and Greer's wife) Jennifer Childs, and its genesis provides a curious back-story. Several seasons back, the stage company wrote and produced a comedy in the spirit of Sid Caesar's "Your Show of Shows," a milestone of TV's nascent years. After one performance, an audience member named Greg Marx came up to Childs and told her he had a basement full of Jackie Gleason material that was never aired. His late father, Marvin Marx, had been Gleason's lead writer.
For 1812 Productions, which maintains it's the only stage company devoted to comedy in the country, plying the material in Greg Marx's basement was like finding a fully-loaded treasure chest. After lots of research and some workshops (including consultation with the consummate theater artist Bill Irwin), "To the Moon" came to be. It is adorned with Alex Bechtel's original music, Rosemary McKelvey's '50s costumes and Jorge Cousineau's cool video design that's often a part of the action and his drab-brown set that looks like an only slightly updated Honeymooners' apartment. Put it all together and you get a couple hours of not just Jackie Gleason, but a sense of everything he did. And how sweet it is, still.
"To the Moon," from by 1812 Productions, runs through May 17 in the fourth-floor theater of Christ Church Neighborhood House, to the rear of Christ Church at Second Street just north of Market Street. 215-592-9560 or www.1812productions.org.
WHYY is your source for fact-based, in-depth journalism and information. As a nonprofit organization, we rely on financial support from readers like you. Please give today.