Review: 'Great Expectations,' especially for the plot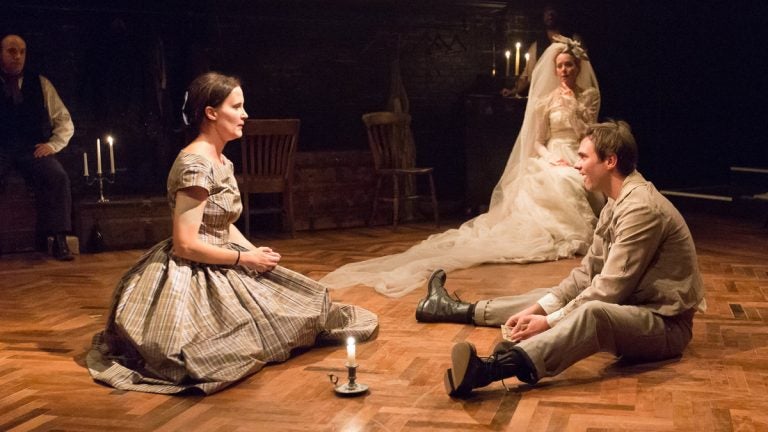 Arden Theatre glides steadily through the broad sweep of Charles Dickens' "Great Expectations" – and when it comes to adaptations of novels, you'd be right to have great expectations for the Arden. Its production history is ripe with adaptations, many of them world premieres, some of them risky and the large majority of them successful.
The risk in this one is from Dickens himself, passed on to Milwaukee-based playwright and theater artist Gale Childs Daly, who adapted the novel for the stage. Dickens' tale is, essentially, a one-sided love story about a boy infatuated with a girl who treats him like a worm. When they grow up, she has more words to explain herself, but no interest in loving him or anyone.
For modern audiences, both the book and Daly's faithful adaptation pose a basic problem: How can the character Pip, the boy in love with the frozen Estella, sustain a prolonged passion for someone who rejects him so thoroughly throughout? And more to the point at Arden, how can Josh Carpenter, the appealing actor who gives a vivid depiction of Dickens' character Pip, find the motivation for his lifelong longing?
The answer, so far as I can see, is that Carpenter – who does a commanding job playing the role – doesn't have to, because the characters in this play are little more than stick figures. Dickens wrote what amounts to great scenes – the long-ago jilted bride named Miss Havisham suddenly walking around her aged wedding cake, or chance meetings that lead to big plot changes. All these plot turns are in Daly's script, but the characters in them have little nuance. Except for Pip, there's no evidence of character building here.
That may be the trade-off when you take a story as spectacularly large as "Great Expectations" and turn it into a two and a half-hour play, including intermission – you get the plot but little else. But three years ago West Philadelphia's Curio Theatre produced an adaptation of "Great Expectations" by its co-founder, Jared Reed, and the same characters in his script evolved throughout. In fairness, that version was longer than Daly's, but also offered more insight into the people in the story.
So if you're looking for the big-picture plot of "Great Expectations," Daly offers it admirably and with clarity. And Matthew Decker, Arden's associate director, stages the show cleverly, giving it great energy – you can't fault his production in the least. He has the actors zinging through the life of Pip, the orphaned boy who has astonishing good fortune in a story that ends in many Dickensian coincidental twists.
For a production without a dialect coach – or that doesn't list one in the program – the Arden's is a feat. The actor Lindsay Smiling is particularly fine at juggling the dialects of the many different characters he plays, from an effete gentleman to Pip's tradesman/step-father. Carpenter plays only Pip but is on stage the entire time, and five other actors play many roles — 40 in all, in constant changes of Olivera Gajic's terrifically detailed costumes.
Sally Mercer is excellent as Miss Havisham, and Kate Czajkowski shines as Estella. The entertaining and versatile Doug Hara plays a clownish actor and a best buddy among his roles, and Brian McCann is a perfectly austere lawyer one moment, a decrepit criminal the next. Despite my reservations, the show must have clicked – I've taken down my copy of "Great Expectations" to read again.
"Great Expectations" has been extended through Dec. 21 at Arden Theatre, on Second Street north of Market. 215-922-1122 or www.ardentheatre.org.