Review: 'Annapurna' and acting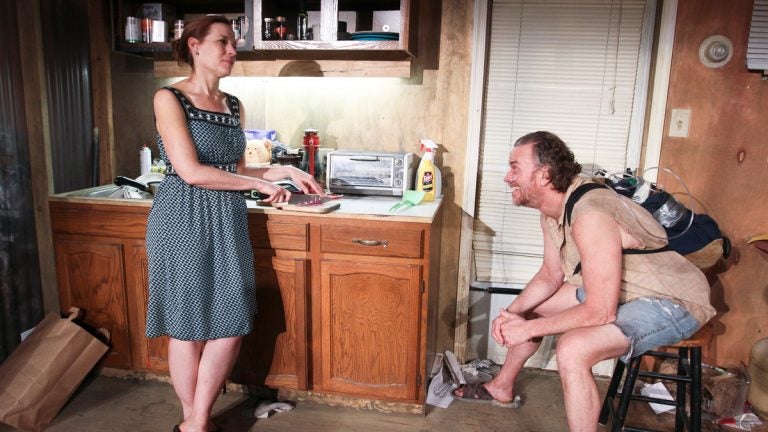 This is a Philadelphia season of sensational acting – performances so finely-tuned yet organic, you can be forgiven for confusing the characters with the people portraying them.
Yet even in a field of such high-quality stage work, Catharine Slusar and Pearce Bunting stand out in Theatre Exile's "Annapurna" for their galvanizing portrayals of long-estranged partners reconnected like two live wires on opposite polar charges.
It helps that Slusar and Bunting, two veteran actors, have Sharr White's skillfully written play as their vehicle, and that they are directed by Theatre Exile's founder, Joe Canuso. But whatever else is fine about "Annapurna," this moving 90-minute exploration about bringing bad tidings and the process of catharsis belongs to the two actors on stage.
"Annapurna," also now running in another production Off Broadway, is named for a section of the Himalayan Mountains in Nepal, far from the tract of land in Colorado where a man named Ulysses (Bunting) lives like a virtual hermit in a dump of a mobile home (Thom Weaver's flagrant mess of a set design). Ulysses kills not only time but, slowly, himself, with a mixture of writing poetry and ignoring anything basic like sanitation. "I sort of figured dirt was the only thing holding this place together," he says.
Or at least that's the observation Ulysses makes to Emma (Slusar), who shows up, suitcases in hand, 20 years after she walked out on him. She has her reasons for returning, he has his for not wanting her there. The two have nothing to say to each other. And everything. What follows for them is both awkward and, in its way, magnetic.
Bunting, a Philadelphia native who works all over the country, plays Ulysses almost as a trapped animal: You can sense uncertainty in his face and feel it in his body-talk. What he tells you, without ever having dialogue that spells it out, is that this is the moment he's been dreading and also been waiting for.
Slusar's heavily nuanced Emma is just as conflicted — she pours out pain as easily as she offers sustenance. Slusar has an expressive face no matter the role she takes, and part of the satisfaction of this production is being able to see the many smart ways she reacts as Bunting speaks.
The chemistry Slusar and Bunting create comes with a good deal of seasoning – many years of mastery at their art. To back them, Composer Daniel Perelstein provides original incidental music that has the feel of a lonesome Colorado night. Sharr White, the playwright – with two plays on Broadway last year ("The Other Place" and "The Snow Geese") – supplies a dialogue that demands the sort of acting we get here.
"Annapurna" runs through Sunday at Theatre Exile's Studio X, at 13th and Reed Streets in South Philadelphia. 215-218-4022 or www.theatreexile.org.