Review: A joyful, hopeful 'Black Nativity'
Listen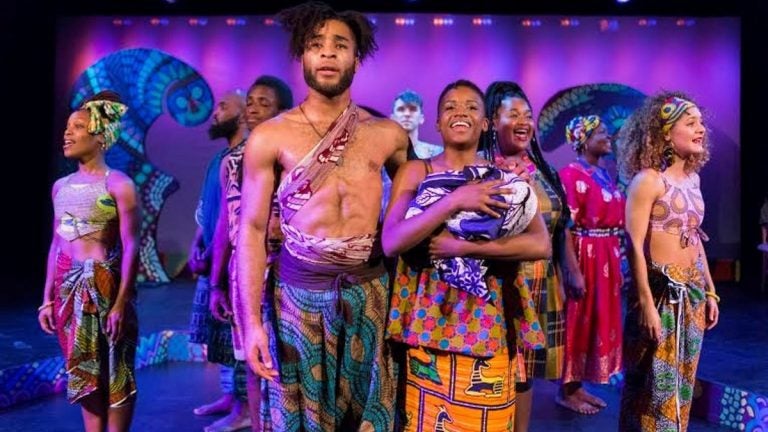 The Christmas show "Black Nativity" was written by the late poet Langston Hughes, who wanted his African American culture to be clearly represented in the nativity story. His show offers the nativity as an African experience and also makes the case that the Christmas story transcends time and place. "Black Nativity" raises a joyful Christmastime noise. It works like no other popular holiday show I know because it actually tells the biblical story of Christmas, and not the money-spending, gift-giving, Santa Claus one.
In that sense, "Black Nativity" is refreshingly religious. At Theatre Horizon in Norristown, it's also an electrifying evening of energy and hope in its two parts – a first half that retells the story of Jesus' birth and a second half set in modern time and focusing on Jesus' legacy.
For almost a decade, "Black Nativity" was a holiday fixture at Freedom Theatre on North Broad Street, in an annual run first directed by a young theater artist named Ozzie Jones. Jones also directs the current Theatre Horizon production, whose unleashed power is being released nightly by a cast of standouts and with a burst of smooth, high-flying dancing choreographed by Jenn Rose. People who watch in their seats without feeling the urge to move during the show's 90 minutes might want to consider zombie therapy.
"Black Nativity" is high-class putty in a director's hands – it's a mixture of gospel songs, traditional carols, and Langston Hughes' words. ("Joy to the World" is one of the carols here, sung with the cast by five different local choirs through the show's run.) Hughes wrote it so that directors have great leverage in what songs they include and also in their choice of settings. The second half is particularly malleable — set it wherever you want, but in modern history — and Jones decided on a battered New Orleans church just after Hurricane Katrina has hit.
And so in Part One, Mary (Sanchel Brown) and Joseph (Kingsley Ibeneche) find their manger amid Brian Dudkiewicz's colorful, movable installations of traditional African-style art and dressed in the lovely costumes Janus Stefanowicz designed. Part Two has Brown and Ibeneche as a couple who come to the New Orleans church in an attempt to reclaim it from the storm and to pray. In the first half, the remaining cast members are the African ensemble, led by the spirited narrator Angelica Jackson; later on, they're other church members or helpers, and Jackson is the elderly congregant who is their beloved matriarch.
The show's first half is skewed in its imagery – we see a slave-ship layout on the back wall (Theodore A. Harris designed the show's multi-media) yet we're in Africa sometime before it was plundered by slave traders. Jones' production goes on to tell the nativity story with grace, finely tuned movement and sweet scenes – in one, the little shepherd boy (Will Brock 3d) is teased and nudged by his mates to find a gift for the holy infant.
The second half in New Orleans isn't as sharply conceived but then again, the nativity is literally a hard act to follow. Part Two is essentially a gospel meeting and in this production, its plot line crams the characters' post-Katrina issues into moments that come close to being precious.
Yet Jones' heart is in the right place in his conception and direction, and I couldn't watch the second half without thinking of an afternoon not long after Katrina, when I walked through a devastated New Orleans neighborhood and came upon the Pontchartrain Baptist Church with its impromptu sign: "He has risen and so will we." That sums up the second half of Horizon's "Black Nativity" – for both the show and the real church, the "we" refers to the building, the institution and the people inside it.
The music is the driver of "Black Nativity," and everything else is a structure created to support the singing and dancing. Music director Will Brock arranged the score, beautifully rendered by the cast and accompanied by a three-piece band. (Anssumane Silla, one of them, brings African drums alive.) The cast includes Nastassja Baset, who performs interpretive dances to much of the first-half music, and Candace Benson, with a throat full of soul. Rounding out the cast are Timotheus "Moe" Peay, Kayla Tarpley, Devon Eric Taylor and Adam Hoyak – each gets a gleeful moment in the dance spotlight. Alyssandra Docherty's lighting sets the moods, especially in the African scenes, and Nick Kourtides' top-notch sound design helps gives this "Black Nativity" its crisp feel.
_"Black Nativity" has been extended through Dec. 13 at Theatre Horizon, 401 DeKalb St., Norristown. 610-283-2230 or www.theatrehorizon.org.