Review: A 150th-year commemoration of the assassination of 'Mr. Lincoln'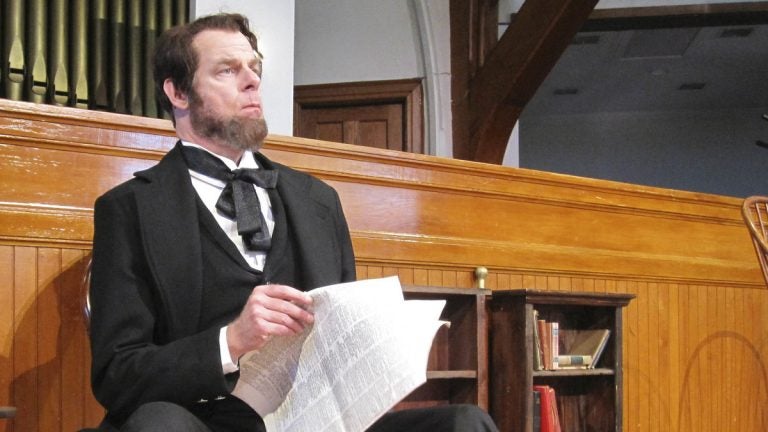 The first thing you see is the tall man in silhouette. He stands against the altar of the church in Cape May where the East Lynne Theater Company produces, and even without knowing what his face looks like you picture him as a figure of authority. His tall top hat, outlined in the darkness, is his personal exclamation point.
Then the lights come up and right off, Abe Lincoln tells you how he died, it's an unembellished account, more powerful because the facts themselves are strong enough, resonating even though we know them well.
And for the following two hours, the actor Tom Byrn, who resembles Lincoln well enough to appear as credible as the words he speaks, goes through the highlights of the president's life in the late Herbert Mitgang's play "Mr. Lincoln." By reasonable measures, the two-act play could be tighter. But the surprise here is that Byrn, an actor who has done wirk in Philadelphia and appears a lot at East Lynne, evokes the spirit of Lincoln so well, this "Mr. Lincoln" doesn't lag. It also has the feel of Lincoln's time, with the president's traditional attire by Marion T. Brady and Lincolnesque hair and make-up design by Dave Bova.
In fact, it's staged by East Lynne Theater's artistic director Gayle Stahlhuth to move with a pleasant, leisure beat — in downtown Cape May, amid all the Victoriana on a summer night, the cadence comes naturally. So does Byrn's portrayal. He gives us a man with huge ideas and ideals, and also common frailties. The performance is, by the end, a tour de force.
Stahlhuth decided to produce "Mr. Lincoln" to commemorate this 150th anniversary of the president's assassination. She remembered seeing the play on Broadway in 1980, which makes her one of the very few who did – it ran 23 performances, including the previews. Stahlhuth says she also remembers that for various reasons, the production didn't work. About 35 years after seeing it, she read the script and decided Broadway had given it short shrift. (It was directed by Peter Coe, who had directed the original version of "Oliver!")
I never saw "Mr. Lincoln" before the other night, so I can't say first-hand what it was like in New York. But I can say that the play is an impressive display of Mitgang's research; I learned a lot. And at East Lynne it has the right actor.
"Mr. Lincoln," produced by East Lynne Theater Company, runs through July 25 at the First Presbyterian Church of Cape May, 500 Hughes Street, Cape May. 609-884-5898 or eastlynnetheater.org.
WHYY is your source for fact-based, in-depth journalism and information. As a nonprofit organization, we rely on financial support from readers like you. Please give today.