Townhouses proposed for Mt. Sinai Hospital site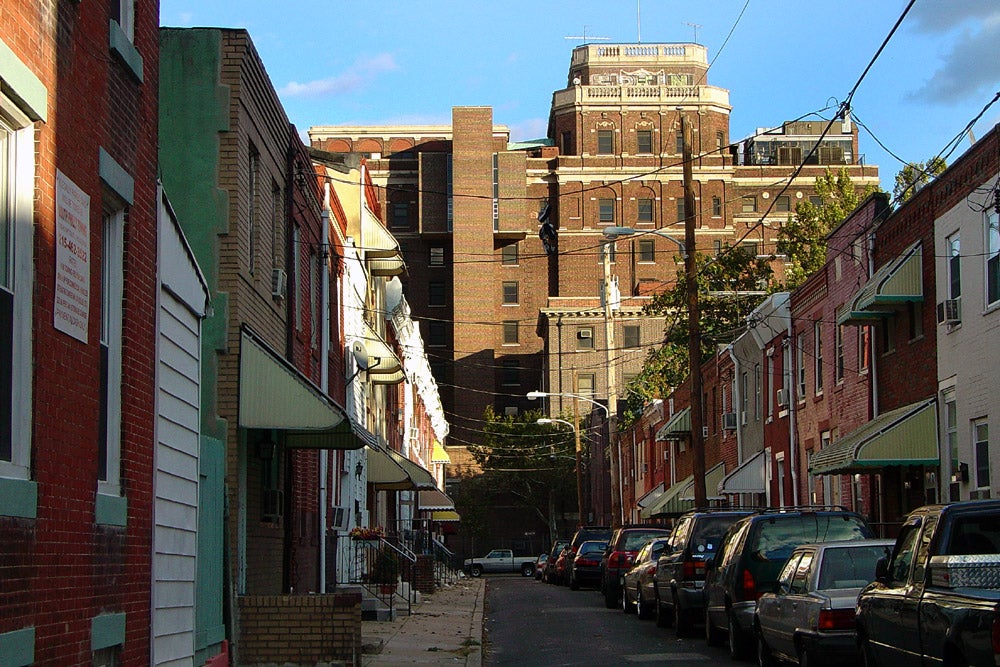 [Update, Feb. 13]
Last night, representatives of Concordia Group, a Washington, D.C.-based development company, met with the Dickinson Square West Civic Association to present early plans for the development project set to replace Mt. Sinai Hospital, a landmark property at 4th and Reed streets. Ron Patterson, an attorney representing the developer, confirmed that the entire structure of Mt. Sinai is set to be demolished. It will be replaced with an unspecified number of single-family, attached rowhouses. Each home will have a garage in the rear. Patterson said that the homes will be built in a traditional brick design.
[Original post, Feb. 3]
As recently as last year, the long-vacant Mt. Sinai Hospital at 4th and Reed streets in Pennsport seemed to be on track for redevelopment.
Developers at Greenepointe Construction had presented plans to convert the century-old building into nearly 200 apartments and a few dozen townhomes. The plans were supported by local civic associations, and the Zoning Board of Adjustment had even approved the variances the developer needed to complete the project.
But after a neighbor appealed the zoning decision—she subsequently withdrew the appeal saying she was "ok with" the project—there's been no word about the redevelopment moving forward. Property records show that the hospital is still owned by a Chester Springs-based partnership that bought it in 2002.
Apparently any plan to repurpose the existing building has been dropped: on New Year's Eve, the owners pulled a permit to completely demolish the hospital to create a vacant lot. Dr. James Moylan, the president of Pennsport Civic Association, said that the Concordia Group is behind the latest redevelopment plans, but he couldn't say exactly what those plans entail. He said he hoped to have updated plans this week.
Ron Patterson, an attorney at Klehr Harrison who pulled the demolition permit, said he couldn't elaborate at the moment.
In September, the Concordia Group made a successful bid to purchase five closed school buildings from the Philadelphia School District. Those included Germantown High School as well as Abigail Vare Elementary, which is also in Pennsport. In December, String Theory Charter School said it was interested in taking over Vare Elementary. The School District is currently reviewing 40 applications for new charter schools.
"Very much looking forward to the eventual development of [Mt. Sinai]," said Dr. Moylan, in an email. "It's been empty for 17 years. Hoping it will be a nice progressive extension of the neighborhood."
Check PlanPhilly for updates on the Mt. Sinai project.
WHYY is your source for fact-based, in-depth journalism and information. As a nonprofit organization, we rely on financial support from readers like you. Please give today.