Republicans once campaigned on health care; now, N.J. Democrats take up tactic
Listen
5:30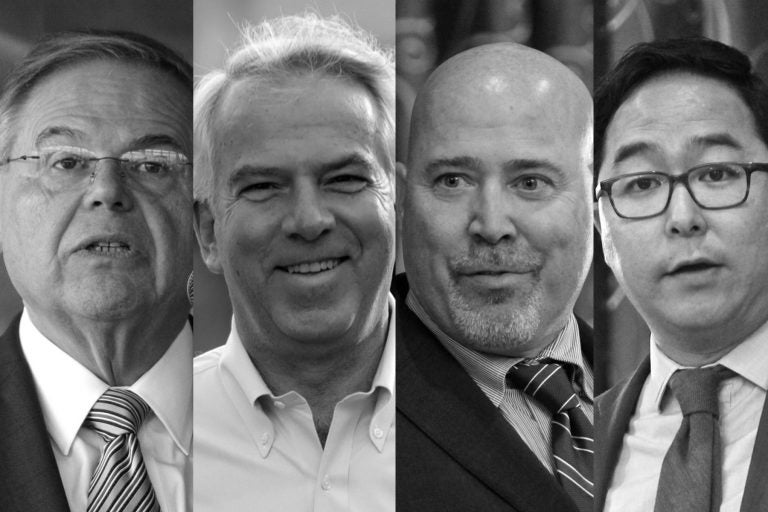 Not so long ago, Republicans were pummeling Democrats on health care, insisting that President Obama's Affordable Care Act was an onerous waste of money that hurt taxpayers and states.
Now Democrats in several key races in New Jersey think health care may help them at the ballot box.
Recent N.J. polls have shown health care to be among the top issues — if not the top issue — for voters heading into November's midterm elections.
"When we're looking at this as a mandate on the Trump presidency in terms of policy implications," said Brigid Harrison, a professor of politics and law at Montclair State University, "certainly health care is one of the top two issues upon which people — Democrats and Republicans — are basing their votes."
Polls show the issue typically riles up Democrats more than it does Republicans, which works in favor of two Democratic candidates in the Garden State this year who are facing GOP candidates with ties to the health care debate.
Both races, the U.S. Senate contest and the battle for the state's 3rd Congressional District, have political implications that could reverberate well beyond New Jersey.
3rd Congressional District
Small-business owner Jim Parker used to offer his employees health insurance. His video production company, Riverview Studios, has about five employees at a given time.
About a decade ago, health insurance grew too expensive for Parker, and he stopped offering it to his employees, prompting one of his best workers to quit.
"She needed health insurance for her family, her children. I couldn't afford to provide that monthly amount," Parker said. "She ended up going to work for a larger company."
When the ACA came along, Parker was thrilled that the "decent salary" he paid his employees would allow them to buy insurance on the marketplace.
But when he heard that Republican Rep. Tom MacArthur authored an amendment to the GOP plan that would have repealed the ACA, Parker got worried. And the Democrat decided he could not vote for MacArthur in this year's election.
"The attacks on the Affordable Care Act, the attacks coming out of Washington to dismantle it and try to disable it, they do scare me," he said.
MacArthur, who is running for his third term in South Jersey's 3rd Congressional District, has been dogged by criticism over his role in the GOP effort to undo Obamacare.
The bill ultimately failed, but some people in the district and beyond still resent MacArthur for what they viewed as an attempt to limit their health care options.
MacArthur's opponent, Democrat Andy Kim, seized on that resentment in ads released by his campaign with help from the national party.
One TV commercial features Kim talking about the failed Republican plan: "It would gut protections for pre-existing conditions, make prescription drugs more expensive … 217 Republicans voted yes. All of us must hold them accountable."
MacArthur said his amendment would not have allowed insurers to deny coverage to people with pre-existing conditions. Yet there is disagreement over whether insurers would have had to cover treatment for those pre-existing conditions.
The goal, MacArthur said, was to reduce costs by giving states the ability to opt out of parts of the law.
The Congressional Budget Office found that the bill would have reduced the national deficit by more than $100 billion in 10 years, but it would have also left tens of millions of people uninsured.
"I understand this industry fairly well. I spent 30 years in insurance," MacArthur said, in an interview. "Andy Kim's knee-jerk opposition to anything that touches the Affordable Care Act is not going to serve us very well."
The 3rd District, long a swing district, voted for Barack Obama twice before switching to elect Donald Trump in 2016.
The Burlington County side features wealthy Philadelphia suburbs with more Democratic voters than the Ocean County side, which leans Republican.
U.S. Senate
Health care issues have also come up in the U.S. Senate race in New Jersey.
Incumbent Democrat Bob Menendez is facing Republican challenger and political newcomer Bob Hugin.
Hugin, a Marine veteran, has said New Jersey should be embarrassed by Menendez after his federal corruption trial last year, which ended in a mistrial.
But Menendez argues Hugin should be ashamed of his own past.
Last year, Hugin stepped down as the head of Celgene, a New Jersey-based pharmaceutical company.
Although Hugin boasts about his time at the company, critics say Celgene is a poster child for high drug costs and shady marketing tactics. The company doubled the price of its blockbuster cancer drug, Revlimid, in less than 10 years, all while Hugin was making millions as Celgene's CEO.
Celgene also paid $280 million in 2017 to settle a whistleblower lawsuit that alleged the company marketed two drugs for uses that were not approved by the FDA.
Attack ads invoking health care have come from the Menendez campaign as well.
"Corporate greed looks like drug company CEO Bob Hugin," one ad announcer says. "Bob Hugin said the more people need a drug, the more he should charge."
Hugin called the attacks "lies and mischaracterization." He is proud of his time at Celgene, pointing to innovations that led to new medications.
"Celgene has done amazing things for cancer patients," Hugin said, "turning multiple cancers from a terminal diagnosis to a chronic disease."
Whether the campaign messaging around health care will have any effect on voters is still unclear.
Suzanne Matullo, a registered nurse from Mount Holly, said the costs of health care are too high. But she said she hears Democratic candidates talk more about providing public benefits to immigrants and other groups.
"I've never been raised nor taught my kids that, 'Don't worry about it, somebody else will take care of it.' It seems like that now," Matullo said. "Well that somebody? It's the middle class."
A registered Democrat, Matullo said she probably won't vote for Democrats this year.
She voted for Trump in 2016 and said she still supports him despite his incessant tweeting.
"I know that he keeps some people energized. He keeps this college-educated woman cringing," Matullo said. "But he still gets some things done. He gives in somewhere where you have to, and then he holds firm to other things."
It's clear that voters care deeply about health care. But this November, they may care more about voting to oppose — or support — the man who sits in the White House.