Remembering thousands of Hurricane Maria victims, marching for accountability
Yecenia Vazquez (left) and Jaime Knowles hold signs in front of a large Puerto Rican flag that was laid it at the steps of the Philadelphia Museum of Art. A group of activist smarched the Benjamin Franklin Parkway to commemorate the people who died in Hurricane Maria in Puerto Rico. (Miguel Martinez for WHYY)

Lisa Young from Viequez, Puerto Rico, was one of the first responders during Hurricane Maria. She joined a group of activists who marched on the Benjamin Franklin Parkway Saturday to commemorate the people who died as a result Hurricane Maria in Puerto Rico. (Miguel Martinez for WHYY)

A group of activists march on the Benjamin Franklin Parkway to commemorate the people who died in Hurricane Maria in Puerto Rico. (Miguel Martinez for WHYY)

A boy plays with a large Puerto Rican flag that was laid it at the steps of the Philadelphia Museum of Art. A group of activist marched the Benjamin Franklin Parkway with the flag to commemorate the people who died in Hurricane Maria in Puerto Rico. (Miguel Martinez for WHYY)

A group of activist marched the Benjamin Franklin Parkway to commemorate the people who died in Hurricane Maria in Puerto Rico on October 13, 2018 in Philadelphia, PA.

A large Puerto Rican flag is laid on the steps of the Philadelphia Museum of Art. A group of activists marched the Benjamin Franklin Parkway to commemorate the people who died in Hurricane Maria in Puerto Rico. (Miguel Martinez for WHYY)

A man wears a cape made from a Puerto Rican during an event to remember the people who died in Hurricane Maria in Puerto Rico. The group of activists gathered on the steps of the Philadelphia Museum of Art on Oct. 13, 2018. (Miguel Martinez for WHYY)

Philadelphia Mayor Jim Kenny offers opening remarks at event to commemorate the people who died in Hurricane Maria in Puerto Rico. (Miguel Martinez for WHYY)

Councilwoman María Quiñones-Sánchez speaks at a rally to commemorate the people who died in Hurricane Maria in Puerto Rico. (Miguel Martinez for WHYY)

Angela Gervasi (left) consoles Celeste Rivera while listening to speakers at an event to commemorate the people who died in Hurricane Maria in Puerto Rico. (Miguel Martinez for WHYY)

Protesters hold down a large Puerto Rican flag that was laid it at the steps of the Philadelphia Museum of Art to commemorate the people who died in Hurricane Maria in Puerto Rico. (Miguel Martinez for WHYY)
Hundreds gathered at Logan Circle in Center City Philadelphia over the weekend to commemorate the people who died in Puerto Rico as a result of Hurricane Maria — and to protest the federal government's handling of the disaster.
"We are here to remind folks that those of us who can vote have a responsibility to be a voice and a vote for the people of Puerto Rico," Philadelphia Councilwoman María Quiñones-Sánchez said. "The way we defend our flag is when we vote in November".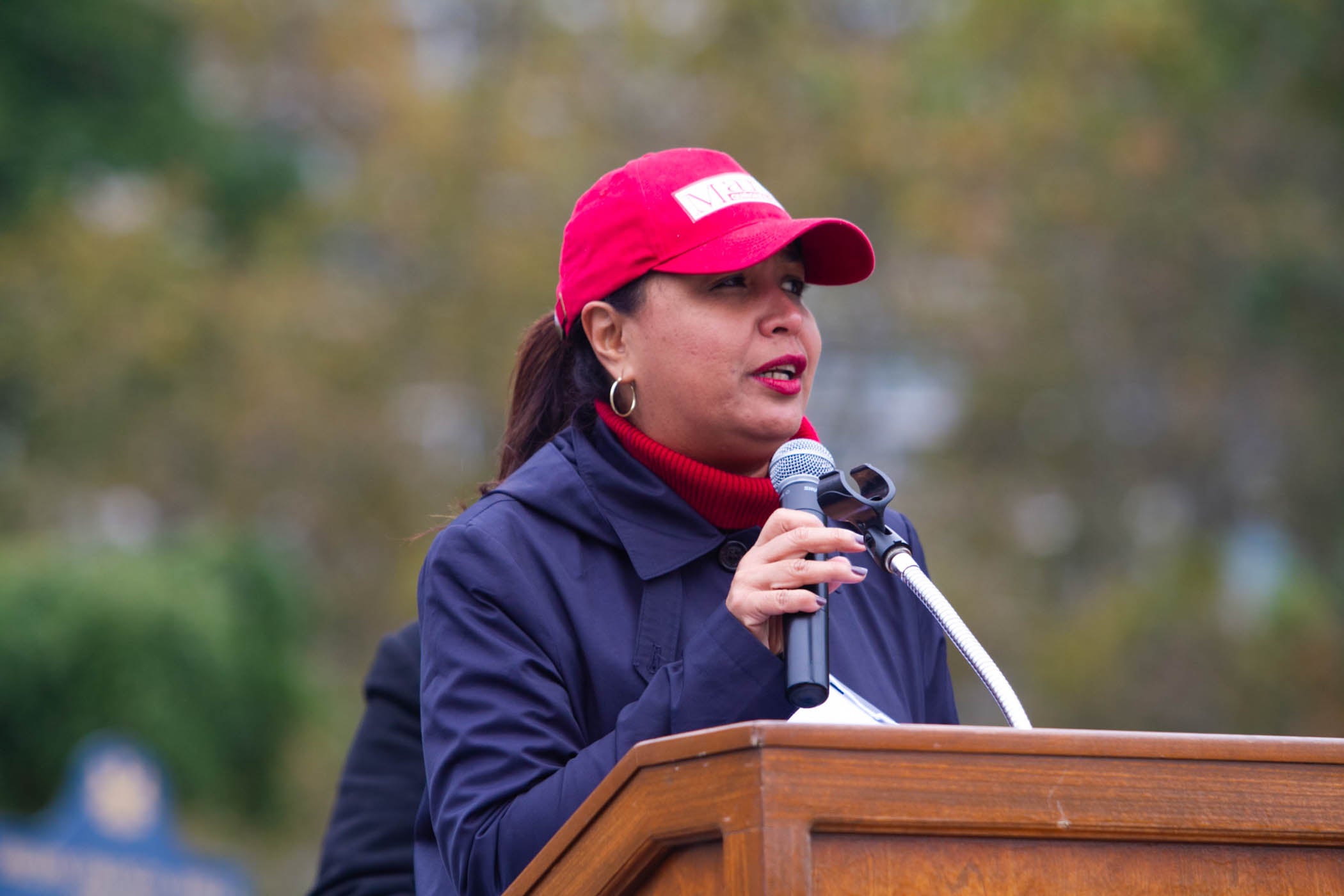 The group marched down the Benjamin Franklin Parkway carrying a 60-by-40-foot Puerto Rican flag and laid it at the steps of the Philadelphia Museum of Art. The event, titled "The People for Puerto Rico: March to Remember," was organized by PA Statewide Indivisible and co-sponsored by multiple organizations and political leaders from across the state.
A series of speakers — including Philadelphia Mayor Jim Kenney, Quiñones-Sánchez, former Councilman Angel Ortiz, and other political leaders — expressed solidarity with the people of Puerto Rico.
Outrage followed when President Donald Trump questioned an official estimate that nearly 3,000 people died from Hurricane Maria.
"3000 people did not die in the two hurricanes that hit Puerto Rico," Trump said in a tweet at the beginning of September. "When I left the Island, AFTER the storm had hit, they had anywhere from 6 to 18 deaths."
In another tweet, Trump blamed Democrats: "This was done by the Democrats in order to make me look as bad as possible when I was successfully raising Billions of Dollars to help rebuild Puerto Rico. If a person died for any reason, like old age, just add them onto the list. Bad politics. I love Puerto Rico!"
Trump was reacting to the release of a new study conducted by Milken Institute School of Public Health at George Washington University and commissioned by the Puerto Rican government that found 2,975 people died because of Hurricane Maria. The new study exceeds the original death toll, which was 64. According to the study, many people died because of indirect causes in the aftermath of the storm.
"The federal government response to this tragedy has been so poor," Kenney said Saturday. "To our new Puerto Rican neighbors who have come to Philadelphia, we welcome you with open arms."
One message repeated multiple times was the importance of voting in the Nov. 6 election.  Philadelphia has the second largest Puerto Rican population in the mainland United States.
WHYY is your source for fact-based, in-depth journalism and information. As a nonprofit organization, we rely on financial support from readers like you. Please give today.