Remaking Sharswood: Miller Memorial Baptist anchors a changing neighborhood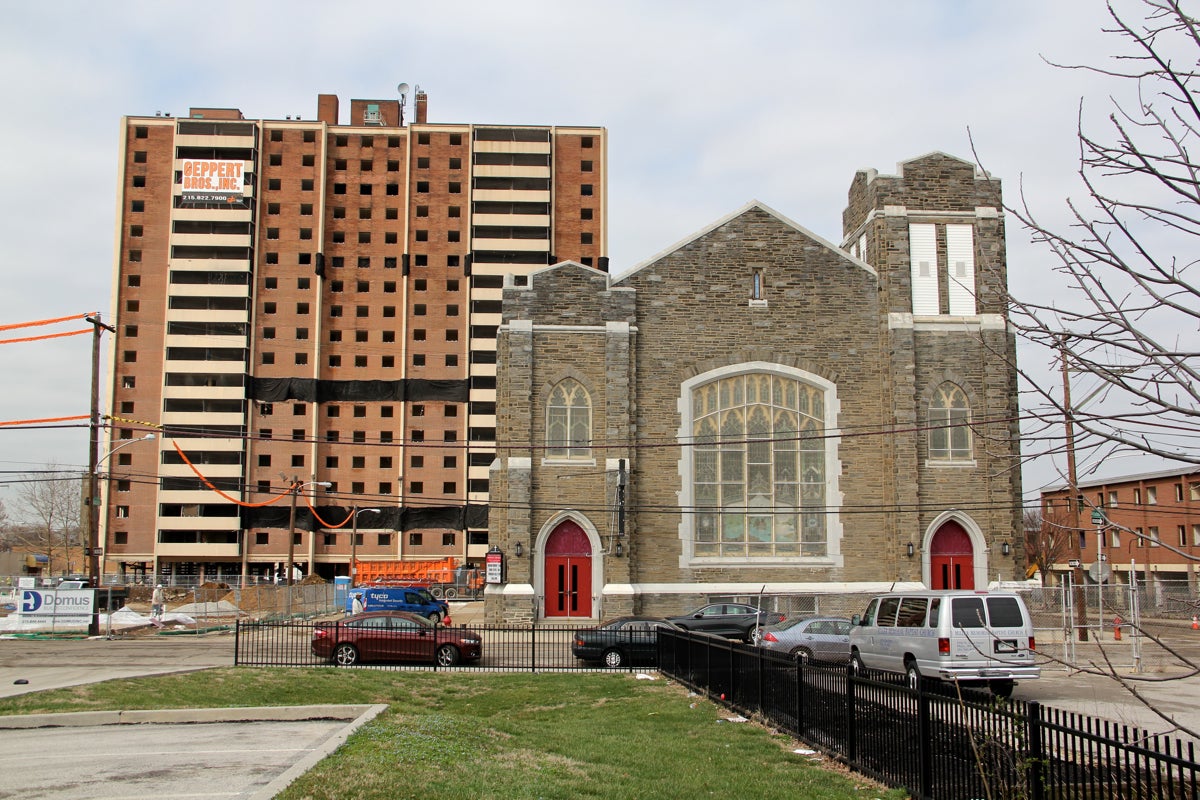 Early on the morning of March 19, two of the high-rise towers and 15 low-rise buildings that make up the Norman Blumberg Apartments will be imploded to make way for the Philadelphia Housing Authority's ambitious half-billion dollar plan to 'transform' the neighborhood.
When the Blumberg complex was constructed in the late 1960s, it replaced eight rowhouse blocks bounded by North 22nd to North 24th streets, Jefferson to Oxford streets. But the housing superblock rose around Miller Memorial Baptist Church, which has stood on North 22nd Street since 1926. Now, the church will outlive Blumberg and watch a new generation of housing rise.
Miller Memorial Baptist is a 120-year-old congregation, an anchor of time in a sea of change, and it has stories to tell.
"My mother and father met at this church. They married. I attended all my life," said Cynthia Fisher, a trustee 66-year member of the church, who proudly showed her younger self in display photos of the Celestial Choir. "I've seen a lot of changes. I know when this was the area to be in. We've seen some changes happen. We're seeing multiple changes before us now, as we walk around, drive around, the new construction going up and I think it's for the better of the community."
Change is visible. Around the church are vacant lots, new suburban-style homes, and freshly-poured foundations for new housing. Nearby aging rowhouses are being torn down. Thousands of residents have been displaced, and the church has felt the effects.
"Some of our members lived in Blumberg. They had to relocate. They were very active… Now they've moved all over the city. Unless our van goes to pick them up the transportation is limited. So not only is the environment changing but it's changing the culture of our church," said Sunday School Superintendent Rhoda Chasten, a member for 59 years.
Deacon Emeritus Ed Awkward has been doing outreach ministry in the neighborhood for 16 years. "Saying goodbye to a lot of those folks I've been with for years, tears came into my eyes. But they had to go. Once in a while I see one of them on the street. 'How you doin' Deac?' I fell in love with them. My heart went out to them when they had to leave."
While change brings promise, it first means profund disruption.
Before the buildings were prepared for demolition, Minister Dawn Duppins said displaced neighbors came together for a prayer vigil in the Blumberg courtyard.
"It was quite a sad occasion because some of those people had been there since they were younger. This is something that is affecting them. They've had to leave what they've always known as home…. Now they're scattered all over the city," Duppins said. "A bond that they've had for many years was broken."
Right now, the most immediate change, the word on everyone's lips is "implosion."
Throw a stone from the church's back door and you could hit one of the Blumberg buildings.
"We were concerned about the implosion causing structural damage to the building," Chasten said. But a public meeting in late February held at the church with representatives from the housing authority helped allay their fears. "They made a very good presentation. We'll just wait and see if it's true."
Representatives from the housing authority and demolition contractor have promised a temporary protective covering for part of the building nearest the implosions.
The morning after the implosion is Palm Sunday. Deacon Chester Hampton, a Philadelphia police officer who will be on duty working the perimeter of the blast zone, hopes the church can reopen and hold services.
But change, church leaders note, is something that Miller Memorial can weather.
The church survived a destructive fire in the 1960s, just days before Christmas, as the congregation was adding an education wing onto the rear of the building. They rebuilt. Since then they've seen the neighborhood change and families move, though many still come back to the neighborhood to attend the church. It's the potential in the housing authority's neighborhood transformation plan that gives the church hope for a thriving community once again, and a stronger congregation.
"The change that's coming, we don't know why. But we're here. And we're here to receive whatever God sends us and gives to us," Fisher said. "We're like in the center of the sea. All around us, there's water, ocean, but there's something flowing towards us. But we have to be able to reach out and bring it in."
WHYY's Jeanette Woods contributed to this story.
Leaders at Miller Memorial Baptist, (L to R): Norene Awkward, Ed Awkward, Rhoda Chasten, Deacon Chester Hampton (seated), Cynthia Fisher, Joyce Neal, and Dawn Duppins

Miller Memorial Baptist Church, Norman Blumberg Apartments behind, March 16, 2016 | Emma Lee/WHYY

Miller Memorial Baptist Church | Emma Lee/WHYY

Miller Memorial Baptist Church, Norman Blumberg Apartments loom behind, March 16, 2016 | Emma Lee/WHYY
WHYY is your source for fact-based, in-depth journalism and information. As a nonprofit organization, we rely on financial support from readers like you. Please give today.