Reluctant historians, my family finally told me about their journey from Vietnam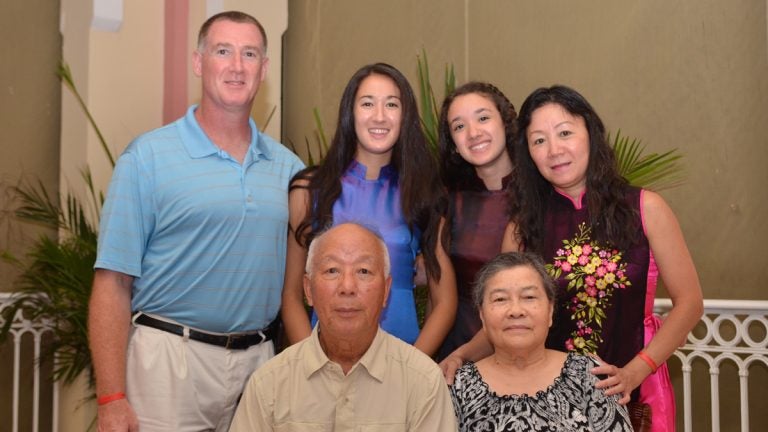 This story is part of a WHYY series examining how the United States, four decades later, is still processing the Vietnam War. To learn more about the topic, watch Ken Burns and Lynn Novicks' 10-part documentary "The Vietnam War." WHYY members will have extended on-demand access to the series via WHYY Passport through the end of 2017.
—
I wasn't alive during the Vietnam War. I didn't read about it in history books. I've never seen "Platoon," "Full Metal Jacket," or any other movie about the war. It was a conflict that happened a long time ago to other people.
As a third-generation Vietnamese-American of mixed heritage, I didn't come to grips with how the Vietnam War shaped my mother's life and her journey to the United States. It was an English class, of all courses, that made me confront that war and my family's personal story.
The assignment started out innocently enough: Choose a novel to read, carry out research, and write up how the assignment affected you. I didn't expect to be thoroughly transformed by a homework assignment. What began as studying a work of fiction led me to embark on chronicling my family's actual journey to the United States of America in 1975.
The novel that began all of this is "The Sympathizer" by Viet Thanh Nguyen. As I was reading the opening scenes of the protagonist, his friend Bon, and others fleeing Saigon in the final hours of the Vietnam War, I could picture my family's chaotic departure as well. When Bon's wife and infant son were gunned down running to the plane, I thought about my grandmother carrying my 5-month-old aunt and thinking about how different my life would have been if anything had gone differently that day.
Until then, I had envisioned my mom's journey to the United States as just a long boat ride, free of any violence or drama. With my curiosity piqued from the novel, I asked my mom and grandparents about how they remembered their journey to the United States. Unaccustomed to sharing personal details of a time they would rather forget, they tried to put off my questions and told me to search for answers in books. When they realized I wouldn't be so easily dissuaded, their words, which initially came out haltingly, soon spilled out in waves trying to recreate for me those dark days of 1975.
"We almost lost your Uncle Hiep on the way to the riverfront," my mom told me, "and no one knew if we'd make it out."
"I didn't want to leave my homeland," my grandmother said, wiping away tears with her left hand. "Life was very hard when we came to this country. We reminded them that they lost."
This was no distant past.
For every refugee who escaped at the close of the war, countless others who  remained behind or were unable to flee. Once again, "The Sympathizer" made me look at my family differently. I have a great uncle who doesn't speak much but who always takes pleasure in the "little things in life." At every family gathering, he eats his meals very slowly and savors every last bite. I remember my mom telling me that my great-uncle, who was an officer in the defeated army of South Vietnam, chose not to leave his military post and flee the country. As a result, he, his wife, and four children stayed in Vietnam — a decision that they would regret as wounds of war never healed in their post-1975 Vietnam.
Sent to "re-education" camp, my great-uncle attended a series of meetings to admit his "sins" committed during the war, learn to become a good Communist, and return as a fully rehabilitated Vietnamese citizen. As for the hundreds of thousands of others sent to these camps after the war, the days lasted years. Re-education, in the end, meant more penalization through incarceration and hard labor rather than rehabilitation and recovery.
Like my grandparents and mom, my great-uncle was at first hesitant to share his story. But when he saw how important this was to me, he relived his internment. In the safety of our suburban home, he described the squalid nature of his jungle confinement, the long and tedious hours of hard work interspersed with shrill lectures, and the anxiety — which eventually morphed into depression — of believing that he'd never see his family again.
I have never enjoyed writing. For me, English assignments were like pulling teeth. Every word came out painfully and only with heavy-handed extraction. Looking back, I think that English assignment didn't seem like homework. More in the spirit of a diary entry, I poured my "heart and soul" into the assignment. I reviewed, with much candor, how "The Sympathizer" was the voice of a forgotten generation. It chronicled people who endured war after war and lived to talk about it. I included riveting anecdotes about my family's odyssey to the United States, including how my grandmother hurriedly packed only a few belongings for each of her nine children, how my mom feared she'd fall into the ocean during their voyage, and how my great-uncle only felt liberated after leaving Vietnam for good, decades after the war had ended.
When I submitted the assignment to my teacher, it was the first time I didn't care about the grade. I felt good about what I had written, because it was for me and for my family, a little piece of living history. I knew that my life and my future would be forever changed.
—
Thy-Lan N. Gale is currently a senior at Penncrest High School with an interest in Vietnam War history. She was recently interviewed by the Veterans National Education Program about post-1975 re-education camps and served as a research assistant to the director of the Pan-Asian American Community House at the University of Pennsylvania.