Rail Park designer says team wants to bring new affordable housing to the area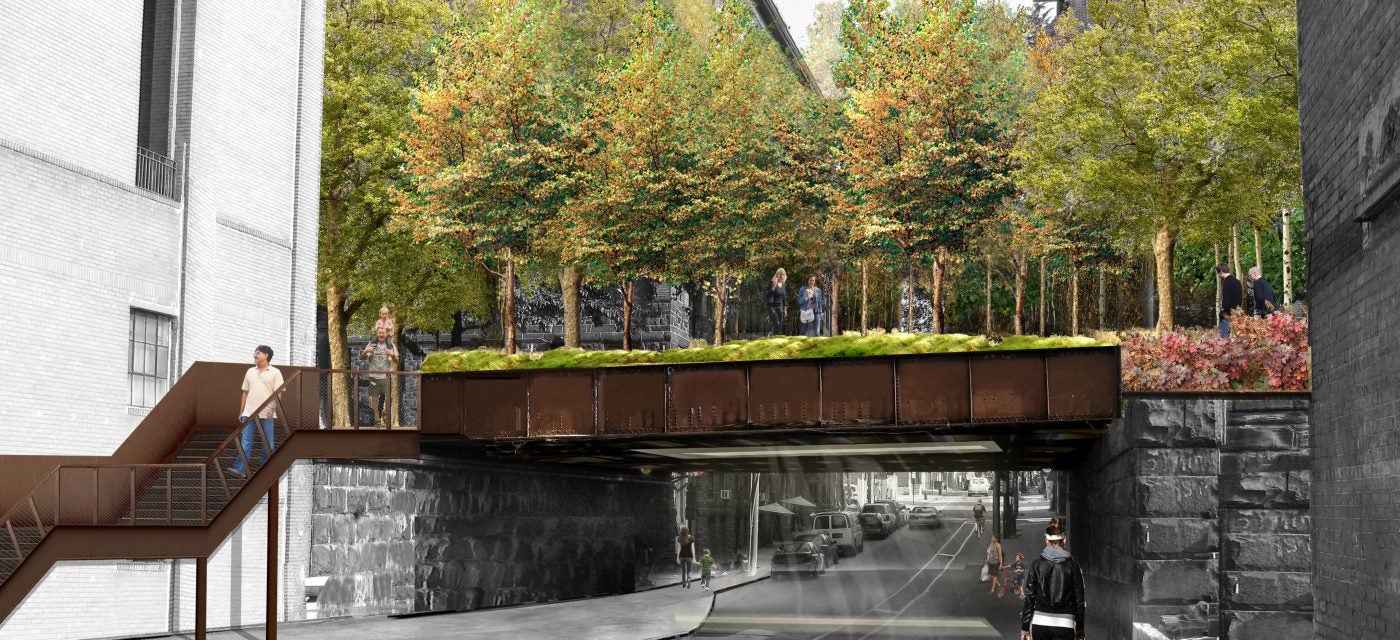 Philadelphia Rail Park boosters want a Clark Park with a view, not a High Line redux, project architect Bryan Hanes tells the Philadelphia Citizen. With fears of gentrification and homogenization rippling through the diverse neighborhoods that surround the planned three-mile elevated park, the designer is working with Center City District (CCD) and others to identify tracts of land along the park path in Chinatown where affordable housing could possibly be developed. While there has been no progress as of yet on acquiring the parcels for affordable development, the first phase of the park, running a quarter mile between 11th and Callowhill to Broad and Noble streets, is expected to open this spring, after years of planning. Now under development by CCD, the project was brought to life by a grassroots collection of neighbors, most of whom lived in the Callowhill area. The project faced resistance from Chinatown business owners and residents who feared the condofication of a gritty but affordable area. "We said five or six years ago that our biggest concern was how do people with lesser means remain in the neighborhood," says John Chin, executive director of the Philadelphia Chinatown Development Corporation. "That was a concern then, and it's a concern today."
A few blocks south of the Rail Park at Reading Terminal, general manager Anuj Gupta is also paying attention to rising affordability concerns. Gupta is recruiting new merchants to fill culinary gaps at the bustling food market and help the lunchtime destination compete in a city with plenty of options for the gastro-curious. Securing a foothold in the market, another reinvented rail relic, has long been known as a difficult and costly process. Gupta is attempting to lower the barrier to entry with cart leasing options that start at $50 a day, reports Alison Steele for the Philadelphia Inquirer. The end result, Steele reports, is shaping up deliciously for hungry visitors and local entrepreneurs alike. "An entrepreneur like myself wouldn't have been able to get in here before," Nina Bryan of Sweet Nina's Banana Pudding told the Inky. "I know, I tried. For me, it's the opportunity of a lifetime."
For more good vibes, read the Jim Saksa's take on Philadelphia's emotional relationship with the soon-to-be-extinct SEPTA token . Let's just say the token has been a symbol of love, romance, and pure Philadelphia for many people.
Over in West Philadelphia, Post Bros. responded to neighborhood opposition to two proposed towers at Garden Court Plaza by putting a hold on the project, Curbed Philly reports. Residents at 4701 Pine Street expressed concerns about the impact of the proposed project, called Garden Court Flats, raising questions about affordability, traffic flow, parking, and utilities loading. The community group ultimately voted six in support, 47 opposed, and eight not opposed. Post Bros. told the GCCA that it does not "intend to proceed with the project without community support" and will work with the zoning committee to "meaningfully address" the community's concerns. Take a look at Post Bros. presentation here.
High-rise lovers don't despair; Toll Bros. is moving forward on another tower slated to rise across town on Jewelers' Row. Blumgart has the scoop on a new design for a luxury condo planned for the historic district. Renderings unveiled on Tuesday show a shorter and glassier tower than the one initially introduced by the developer a year ago.
Editors Note: This roundup has been updated to clarify the state of affordable housing development related to the Rail Park.
PSA: Tenant Union Representative Network (TURN) and The Enterprise Center will be hosting a Tenant Rights Workshop this Wednesday at the Blackwell Regional Library at 52nd and Sansom, West Philly Local reports. The workshop will cover threats of eviction, concerns about getting priced out, housing discrimination, and renters' rights.