Q&A: How StreetsPAC elected three-quarters of their endorsed City Council candidates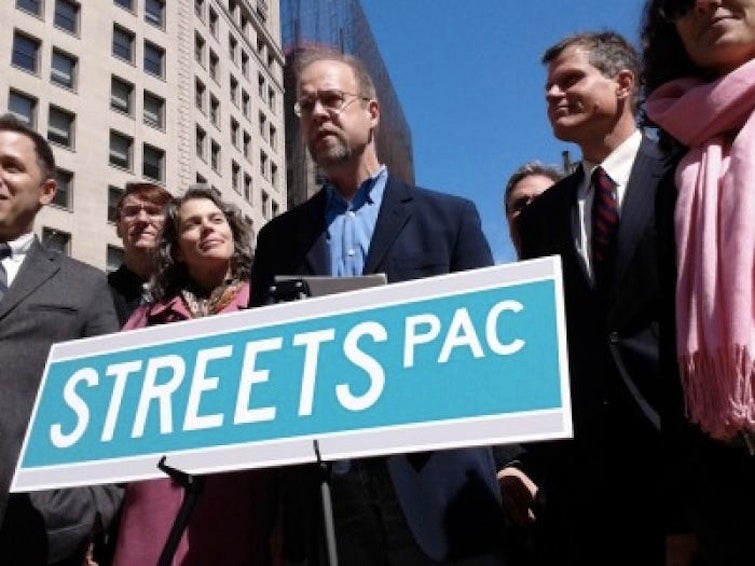 Proponents of bike and pedestrian-friendly right-of-way policies don't have too many champions on Philadelphia City Council who sound like NYC Councilmembers Brad Lander, Vanessa Gibson, or Ritchie Torres, and part of the difference is the absence here of an organization like StreetsPAC. Formed ahead of the 2013 New York City Democratic primaries, StreetsPAC raised $50,000 to push livable streets policies to the candidates, and walked away one of the big winners on Election Day when 13 of the 18 candidates they endorsed won their primaries. At the Vision Zero symposium, PlanPhilly caught up with StreetsPAC board member Steve Vaccaro, an attorney with the law office of Vaccaro & White, to talk about their 2013 strategy, and the meat and potatoes of making a low-dollar issue advocacy organization relevant in high-dollar contests.
PlanPhilly: What do you think was the most effective message StreetsPAC had in the race?
Steve Vaccaro: We had a slogan, "Bike, Walk, Vote" that, because we were canvassing people on the street as they were passing by, we had to keep it short and sweet, and we found that was a very effective slogan to get people thinking, you know, pull them out of their trip and focus on the message that we were trying to give them.
We went out during the weekly street closures in August called Summer Streets and talked with them about how this was living the urban environment that we were envisioning and wanted more of, and that was very effective.
So you have to have a super quick slogan if you're trying to communicate with people about street improvements, because you have to be out on the street to do it, and do it contextually. We went where there were sidewalk extensions on 5th Ave. to talk about "isn't this better that you have a wider sidewalk here?" And it was interesting seeing how on places like 6th Ave., where there are no sidewalk extensions, people's mood changed from one intersection to the next. They're angry and fighting their way through on 6th, and calm and relaxed and more willing to talk about the differences on 5th.
We had a longer slogan of "safe, complete, and livable streets" which really encapsulated our whole platform.
PP: What did you spend your money on?
SV: We raised the money, we did voter registration, we did voter identification and built a list that we messaged to and reminded to vote.
PP: How big was the list?
SV: It was a few thousand people – it wasn't huge. But in City Council elections, the turnout is so low, so even though the electorate in these elections is the 70,000 people, really the total numbers of votes cast are about 5,000 people in the Democratic primary for a City Council race. So in a closely contested race, that could really make a difference, especially in neighborhoods that we targeted. We knew there was a lot of cycling happening in Prospect Heights, and Bed Stuy and Fort Greene and Park Slope, and down in Sunset Park.
So we tried to focus our resources on places where we thought it would do the most good, and we were able to leverage a relatively small list given our first year activity.
PP: How much did you raise?
SV: It was about $50,000 our first year.
PP: And who was donating to the PAC?
SV: I think our largest donation was $10,000. We had a number of maybe ten people who were in the $1,000 plus range, and then we had a lot of smaller donors. It was people who were already familiar with livable streets movement and understood the logic of taking it to this next step.
PP: So ideological activists more so than interested parties like, say, bike shops.
SV: It was mostly people who were supporting a range of organizations that were well-established in livable streets movements. Those were the big donors, but a lot came from smaller donors. We used NationBuilder, and we used Twitter a lot to get our message out and raise funds and that was pretty effective.
PP: I heard one of your tactics was to stick StreetsPAC spoke cards in people's bike wheels. Do you think that was effective?
SV: It was , I thought it was great – I still have my spoke card in my bike – my Vision Zero spoke card – because it reminds Bill DeBlasio and any members of his administration that's why we supported him. It says "Bill DeBlasio – the Vision Zero candidate" and I work right by City Hall and somebody might bump into it and see it and say "oh yeah" – not that he necessarily needs much reminding.
PP: How did you build your list of voters?
SV: At the bridge plazas as people are coming off the bridges, obviously the bridges are where people are congregating to get from one part of New York to the other, so they're natural pinch points to talk to a bunch of people at once. And some portion of them will hang around even after the light changes to listen to what you have to say, sign up, give you some money. But being really expert at doing a super quick hit at the bridge plaza or at certain red lights we know at larger intersections, where there are a lot of phases, and you can get someone for 60 or 90 seconds – those are the spots we targeted. Those are the key to doing canvassing on cycles.
PP: Let's hear what the quick hit sounds like – what kind of pitch gets somebody to stop and talk?
SV: "Hey there, we're with StreetsPAC. We're the political action committee for safe, complete, and livable streets. If you like this bike lane, if you like the changes in the intersections and you want to see more of it, you've got to sign up, you've got to vote, you've got to be part of the process." And then I'm already pointing at the sign-up sheet, engaging visually so you won't look back up at the light turning green. You have to take a pen and point it at the images or at the signature line or whatever it is you have to break that connection of, you know, the person getting back on their bike and pedaling off.
PP: How much did you donate to candidates, and did you donate to every single candidate that you endorsed?
SV: There were a few candidates who just had tons of money and we knew they didn't need it and they didn't have opponents who were big heroes of our movement, like Brad Lander who's speaking today. He didn't need any money from us but for most of the candidates we did give them money in amounts ranging from $500 to whatever the maximum was.
Some people needed money more but others just needed exposure and the association. Some candidates came to us from eastern Queens and suburban areas and said, "hey you're really active on social media, and I want to be a part of this." So that was a big asset that we brought.
We developed extensive followings on Twitter and on Facebook and we were able to leverage that into something politicians came to us for and wanted as part of the endorsement. And we tried very hard to give them the pay-off when they gave us the asks we were looking for in connection with the endorsement.