Proud Boys? Maybe. Counterprotesters? Definitely. What we know ahead of Saturday's 'We the People' rally
Area anti-fascist demonstrators claim the event will bring violent white supremacists to Philadelphia.
Listen
1:05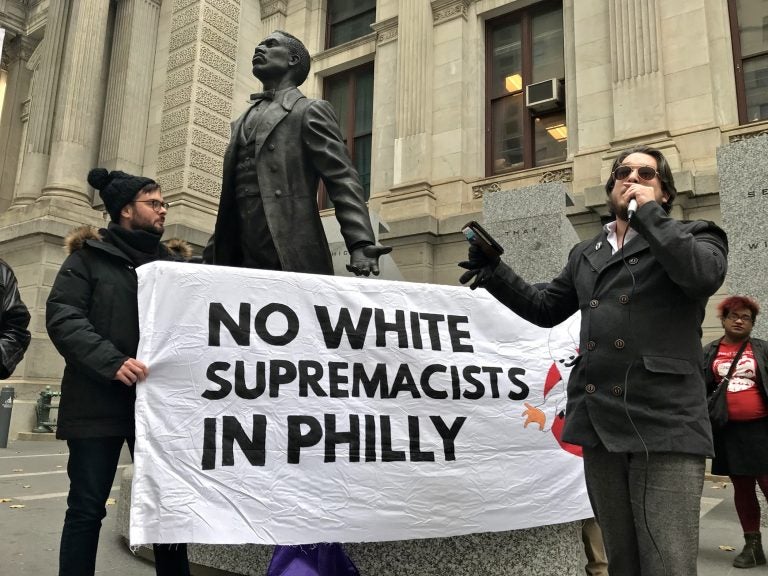 Organizers of a "We The People Rally" set for Saturday morning near 5th and Market streets in Philadelphia say they are promoting a peaceful demonstration in support of conservative values. But area anti-fascist demonstrators claim the event will bring violent white supremacists to Philadelphia.
According to the event's Facebook page, "all Patriots, Militia, 3%, constitution loving Americans, pro good cop, pro ICE, pro law and order, pro life, pro American value, pro gun and anti illegal immigration" are invited to attend.
While members of some groups mentioned — such as the decentralized, pro-gun 3-percenters movement — have notably attended white supremacist rallies, they have also condemned those that turn violent.
Zach Rehl, an organizer for "We the People," said violence is not on Saturday's agenda.
"We originally envisioned the event as a pro-Constitution, pro-America, pro-Trump rally" with discussions on internet censorship and the Second Amendment, he said. Rehl previously organized rallies in support of President Donald Trump and law enforcement in Philadelphia.
Saturday's lineup of speakers include Tye Smith, founder of the U.S. Police Fire EMS Foundation, and Bobby Lawrence, a small-business owner from Franklin County who lost a bid for U.S. Senate this year.
Members of the Proud Boys did express interest in attending, according to Rehl. That group was involved in a violent altercation with protesters in New York City in October, and the Southern Poverty Law Center has designated it a hate group.
"Last I've heard, they were told to stand down due to recent events in New York," he said. "I'm not aware if any at all will be there" on Saturday.
The event's page features a disclaimer that "any violence, racism, or display of hate by any group or individual is extremely prohibited."
In the lead-up to Saturday, anti-fascist groups have been agitating to have the event's permit pulled, saying it will incite violence against people of color, immigrants and LGBT people. At a press conference Wednesday, they spoke in front of the Octavius Catto statue outside City Hall.
"We cannot take this rally out of the framework of what is happening in the United States," said speaker Berta Joubert-Ceci, with the Philadelphia-Camden Boricua Committee. "Hate crimes in the United States rose 17 percent in the last year."
Calling themselves the PushBack Campaign, local anti-fascist, socialist and social justice groups say they also indicated through Facebook that members of the Keystone State Skinheads plan to attend.
A petition calling on the National Park Service to pull the permit for Saturday's event had garnered more than 690 signatures as of Wednesday evening. The National Park Service did not comment for this story.
Activists also targeted Mayor Jim Kenney for not speaking out against the event.
"While protests are legal and protected as a form of free speech, ethnic intimidation and violence are never tolerated," said a statement Wednesday from Kenney spokeswoman Deana Gamble. "The mayor strongly condemns any expression of white supremacy, racism, anti-Semitism, and hatred of all forms in our city."
In response to the "We the People" rally at 11 a.m. Saturday, the PushBack Campaign is holding its own counterprotest.
WHYY is your source for fact-based, in-depth journalism and information. As a nonprofit organization, we rely on financial support from readers like you. Please give today.