N.J. property taxes: The fire that continues to burn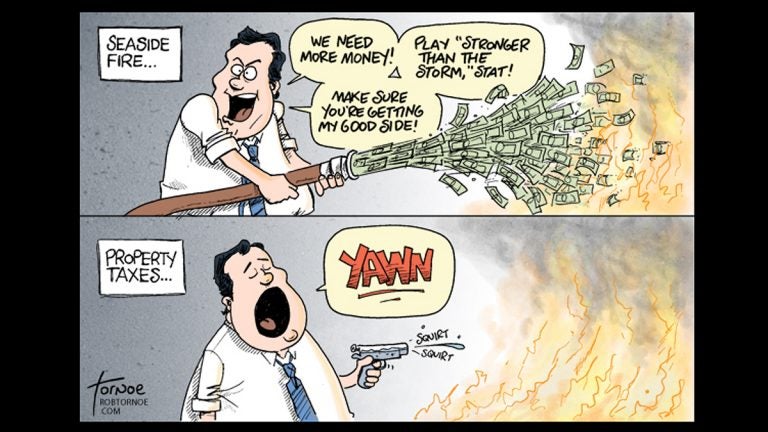 This is commentary from political blogger and cartoonist Rob Tornoe.
My wife and I were on our way to her parents' home in Beachwood, a little suburb of Toms River, when news broke of the 10-alarm fire in Seaside Heights that threatened to destroy the newly rebuilt boardwalk. As we were watching coverage, Chris Christie appeared to speak to reporters, much to my mother-in-law's consternation. "What's he doing here?" I recall hearing her say.
At the time, I felt like it was appropriate for the Governor to appear, and still do. After all, the fire was blazing out of control, and threatening to encompass the entire boardwalk, a body-blow to storm-weary residents and tourists still suffering the effects of Sandy. But, it was also a smart PR move by Christie, who is obviously trying to reclaim some of his lost Sandy magic amid a dip in poll numbers following both the state and federal response to homeowners still waiting for the help they were promised.
For me, the Seaside fire illuminates the policies and events Christie prioritizes, and what issues are simply off his political radar. Of course Christie will promise $15 million to help business affected by the fire (which is loosely being tired to Hurricane Sandy and isn't going over well with secondary homeowners who have seen their requests for Sandy aid denied). That's part of Christie's national brand – protector of the shore – and any chance to get on national news with his sleeves rolled up ready to Cory Booker a fire must seem welcome. The flames must have been too warm for Christie to break out his fleece.
While Christie has been busy building his national platform, there's one giant fire he's left burning – property taxes. Remember when Christie booted Jon "I lost $2 billion" Corzine out of office, largely on the back of the populist call to lower the tax burden in New Jersey? Of course you don't, because "Stronger than the Storm" is still stuck in your head.
More than fires at the boardwalk, more than vetoing gun control legislation, even more than the devastating effects of a once-every-100-year storm, it's the property tax burden that taxpayers and business face that threaten New Jersey's long-term prosperity the most. And Christie has proven to be just as effective as Corzine, McGreevey and all previous governors on the issue – which is to say not at all.
Christie has claimed that property tax growth has slowed under his administration, and it has – after skyrocketing $1,332 for the average taxpayer in his first year alone, largely due to nixing tax rebates and credits. But if you look at all three years under Christie, the average taxpayer commits $7,410 to property taxes a year, a net increase of 19 percent. For sake of comparison, property taxes rose only 11 percent in Corzine's hated first three years.
Christie gets credit for putting in place a 2 percent cap on local spending increases and some progress in arbitration reform, but there's a reason Christie scored a C- in a new Monmouth University poll on the issue of property taxes – much more needs to be done.
I hear a lot of blowback when I draw cartoons slamming Christie on property taxes, mainly centered around it being a local issue he has little control over (funny that no one defended Corzine when I drew the same cartoons criticizing him). In reality, if Christie wanted to put his political will behind lowering property taxes, he could take on the League of Municipalities and force towns to consolidate services. He could also reinstate tax credits and devote more state aid to local school districts, but that might mean raising taxes on millionaires and reverting some of the billions he committed to tax cuts and subsidies targeted to specific projects and businesses. But who knows… Xanadu still may pay off, right? Anyone?
There is no quick fix, but there at least needs to be a start, and thus far, Christie has cared more about honing his well-crafted national image than really rolling up his sleeves to face the issue of property taxes head on. In less than a week, he was able to commit $15 million alone to Seaside businesses because it's an issue he finds important, either politically or personally.
I'm just hoping for Christie's sake there's enough money left over to make another commercial about Seaside coming back, prominently featuring him and his family on the beach, while property tax reform continues to remain buried in the sand.


__________________________________________________
Rob Tornoe is a political cartoonist and a WHYY contributor. See more of his work at RobTornoe.com, and follow him on twitter @RobTornoe.
WHYY is your source for fact-based, in-depth journalism and information. As a nonprofit organization, we rely on financial support from readers like you. Please give today.