Princeton mayor urges students to become more active in town-gown issues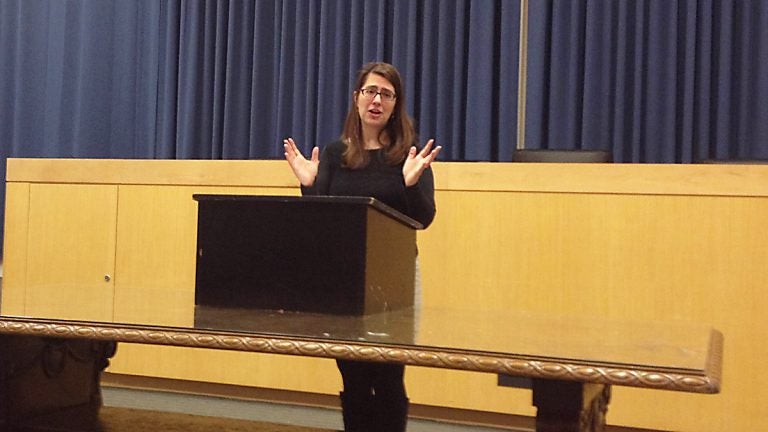 Construction sites, detours and flashing signs have become a regular part of Princeton's landscape in the last few years, and are likely to stick around given Princeton University's ongoing expansion.
University President Christopher Eisgruber announced last year that in the next 30 years, the school will build another dorm and make more room for growing departments such as computer science.
Some local residents have expressed concerns that the campus construction boom will lead to traffic congestion and drive up property values, which could lead to higher property taxes.
But both the university and the town have made efforts to keep the residents informed, even if it doesn't always mean everyone is happy.
Mayor to students
Princeton Mayor Liz Lempert is now reaching out to university students with hopes of getting them more involved in town-gown discussions. She spoke last Wednesday at an event hosted by the university's Whig-Cliosophic society.
"Issues around growth and development are inevitably going to cause some tensions because the university and the community are on fundamentally different roads of trajectory," Lempert said. While the town has reached a stable population, the university continues to expand and modernize as a major, international research institution, she noted.
The university's arts and transit neighborhood — scheduled to open in 2017 — has been a major source of recent construction projects, such as the new roundabout on Alexander Road and the relocated NJ Transit station. Other construction sites include the Lewis-Sigler Institute for Integrative Genomics, faculty housing on Olden Street and the Lakeside graduate student complex.
The university hired the planning firm Urban Strategies Inc. to help mediate congestion issues and other possible construction conflicts. Eisgruber acknowledged in past statements that town-gown relations would face more tensions because of future expansions, but said open communication would facilitate the process.
Lempert said she hopes the town and university can learn from the anger sparked over moving the campus NJ Transit station, known locally as The Dinky, 460 feet south to make room for new buildings.
The station's move initially prompted six local lawsuits, and Lempert said she thinks locals were shocked by the university's power to move the station. However, Lempert said the community response has been surprisingly quiet in the months following the Dinky's reopening.
"The move of that station was really difficult for many people in the community," Lempert said, adding that the building's striking architecture elicited mixed feelings from locals.
Lempert also noted tensions over municipal budgeting. Even though outsiders often characterize Princeton as a universally wealthy community, the town has pockets of poverty and longstanding middle-class neighborhoods whose citizens feel they are losing ground to the university, Lempert said.
A recent property evaluation showed that housing prices in low-income neighborhoods multiplied by as much as four or five times over the last 14 years, causing a proportionate increase in tax rates.
"The lowest income families were seeing their taxes double" Lempert said, while increased property values led some families to sell their homes and move elsewhere.
"We want people to stay," Lempert said, causing officials to consider zoning as a means of reducing the taxable value of a home. The downside, she acknowledged, is you won't get as much for your home if you sell it. Reconciling tax rates with investment is one of the town's fundamental challenges.
University payments
Last year, the university agreed to pay the town a voluntary contribution averaging $3 million per year for the next seven years, Lempert said. The university also pledged financial support for a number of capital projects.
"Princeton University is both the largest taxpayer and the largest non-taxpayer in town," Lempert said, noting that most of its properties are tax-exempt because it is a nonprofit institution.
The main challenge in town-gown relations, Lempert said, is to maintain the town's character despite the university's inevitable expansion. "There has been improved communication between the municipality and the university administration and better understanding and recognition, on both sides, of these tensions," Lempert said, noting that President Eisgruber began a tradition of speaking at council meetings once a year.
"President Eisgruber has been a terrific partner. We may have conflicting needs at times, but we can still work together." Lempert also noted that the university and the town overlap in areas such as public safety, health and diversity, creating further potential for collaboration.