Princeton high schooler exposes social injustice through journalism
Listen
2:11
In some ways, Jamaica Ponder seems like a typical teenager.
Her social media is packed with pictures of her goofing around with friends, playing field hockey and basketball, and otherwise mugging for the camera. She brims with an exuberance untainted by the cynicism that can come with age or experience.
And she is so over homework.
"I'm a second-semester senior. I don't do homework!" the 18-year-old joked.
But then she writes.
In blistering blog posts that belie her age, Ponder has exposed racial tensions at Princeton High School, a predominantly white school just a few blocks from the Ivy League university that shares its name. And in an increasingly competitive media market, Ponder can claim scoops that prompted even journalistic giants like The New York Times and The Washington Post to follow her lead. Her work has made her, in her own words, "a little bit famous."
In March, she wrote about a white student who posted a racial slur on SnapChat. In May, she chronicled how a white student falsely accused a black classmate of giving him marijuana-laced brownies.
In April 2016, someone sent her a photo of classmates playing "Jews v. Nazis" beer pong at a party. "This is indefensible," she wrote in a blog post that made headlines as far away as Israel. "You can't make excuses for stuff like this, just like you can't make excuses for the KKK or 9/11 or the slaughter of 6 million people. Some things are just bad, and this is one of them. Maybe you think I'm overreacting, or that I don't know how to take a joke. If this is the joke, if this is supposed to be funny — well then you'll have to excuse me, because I simply cannot drink to that."
All three incidents prompted school investigations, mainstream media coverage, and growing concern in a cosmopolitan community many felt was post-racial.
"My question to my fellow Princetonians is what is going on?" resident Kelly Ryan wrote this month on the local news site Planet Princeton.
Ryan, a 1989 Princeton High graduate whose daughter also graduated there last year, said she's "not at all happy about town right now."
"In a town of over 30,000 people, with a median household income of $114,645, where 78 percent are college graduates and 37 percent work in education, a town where we have always prided ourselves on and welcomed a very eclectic mix," she wrote, "where exactly have we lost our way?"
'Fearless' and focused
Ask almost any graduating high-schooler what they want to do for a living, and you're likely to hear a forlorn "I don't know."
Ponder has no such uncertainty.
"I really want to be Secretary of State," she said, like it's no big deal. "I'm really passionate about international diplomacy, and I think public service is extremely important. But that's, like, long, long term. Short term, I want to be a foreign correspondent."
Those are notable ambitions at a time when some see both journalists and people of color as under attack in America, especially when it comes to President Trump's policies, proposals, and proclamations on Twitter.
Ponder credits her parents for making her "fearless." Her parents are both retired attorneys, and her mother, Michele Tuck-Ponder, was Princeton's mayor in the 1990s.
"My father forced me to love reading and writing, from like the age of 5," Ponder said with a laugh. "He would have 'Daddy Camp' over the summer, and he'd make me write essays. My dad really loves to write. So I really developed this love for writing from him."
Initially, she wrote mostly about her friends and "frivolous high school things." But the older she got, the more institutional racism and sexism bothered her. So she began blogging about those issues.
In February, she launched Multi Magazine, a site aimed at "exploring the teenage diaspora" that includes commentary from Ponder and her writerly friends and invites others to submit posts. A reader can find everything from milkshake recipes to a discussion on racial divisions in school sports.
Princeton High School has a jaw-dropping number of slick school publications, including student newspaper The Tower, food and dining magazine Spork, literary magazine The Ivy, and film-focused website 151MM.
Ponder wanted no part of them.
"I don't like being told what to do, so I didn't want to write for school formally, because I just didn't want anybody above me dictating what I could say," she said, adding: "And I hate being edited!"
Indeed, many student newspapers nationally endure a struggle for autonomy, media-industry watchers say.
Left unfettered, though, student journalism can be a powerful thing.
Take Pittsburg High School in Kansas, where student journalists reported that a new principal had padded her resume with questionable credentials. The principal resigned days later. In Flushing, New York, student journalists at Townsend Harris High School chronicled concerns about an interim principal, leading city education officials, who decried the coverage as "fake news," to nonetheless oust her.
Similarly, concern for justice and human decency motivates Ponder.
"When there's any type of aggression towards the black community, that hurts me. To stay quiet to me isn't something I even know how to do," she said, adding that her empathy extends beyond the black community. "I genuinely believe that any attack on any community is an indirect attack on me and anyone who believes in human decency."
Her writing has earned her some haters, from those who disagree with her to others who complain she should protect the identities of students she writes about. (She doesn't name them, but also doesn't blur their photos, which can make them recognizable to classmates and teachers.)
"My house has been egged like four times!" she said. "I don't get invited to parties, because they don't want me to take pictures of them. It's not fun to be on the other end of hate or harassment. But if I want to be a journalist, I have to get used to people not liking what I have to say. And those who have something negative to say about whatever I choose to do aren't on the right team anyway, so their opinions don't really matter to me."
The way Ponder handles her haters is as notable as the writing that provokes them, said Patty Manhart, a Princeton High social studies teacher.
"She's a role model who stands up on the side of justice. There can be a cost to voicing something and doing what's right, but she's very aware of others who look to her for strength," Manhart said. "These things weigh on her like any other teenager, but she also recognizes that she's in the public eye, and it's important to keep her head up."
Princeton High Principal Gary Snyder weighs his words carefully when considering Ponder's work — and its impact on his school.
"The internet has made things more public. Sometimes that can be OK. Shining light on problems, many times through our nation's history, brings about needed change," Snyder said. "But I worry about the individuals who are young, who need to be corrected by their parents, need to be corrected by the school, need some criticism and feedback — but not in public. So that's a struggle for us."
Being principal of a 1,600-student school, Snyder added, is like "being the father of 1,600 kids. There are times when I can be very proud. There are also times when I'm dismayed, confused, not sure what to do, not sure what to say. I have an unconditional love for every student in this building, and a great care and passion for their learning and their growth."
Teens tackling tough subjects
Outsiders often regard Princeton as a predominantly white, upper-class burg. But nearly a quarter of its residents are people of color, and some live in poverty, census data shows. As the borough has grown more diverse, so too has its public school district, which has about 40 percent minority enrollment.
"Fifty-five different languages are spoken in the homes that our students come from," Snyder said. "It's an international community. We embrace our diversity, we face it, we discuss it, we're proud of it. We've had incidents where we've stumbled. But we're not immune from the world; we're part of it, and so we have our issues as well."
Last year, an assembly on cyber safety earned headlines after a white speaker said some students cheered when she showed examples of racist and sexist imagery. A few months earlier, outrage swelled after a black Princeton University professor complained that white police officers handcuffed and humiliated her during a routine traffic stop.
Ponder is not the only Princeton student to tackle prickly problems with race.
Students Priya Vulchi and Winona Guo wrote a textbook that their school, as well as others around the nation, use to help students and teachers navigate tricky conversations about race.
Student Tatianna Sims made a film about racial achievement gaps that won Princeton University's Prize in Race Relations in 2015.
"Jamaica and hundreds of others of our students are not apathetic," Snyder said. "They are engaged, they know how to communicate, they know how to raise the topics, they know how to have dialogue. They work towards making this school, and this community and our country better. [Media scholar] Henry Jenkins writes about a participatory culture. Our young people are participating in our culture. They are not simply sitting back and waiting for someone else to report the news or to write an opinion. They are doing it."
Wildcat in the Windy City
There's plenty beyond brownies and beer pong that gets Ponder riled.
On lingering school segregation: "From a very young age, black kids get sent to vocational classes, put in remedial classes, pushed off the college track. [When white kids don't have classes with black kids] they don't know how to interact with students who aren't like them, so they adopt and normalize these racist, insensitive lines of thought."
On friendship: "Most of my friends are white, and they're cool. They want to know more [about race issues], and that's all you can really ask from people who are different from you, to just listen to what you have to say. They do more than listen. They ask."
On white privilege: "A lot of [Princeton's white] students don't recognize the privilege their race grants them. There is no fear, not just because they're teenagers, but also because they're white and wealthy. I've always been taught that I'm the black kid, so I'm going to get in trouble first, even if I'm not doing anything wrong."
Such concerns have made her a "social justice warrior," said Ponder, who participated in the Women's March on Washington and volunteered on Hillary Clinton's presidential campaign.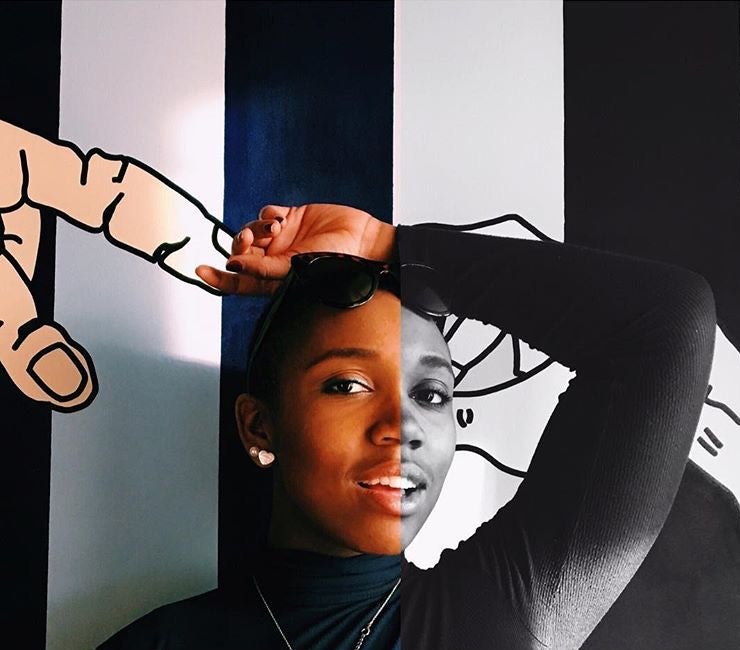 This summer, Ponder will head west — to Northwestern University just outside Chicago, where she'll study at its Medill School of Journalism. She aims to continue her work on Multi Magazine, but has lined up younger Princeton High classmates to manage submissions there.
Northwestern, like most Big Ten schools, remains predominantly white. But that doesn't worry her.
"I'm used to being the only woman of color in the room," she said. "I don't think that's how it should be, but I can handle that and do my best to change it."