Preservation's weak inside game: From the Boyd to the Blue Horizon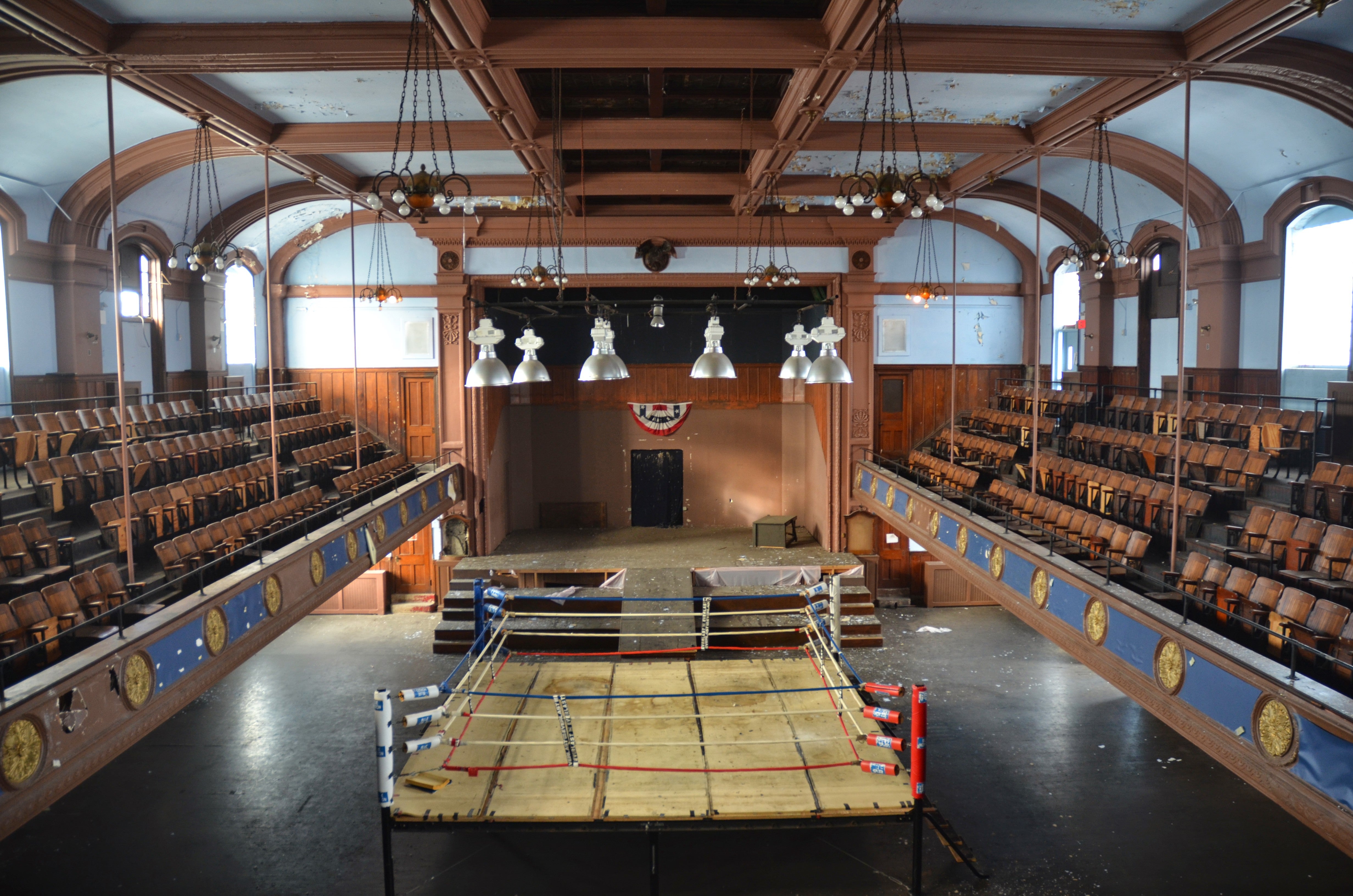 On Friday, the Philadelphia Historical Commission will consider proposals to designate the interior and exterior of the Blue Horizon, the "legendary" boxing venue on North Broad Street. Meanwhile Pearl Properties is preparing to demolish at least some of the Boyd Theatre's undesignated auditorium, a move abetted by the once-magnificent interior being left unprotected and the Historical Commission's hardship finding at the Boyd in 2014.
Though they're miles apart in terms of site, style, and significance, the fates of the Boyd and the Blue are intertwined. Plus, they have something to teach us about historic designation being more holistic.
When a building is designated as historic, exterior alterations big and small must be approved by the Historical Commission. Since February 2010 Philly has joined the ranks of cities like Boston, New York, and Washington, D.C., that can also designate significant public interior spaces.
Designating the outside of a building when there's a significant public interior within is a little like nabbing Al Capone for tax evasion – it captures something, but not the whole picture.
The Boyd Theatre's most treasured features aren't on its refined Art Deco façade; they're in its once-richly ornamented interior spaces, some even depicting the 'triumph of the modern woman' circa 1928. The Blue Horizon's exterior, a cluster of brownstones on North Broad, is historic in an ordinary sense, but its auditorium ranks high as a classic Philly boxing venue and a social hall before that. In both cases, it's no stretch of the imagination to suggest that preserving part of the interior is to preserve something essential about the experience and significance of each place.
But in the five years since Philly has been able to designate public interiors as historic only two places have been given that distinction – City Council's chambers in City Hall and public areas of the Family Court building at 1801 Vine Street – though others like the Pennsylvania Academy of the Fine Arts are clearly worthy candidates.
In late February the Historical Commission's Committee on Designation voted not to recommend designation for the Blue Horizon's interior, a nomination advanced by the Preservation Alliance for Greater Philadelphia alongside a nomination to designate the exterior.
Among the objections raised by committee chair Richardson Dilworth III: The Blue Horizon's interior was a "tolled" space, meaning it's a place the public would need to pay to enter.
But the city's preservation code is plenty broad to include that type of public interior. It states "an interior portion of a building or structure that is, or was designed to be, customarily open or accessible to the public, including by invitation," may be designated, provided the space also satisfies at least one of the other standard designation criteria, such as architectural or cultural significance.
During last month's hearing Jon Farnham, the commission's executive director, clarified that "by invitation" is a well-defined term in the legal world, "and includes spaces like restaurants and movie theaters which you have to pay some sort of fee but you can't be excluded other than by refusal to pay the fee." In terms of the Blue Horizon, Farnham added, it's interior is at least eligible for designation under the city's preservation ordinance.
It's worth reminding doubters like Dilworth that the city's preservation laws were changed to include interiors with a specific "tolled" case study in mind: the Boyd. Councilman Bill Green, who introduced the legislation to allow interior designations, even waved the draft of his bill during a rally to save the Boyd back in 2008.
Original intent does not preclude the commission from interpreting the law as they apply it. I can't help but think that if commissioners had seen more than a handful of interior nominations they might not be so cagey about how public a space must be to warrant designation or how overwhelmingly it is in the public interest to designate Philly's unique public interiors.
The Preservation Alliance nominated the Blue Horizon's auditorium because it feels it is worthy of designation, because too few interiors have been designated, and because it caught considerable heat during the Boyd's hardship proceedings last year for failing to advance protections for its interior.
The Blue Horizon's significance lies less in its architectural flourish and more in its place as an entertainment, social, and sport landmark in both city history and the annals of boxing, which has deep Philly roots. It is also more historically significant as a whole than it is as some brownstone facades on North Broad Street.
Like the Boyd, most of the city's extraordinary historic public interiors have never been considered for designation. But think of what it feels like to walk into the Academy of Music, the lobbies at the Ayer or Drake apartment buildings, 30th Street Station's waiting room, or Rodeph Shalom's sanctuary. Letting preservation stop at the front door fails to account for what makes these shared historic places significant.
Whole places like these possess the power to transport us through time and we have the power to protect them.