PPA Deputy Director: Philly's taxi medallion system doesn't do what supporters say it does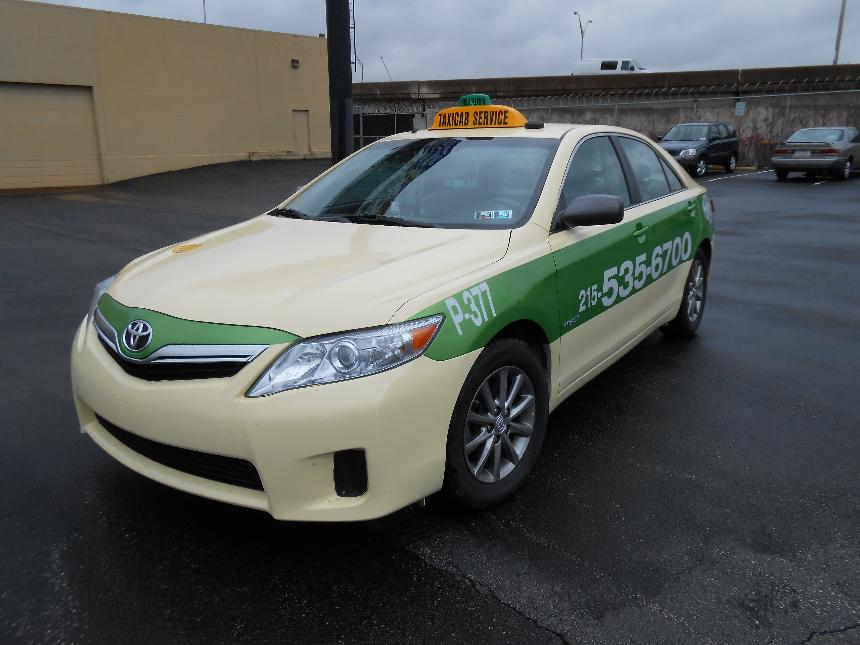 One issue I wanted to understand better going into last Wednesday's meeting between Philadelphia Parking Authority regulators and bloggers covering the Uber X saga was whether Philadelphia's taxi medallion system is really needed to make our taxi market work, or if it's just a protectionist racket with few benefits for non-medallion owners.
If you're just tuning in, taxi medallions are little metal baubles infused with enormous value by the government – they run for about a half million dollars today, up from around $60,000 back in 2005.
It's not the metal that's worth so much money though – their value derives from their scarcity. To get the legal privilege of ferrying people around Philadelphia in exchange for money, you have to get one of these medallions, and the PPA only made 1,600 of them – even though many more than 1,600 people want to drive taxis.
If you're familiar with the idea behind "cap and trade" pollution permit schemes, or the liquor license cartel at the heart of the fracas over pop-up beer gardens this summer, the basic economics are the same.
As Philly's population continues to grow, the number of little metal pieces will stay the same, and the shrinking ratio of metal pieces to people is going to keep pushing up the prices you need to pay for the privilege to drive.
And actually, James Ney, the director of PPA's taxi & limousine division, told us that only 300 of the 1,600 medallions (about 19%) are actually owned by cab drivers, so really we're talking about a situation where drivers will keep forking over a higher and higher share of their earnings in rent to the investor class (remember Alex Friedman?) who own the medallions. Go reread the pro-labor argument against devaluing medallions in Jim Saksa's piece from earlier this week with this fact in mind.
So we know why this system was created for carbon pollution permits. Pollution is bad! But why do the same thing for taxis?
The animating theory is that a highly competitive taxi market makes for razor thin profit margins, and that used to create an incentive for taxi companies to defer maintainance on their vehicles. As Jim Saksa wrote:
There was an obvious need to regulate taxis back then. Price competition forced cab drivers to forego needed repairs and to cheat customers, often literally taking passengers for a ride. Cabs were unlicensed, uninsured, uninspected yellow deathtraps: the ironically named Henry Bliss, the first person to die in an auto accident in America, was hacked down by a hack.
This was before state law mandated car insurance (introduced in 1984), or regular inspections (1976). In addition to those two major regulations, New Deal lawmakers also instituted price controls and barriers to market entry.
But now that we have addressed the most egregious offenses – lack of insurance and safety measures – does it still make sense to keep taxis in a separate regulatory lane?
The scarcity of taxi medallions creates the barrier to entry Jim refers to. Restrict the number of taxis, the thinking goes, and you'll create a growing stream of regulatory rents for the taxi medallion owners, which they will use to reinvest in their vehicles, improve their services, and comply with government price regulations.
The most fascinating point in the meeting came when the PPA's Deputy Executive Director Richard Dickson offered an unprompted admission that this theory has not panned out in reality. Medallion owners, he said, have resisted making maintainence and service improvements only until very recently when the spectre of competition from ride-sharing services shook them out of complacence.
"Frankly I have to say that one of the reasons that this particular type of service is being offered is because the traditional taxi cab service hasn't stepped up in a way that's appropriate. And [Taxi and Limousine Division director Jim Ney] has been doing this since we took over the regulation of this industry in 2004, and has pushed and pushed and pushed to get things like integrated dispatch systems, the credit card applications. The fact is that he's met with an incredible amount of resistance on the part of the traditional taxi cab operations. [Competition from ride-share services] I think, has provided an opportunity for those service providers to say that unless we adapt to the changing environment, we will no longer be the only show in town. There will be public support to bring these other service providers in.
"So I think just having the discussion has pushed these service providers to a place where they know they have to step up. And that's been a good thing for us as a regulator, who for over 10 years now have been pushing and pushing and pushing, and saying you have to improve the quality of your vehicle, you have to upgrade these technology services, all of these things. And they have said no, no, no. The value of the medallion has gone from about $60,000 when we took over, to close to half a million dollars now. Our expectation was that they would take that additional capital that they have and reinvest it into both the hardware and the software that governs their service. And frankly they've been very resistant to that, but now they're beginning to come around."
The significance here is that Dickson is really conceding Uber and their supporters' core argument – that the medallion system doesn't provide the main public benefits that its supporters say it does, and that the 11th hour modernization push we're seeing now from the traditional cab companies will slow to a crawl again the moment new competitors are chased off the scene.
The public costs of an artificially constrained taxi fleet are there (Corinne O'Connor, the director of on-street parking, told us she calls ahead 45 minutes to get a taxi in the Northeast), but the public benefits of higher reinvestment levels and service standards have not materialized, absent competition from ride-share companies. On one level, PPA officials seemed almost relieved that changes they've been pressing traditional taxi fleet owners on for years finally are being addressed, thanks to this new competitive pressure.
As Geoff Thompson reported, the other objections PPA officials raised centered on issues like public safety and insurance, and the rule of law – none of which should be minimized, but all of which should be eminently resolvable by parties negotiating in good faith.
The real sticking point for PPA seems to be a political argument about the unfairness of unwinding the medallion system or approving policies that would devalue them – the implication being that the public should accept lower quality transportation services in order to protect the value of a relative handful of people's speculative investments.
That's a much different, and much less politically sympathetic, argument than the original case that capping the number of taxis is necessary to make this market work at all.